It was last Saturday night in Longford that I introduced my last game for WATCHLOI with a hearty welcome to summer football after one of the longest Springs on record – would that cool, damp weather ever end we were asking ourselves week after week.
And then it did, on a glorious weekend that saw thousands of people going to the beaches and beauty spots all around the country – unfortunately, none able to reacquaint themselves with their local football stadiums. Hopefully, that will return next month.
WATCHLOI has come and gone, a marvelous service for these strange times. League of Ireland fans have used it to keep up with events on the pitch. Next month there will be a new arrangement, organised by the FAI and the clubs. Let's hope that the benchmark set since last July will be replicated or even beaten by the new streaming arrangements.
That's all for the coming months when play resumes on 11 June - for now, let's look back at the incredible month just past, in which six series of games and 29 matches, produced 82 goals at an average of 2.83 per game, the best of the season so far.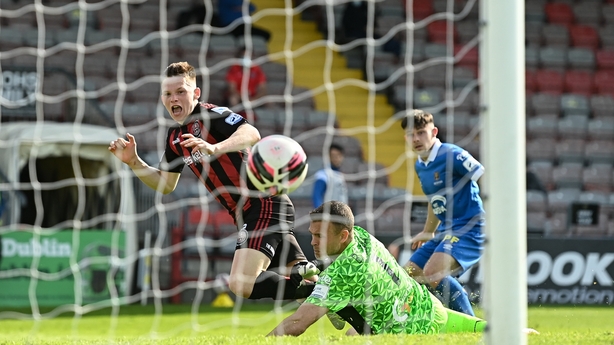 Due to the Covid-19 problems suffered by Waterford, one game was not played. The FAI ruled that Sligo Rovers should be awarded all three points and a 3-0 win as Waterford were unable to fulfill the fixture. When you look at the league tables, you'll see that the goals total is 170 after 70 games – including that 3-0 victory for Liam Buckley's league leaders.
In this analysis, I'm working off 167 goals in 69 games. A match awarded under the rules to the Bit O' Red may have given Waterford 'the Blues' – but as there were no goals actually scored in that game, they are not included in this article, for obvious reasons.
ADVANTAGE TO AWAY SIDES
By the end of April, we were eight series into this 36-game league. Without crowds in the stadiums, it was clear that away teams were doing better, the sides at home not having their usual boisterous support. There had only been 16 home wins in 40 games up to that point, with 14 wins for the visitors, and 10 matches drawn.
In May, teams on the road have done even better. In 30 fixtures, there have been only 10 home wins, 13 away winners and 7 draws – that's only 33% victories with home advantage. Of the 90 points on offer, only 37 were won by the hosts and 46 by the visitors. It will be very interesting to see if that trend continues when fans return to games next month.
Goals wise, not including that game awarded to Sligo Rovers, 42 goals were scored by the home sides in May, while 40 were scored by the away teams – a counter intuitive result when you factor in the points total above - but due, for the most part, to many narrow wins by sides on the road. The 7-0 win by Drogheda United in the RSC against Waterford's Under 19 side excluded, the biggest away win was 2-0 by Bohemians at Longford Town and by Dundalk at St Pats.
WHEN THE GOALS ARE SCORED
Over the first eight series of games in March and April, 85 goals were scored in 40 games - 34 in the first half and 51 in the second. That's a 40% v 60% split.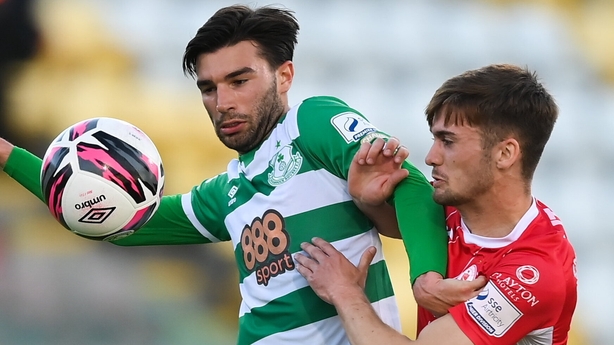 In the 29 games in May (excluding the Sligo Rovers v Waterford game, don't forget) there were 38 in the first half, 44 in the second – That's 46% v 54%. It's getting closer.
Here's the breakdown by 15 minutes of when the goals were scored:
0-15 | 14
16-30 | 14
31-45 | 12
45+ | 0
46-60 | 14
61-75 | 11
76-90 | 7
90+ | 11
THE LATE LATE SHOW
The real interest in when the goals are scored for football fans isn't in the percentage points above but in the drama of goals scored in the dying embers of games.
When interviewing the Shamrock Rovers manager after the win in Longford last Saturday night, I said "Welcome to the Late Late Show, and here is your host, Stephen Bradley".
The champions have won an incredible eight points with goals in added time this season: twice against Longford Town, and also against Drogheda United and St Patrick's Athletic. It used to be called "Fergie Time" after the Manchester United manager. Here in Ireland it should now be known as "Bradley Time". When you look at the league table and see that the Champions only trail Sligo Rovers by one point after 14 games, you realise how important those late goals have been.
Sean Gannon and Rory Gaffney against Longford home and away; Danny Mandroiu twice in Head in the Game Park and Inchicore – these late twists have had Hoops supporters jumping around their living rooms.
While doing the commentary in Longford last Saturday, Gary Reilly and I were so aware that the chance of a sting in the tale was more probable than possible.
Poor Gary, a lifelong Longford Town supporter, was devastated – but to be fair to him, he kept his cool in a tricky moment, half expecting what was about to happen.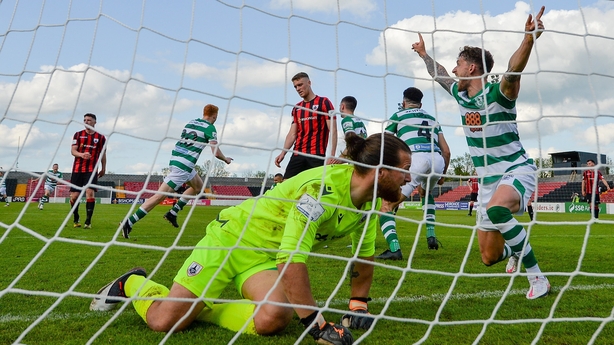 This season, there have now been 15 goals scored in added time at the end of matches – and 11 of those have been in the month of May!
That's a lot of late drama: James Browne's late corner kick led to James Clarke scoring his first goal in the Premier Division as Drogheda United equalized against Bohemians;
Ian Bermingham equalised in the Showgrounds to steal a deserved point; history was made in the Ryan McBride Brandywell when Finn Harps had their first ever league win there with Adam Foley's winner in stoppage time; Derry City's James Akintunde grabbed a point against hapless Longford; And for Drogheda United fans, Dane Massey's free kick in Ballybofey on 94 minutes and 57 seconds won the game for Tim Clancy's side – the second latest goal of the season before Gaffney's winner in Bishopsgate eclipsed it by a few seconds.
It's never over until the fat lady sings.
MOST COMMON SCORELINES
Happily, the worst score in football, 0-0, has only happened once in 70 games! That's a relief.
The other scorelines that have happened only once are 4-1, 5-1 and 0-7.
But the most common are 2-1, 17 times; 1-0 16 times; 1-1 13 times; and 2-0 on eight occasions – that's 54 out of 70.
GOALS BY SUBSTITUTES
Nineteen times this season, and seven times in May, goals have been scored by substitutes – that's approximately 9% of the goals in the month of May.
One of the league's top scorers, Adam Foley, came off the bench for only the second time this season and scored the winner in the RSC as Finn Harps came from behind against Waterford. That was Foley's 6th of the year and his first as a substitute.
Drogheda United have given opportunities to many of their promising young players this season. One of them is Jordan Adeyemo. He came off the bench against Longford Town to score twice in a 4-1 win and that brought to three the number of goals scored by him as a substitute, the other against St Patrick's Athletic.
GOALS FROM SET PIECES
There has been a massive increase in goals direct from free-kicks, corners, penalties and throw-ins last month. In the first eight series of games in March and April there was a total of 28 goals coming directly from set plays. That's an average of 4.66 per series of 5 games. In the six series of games in May that has gone up to 33, average 5.66.
Why has this happened? Most of it is down to goals direct from free-kicks. Shane Griffin's goal v Derry City in Brandywell was the only goal direct from a free kick in March/April. In May, there were 6 – and Drogheda United, the league's top scorers, got three of them: Dane Massey against St Patrick's Athletic and Finn Harps; and Ronan Murray against Longford Town.
Tyreke Wilson did it for Bohemians against Dundalk in Dalymount Park.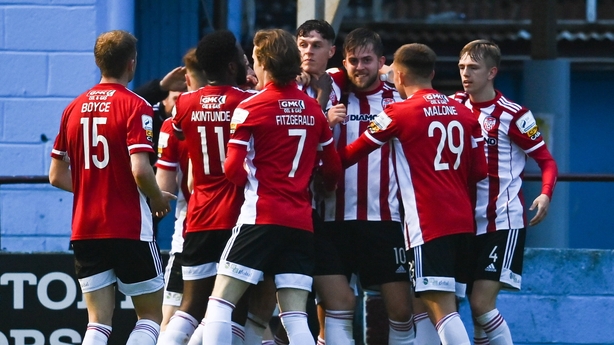 And Will Patching got two in the same game as Derry City won in Head in the Game Park against Drogheda Utd – so Drogheda United were involved in 5 of the 6 free kick goals in the month, scoring three and conceding two.
Goals from corners have also massively increased in the last month. There were seven in 40 games in March and April, 10 in 29 games in May. Sometimes it's all about the delivery. On other occasions, confusion reigns defensively and the goal is scored on the second or third touch in the penalty area.
The teams to score from corners in May were Drogheda Utd 3, St Pat's and Sligo 2 each, and Dundalk, Derry City and Bohemians with 1.
As for penalties, nine were given in May. None were saved and only one was missed: Georgie Kelly for Bohemians v St Pat's – that's the only penalty this season that hasn't been on target out of 17.
For the record, Nathan Gartside is the only goalkeeper to save a penalty in 2021 when he denied Oscar Brennan back in March – though the Waterford player scored on the rebound!
For some reason goals from free kicks has gone down in May. There were just eight compared to 14 in March/April.
But one of the most controversial goals of the season so far happened in Tallaght on 15 May when a quick throw-in by Liam Scales caught Derry City napping. Rory Gaffney scored – and referee Graham Kelly allowed the goal to stand even though the throw in was taken from the wrong position.
LONG RANGE GOALS
There's nothing like a sweet strike from outside the penalty area that finds the back of the net. That has happened 14 times in the last month, up one from April. It takes some skill to beat a goalkeeper from long range – and so many of those goals figure in the Goal of the Month and Goal of the Year competitions.
Six of the 14 were free kicks from outside the penalty area, all beautifully struck. In my opinion, these too often figure in goal of the month assessments. It is a great skill – but not as good as shots from open play that give the goalkeeper no chance.
Although it was a consolation goal for Dundalk against Bohemians, I particularly liked Greg Sloggett's strike from way out. And how about Ali Coote's run and finish for Bohemians against Finn Harps on 8 May?
ASSISTS
Of the 82 goals scored in 29 games in May (excluding that Sligo Rovers v Waterford game), 45 were assisted, that is the final pass or touch before the goal came from a team-mate.
At the end of April, Ronan Coughlan (St Pat's) and Will Patching (Derry City) led the way on four. James Browne (Drogheda Utd), Michael Duffy (Dundalk) and Dylan Watts (Shamrock Rvs) were just behind on three.
The assists in May were spread around 35 different players, none of whom had more than 2 assists in the month.
So here's the way it stands at the mid-season break in the Assists league for 2021:
6 Will Patching (Derry City)
5 James Browne (Drogheda Utd), Dylan Watts (Shamrock Rvs)
4 Ronan Coughlan (St Pat's), Michael Duffy (Dundalk
GOALSCORERS
The race for the Golden Boot awarded to the top scorer in the league is one of the most coveted prizes in football. It's no surprise that the league's top scorers this year, Drogheda United, have the player that's topping the charts after 14 games.
Mark Doyle has had an excellent campaign so far. And with four goals in his last five games, he has raced to the top of the list.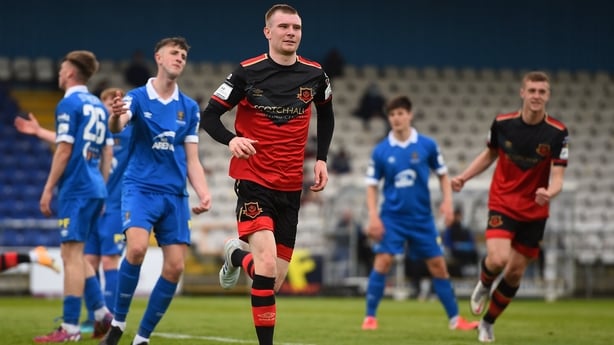 The early leader, Adam Foley of Finn Harps, is in joint second place on six with Georgie Kelly of Bohemians. Foley had four in his first four games. Since then, scoring has been harder for the Dubliner. Kelly doubled his tally with the season's first and only hat-trick against Dundalk.
Special mention should be made of Jordan Adeyemo, a young striker with Tim Clancy's Drogheda United. He has scored all of his three goals off the bench and looks like a real prospect as the County Louth club chase a top four position following their promotion last season as Division 1 champions.
7 Mark Doyle (Drogheda Utd)
6 Adam Foley (Finn Harps), Georgie Kelly (Bohs)
5 Rory Gaffney (Shamrock Rvs), Jordan Gibson (Sligo Rvs), Chris Lyons (Drogheda Utd)
4 Graham Burke, Danny Mandroiu (both Shamrock Rvs), Dane Massey (Drogheda Utd), Romeo Parkes (Sligo Rvs), Cameron McJannet, Will Patching (both Derry City), Ross Tierney (Bohs)
3 Jordan Adeyemo (Drogheda Utd), Ronan Boyce (Derry City), Liam Burt, Ali Coote (both Bohs), Dylan Grimes (Longford Town), Ronan Coughlan, Chris Forrester, Billy King (all St Pat's), Dave McMillan (Dundalk)
GOAL OF THE MONTH
In a month of 82 goals there were so many outstanding contenders for the May Goal of the Month competition. It was very hard to pick the best 12 from all of those. I have only included one of the many goals scored direct from a free kick, the one that I think was the best of the bunch.
For me, team goals and magnificent long range strikes that have a wow factor – they are the ones that make the cut in a month when as many as 25 goals were contenders. Here they are in date order.
GOAL A – ADAM FOLEY for Finn Harps v Derry City, 3 May
A memorable victory for Finn Harps as Adam Foley drills home a late goal to win the derby #RTEsoccer pic.twitter.com/XG6uYbTJrD

— RTÉ Sport (@RTEsport) May 3, 2021
Historic first ever winner for Finn Harps in Brandywell
GOAL B – JORDAN GIBSON for Sligo Rovers v Dundalk, 7 May
Dundalk 0-1 Sligo Rovers GOAL - Sligo Rovers' top goalscorer Jordan Gibson adds to his tally as the visitors take the lead at Oriel Park. pic.twitter.com/0rnSzhY7eN

— Soccer Republic (@SoccRepublic) May 7, 2021
Romeo Parkes to Gibson, emphatic finish
GOAL C – ALI COOTE for Bohemians v Finn Harps, 8 May
🏃🏻‍♂️🔄 Brilliant turn and run from Ali Coote to nab his first Bohs goal on Saturday night. The finish wasn't bad either...
⠀
🔴⚫️ #WeAreBohs #DublinsOriginals pic.twitter.com/CLt6FlIpQI

— Bohemian Football Club (@bfcdublin) May 10, 2021
Solo run from inside his own half and a fine finish
GOAL D – DANNY MANDROIU for Shamrock Rovers v St Pat's, 8 May
Danny Mandroiu scored a late winner as @ShamrockRovers beat @stpatsfc 2-1

Check out all the goals and key moments from the game below

Match report: https://t.co/xXiMNUeElO #RTESoccer #WatchLOI pic.twitter.com/9arfYYHpQm

— Soccer Republic (@SoccRepublic) May 8, 2021
Crucial late goal in a big Dublin derby, another Mandroiu special
GOAL E – BARRY McNAMEE for Finn Harps v Dundalk, 15 May
What a goal 🤩 🔥 pic.twitter.com/G9GNZo8RC1

— Finn Harps FC (@FinnHarpsFC) May 14, 2021
Great finish from the corner of the area when nothing seemed on
GOAL F – LIAM BURT for Bohemians v Longford Town, 16 May
Liam Burt 🤝 Wondergoals

Another fantastic strike from the Scotsman to put Bohemians into the lead!

30' @LongfordTownFC 0-1 @bfcdublin

Sign up 📺 | https://t.co/IBZkINEa20#WATCHLOI | #LOI pic.twitter.com/lmYZjl0aDz

— SSE Airtricity League (@SSEAirtricityLg) May 15, 2021
A great finish from 25 yards by the Scot
GOAL G – WALTER FIGUEIRA for Sligo Rovers v Longford Town, 21 May
📺 Match highlights@sligorovers 2-0 @LongfordTownFC
'Welcome to heaven' - Co-commentator Joey Ndo enjoyed Walter Figueira's opener as Sligo reclaimed second spot#RTEsoccer pic.twitter.com/q5yUcRVhVf

— Soccer Republic (@SoccRepublic) May 21, 2021
An unstoppable long range strike
GOAL H – PATRICK McELENEY for Dundalk v Shamrock Rvs, 21 May
McEleney the coolest man in Oriel Park! 🥶

Patrick McEleney has given @DundalkFC the lead at Oriel Park with a composed finish, however the visitors have drawn level after just two minutes through Joey O'Brien.

Sign up 📺 | https://t.co/IBZkINEa20#WATCHLOI | #LOI pic.twitter.com/YfHTvpUlIN

— SSE Airtricity League (@SSEAirtricityLg) May 21, 2021
Lightning fast break from a Rovers corner – end to end in a flash
GOAL I – TYREKE WILSON for Bohemians v Dundalk, 24 May
Bohs have doubled their lead at Dalymount Park and what a strike that is from captain Tyreke Wilson!

The @bfcdublin full-back left Alessio Abibi with absolutely no chance.

9' @bfcdublin 2-0 @DundalkFC

Sign up 📺 | https://t.co/IBZkINEa20#WATCHLOI | #LOI pic.twitter.com/aeSkN4vG17

— SSE Airtricity League (@SSEAirtricityLg) May 24, 2021
Perfect free kick, top corner, pick it out!
GOAL J – GREG SLOGGETT for Dundalk v Bohemians, 24 May
ICYMI > A moment of brilliance from Greg Sloggett on an otherwise forgettable night for @DundalkFC vs @bfcdublin in #Dalymount.

Via @RTEsport @RTEsoccer pic.twitter.com/rMoPBR0tq7

— RTÉ (@rte) May 25, 2021
Some consolation for the Lillywhites in a heavy defeat
GOAL K – JORDAN ADEYEMO for Drogheda Utd v Longford Town, 24 May
Adeyemo 👉 Markey 👉 Adeyemo 👉⚽️

Impact from Jordan Adeyemo off the bench again 👏

🟣🔵 #WeAreDrogs #OurTownOurClub pic.twitter.com/92N0xExAZk

— Drogheda United F.C. (@DroghedaUnited) May 24, 2021
The deftest of back heels from Darragh Markey, clinical finish
GOAL L – ANDY LYONS for Bohemians v Waterford, 29 May
Bohemians love a team goal, don't they?

Another spectacular passage of play which is finished superbly by Andy Lyons 👏

75' @bfcdublin 3-0 @WaterfordFCie

Sign up 📺 | https://t.co/IBZkINEa20#WATCHLOI | #LOI pic.twitter.com/f7NE5fqxG4

— SSE Airtricity League (@SSEAirtricityLg) May 29, 2021
Super move by Bohs, finished by the over-lapping full back