Stephen Kenny will have two players and a key coach joining him in Spain early on Monday morning after a couple of seismic finals.
Ryan Manning and Conor Hourihane were part of the Swansea side that suffered defeat to Brentford in Saturday's Championship play-off final while assistant coach Anthony Barry is part of Thomas Tuchel's Chelsea set-up and hoping to come out the right side of their Champions League final showdown against Manchester City.
The Republic of Ireland are currently tuning up in Girona ahead of friendlies against Andorra and then Hungary.
Kenny singled out Hourihane for praise with the Corkman eager to link up with his country having missed out on the spring's World Cup qualifiers against Serbia and Luxembourg due to a hamstring injury.
"Conor wasn't content to stay at Villa and see out the season. He knew he'd to play regularly to maintain his international position. That was important for him," said Kenny.
"You can talk about players dropping out but when I rang Conor he said to me, 'we're playing the play-off on [Saturday], once we play I'll fly out straight away, I'll be on the first flight.
"It wasn't, 'I've had a hard season, I probably need to put my feet up and rest after playing the play-off'. It was, 'I missed the last window through injury, I was devastated to miss it, I'm on the next flight', himself and Ryan Manning.
"To be fair to Conor he's shown a real determination to both play this year... and also to play for his country, regardless if it's a friendly or not.
"In relation to Anthony... it's a great experience for him tonight (Saturday). Hopefully he enjoys it and it has a positive outcome. The three of them will be on an early flight Monday morning first thing."
Kenny is missing a long list of established players for this camp. On Friday Darren Randolph, Callum Robinson and Aaron Connolly [foot] joined Jack Byrne, Enda Stevens, Alan Browne, Kevin Long, Callum O'Dowda, Jeff Hendrick and Robbie Brady on the injured list.
Fresh faces have come in as a result, with Kenny airing his satisfaction in particular at being able to call on Nigeria-qualified Rotherham man Chiedozie Ogbene.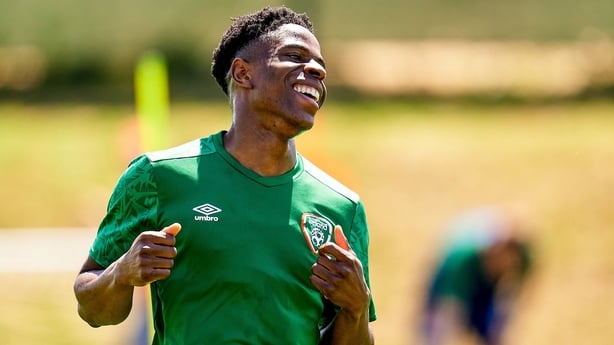 "Were delighted to have Cheidoze [above] because I wasn't comfortable with the fact that even though he's been living in Cork since he was seven, due to recent changes in the FIFA law we couldn't get him to qualify for Ireland," he said.
"Recent changes in the law state that if you've been [living in a country for] three years before the age of ten [you are eligible for that country].
"It meant having to go through school records and stuff like that. He's someone that should have every right to play for Ireland.
"His career is on an upward curve and he has a lot of raw pace and still has improvement to do as he knows. He'll be looking to continue to improve and get better.
"It's not 100% ideal but we're happy with the squad we have here. I think it's a great opportunity for a number of players to impress and do well. Training went well yesterday and today. It's a good environment to come and train and we've still got a good part of the week ahead of the game on Thursday."
Another fresh face is Peterborough United's Sam Szmodics [pictured below]. The 25-year-old qualifies to play for Ireland through his Longford-born grandmother with Kenny revealing he has been tracking the attacking midfielder for a while.
"I was aware a couple of years ago that Sam had declared an interest in playing for Ireland and had been maybe overlooked at U21 level at that time. I went to watch Ipswich play Peterborough probably 18 months ago.
"I went to see Alan Judge playing for Ipswich and Jack Taylor playing for Peterborough. In that game Sam was playing as a No 10. He scored twice at Portman Road that day and did very well.
"We've monitored his progress in that period. He's quick and works very hard. He'll be keen to have a good camp and see how that goes."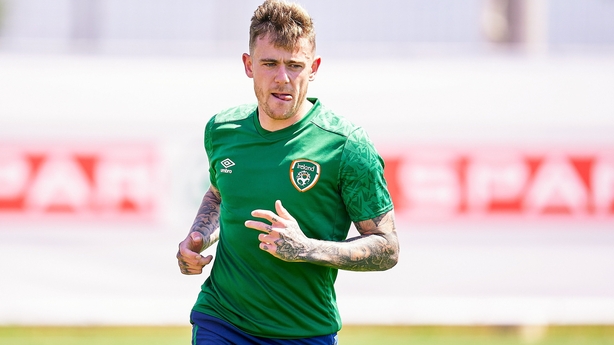 Kenny is still waiting on a first win as Ireland senior boss but he remains upbeat and confident his side are close to turning sporadic phases of encouraging play into tangible results.
"We want to play well in both games. That's our objective.
"I've learned a lot. I'm continually learning. We want to learn and win of course. We've gone through clips of some absolutely outstanding play in recent games. We've not been consistent in all the games. Parts of games have had exceptional moves but we need to have that consistency over 90 minutes.
"A lot of players are gaining valuable experience and they will be important layers for Ireland in the future. We are missing a few players but that gives opportunities for others. We want players to grasp that opportunity."