Liverpool youngster Vitezslav Jaros will be staying with Saint Patrick's Athletic for the rest of the season after making an impact between the sticks in Inchicore.
The Premier League giants had the option to recall the Czech keeper during the summer but are happy with his progress in a season that has started well for Stephen O'Donnell's side.
"I've loved it so far. It's been a great experience," the 19-year-old told RTÉ Sport.
"The team has been doing well and it's a great introduction to (senior) football. I think it's going to be a good season, the group of lads we have is brilliant.
"Working with the centre-backs Lee (Desmond), Sam (Bone) and Paddy (Barrett) is a privilege. All of them are great pros.
"I can't say I knew much about the League of Ireland but it's quite small so you get to know a lot of people really quick."
Jaros is hoping to keep a sixth clean sheet of the season when they face Dundalk on Friday and his performances have been reviewed at Anfield.
"There has been some good feedback. They are happy with me playing and doing well," he said.
"There are always some things you can improve so it has been a bit of both but I think everyone is happy that I'm getting a game every week."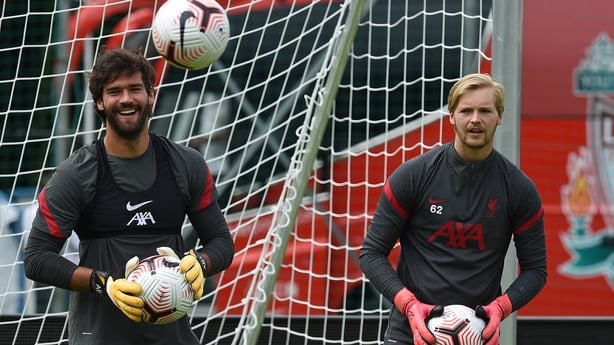 Jaros has been encouraged by the progress of Republic of Ireland U-21 international goalkeeper Caoimhin Kelleher at Liverpool and says that Alisson Becker was an inspiration, even before his unlikely recent goal-scoring exploits against West Brom.
"Seeing the likes of Caoimhin come through the academy, you see that there's a chance to get to the first team," said Jaros, who joined the Merseysiders from Slavia Prague's youth team.
"Watching Alisson day-in day-out is brilliant, you can watch him and learn.
"When he went up for that header it was brilliant, I think every Liverpool fan was buzzing when he scored because it was a massive moment in the battle for the top four.
"I've seen him do some good finishes in training but I've never seen him head one."