They think it's all over - it is now.
No, wait, it's not. Because you're Manchester United playing at Brighton and you've just been awarded a penalty in the 100th minute, with the full-time whistle already blown.
Yes, it was that kind of season in the Premier League where we had no fans for the vast majority of games, endless VAR rage, and the rise and fall* of the Super League.
There was plenty of drama in England's top division, but it was played out in a vacuum that sometimes seemed to suck the enthusiasm out of jaded, weary players.
Having kicked off on 12 September, the season has now been and gone. Here's how we viewed it.
*It'll probably be repackaged into something more palatable and dragged into existence in a couple of years' time.
---
TEAM OF THE YEAR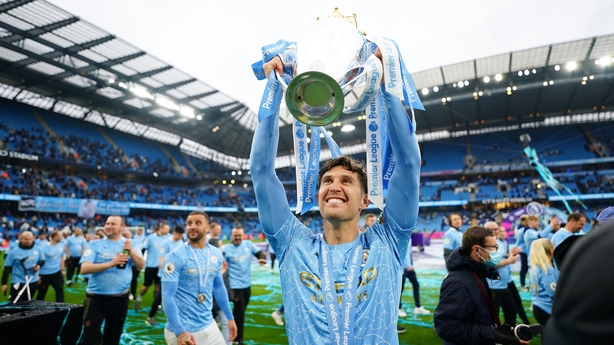 It's hard to look past the champions. Manchester City could end this year with a treble, having retained the Carabao Cup and regained the Premier League.
Is this the best City squad Guardiola has had at his disposal since he arrived in 2016? It's hard to say. Domestically they've benefited from Liverpool's collapse (if Pep's side had finished last season with the 86 points they accrued this year, they would have trailed the Reds by 13), while in Europe they haven't had to deal with the hostile away-leg atmospheres in which they've wobbled in recent years.
Still, they've looked like the best team in the competition to this point and though Chelsea have proven they are absolutely capable of turning City over, it feels like their time has come in Europe's elite competition.
Of the rest, West Ham had a great year under David Moyes. If Declan Rice and Michail Antonio had avoided injury at the back end of the season they may well have squeezed into the top four. A sixth-placed finish - and a place in the Europa League - is just reward for their improvement.
Leicester City blew it on the last day as they lost 4-2 to Spurs and that really was a shame because if Brendan Rodgers had added Champions League qualification to the Foxes' FA Cup victory, they would be toasting a campaign to rival the year they won the league.
There was loads of hype about Marcelo Bielsa's newcomers Leeds United, who just about managed to justify it by virtue of their refreshing habit of being either brilliant of shambolic.
---
COACH OF THE YEAR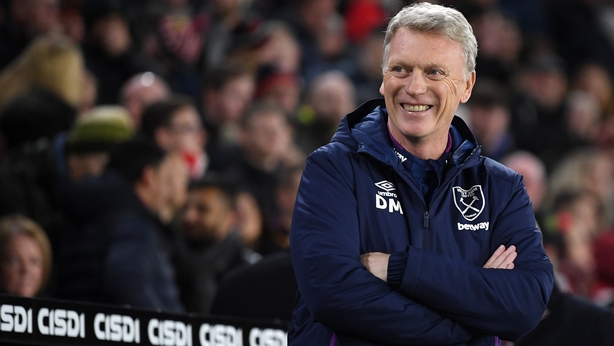 Let's hear it for the Moyes. West Ham fans weren't exactly dancing with joy when the Scot returned for a second spell at the club in December 2019, but he secured their safety with a 16th-placed finish that season, having taken the reins when the Hammers were hovering above the drop zone.
This year they took off. Good coaching and some canny signings - Jesse Lingard, Vladimir Coufal, Craig Dawson - helped West Ham to become a much more balanced side; organised, tough to break down and with enough quality to cause teams problems.
The club may regret not backing their manager more in January - braver investment could have been rewarded with a place in the Champions League.
SIGNING OF THE YEAR
Ruben Dias had what you might call 'the Van Dijk' effect on Manchester City after arriving from Benfica for around £65m. Guardiola has blown a lot of money trying to fill the considerable void left by Vincent Kompany but Dias looked the real deal pretty much from the off.
Tough, composed, intelligent and a good organiser, he quickly steadied what had been quite a leaky ship.
Edinson Cavani deserves a mention for the impact he's had at Old Trafford, which was considerable enough for Manchester United to tie down the 34-year-old for another year, while goalkeeper Emiliano Martinez was a big part of Aston Villa's resurgence under Dean Smith. His arrival from Arsenal helped to invigorate a side who only narrowly beat relegation last season.
EMOTIONAL GOODBYES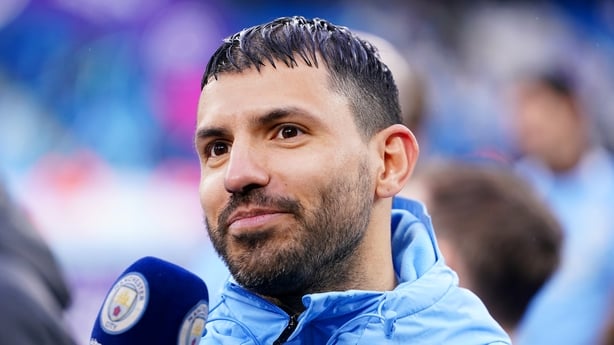 Sergio Aguero and Gini Wijnaldum both got misty-eyed send-offs for Manchester City and Liverpool respectively on the final day of the campaign, with Aguero banging in two goals to mark his last game in sky blue.
The pair enjoyed iconic moments with their clubs - Aguero(ooooooo) rifled home his incredible title-winning goal against QPR; Wijnaldum rose from the bench to score a brace in Liverpool's remarkable 4-0 Champions League semi-final defeat of Barcelona.
They look like they'll be united at the Nou Camp next season as Barca close in on a double swoop for the high-profile free transfers.
FOOTBALL RISES UP TO BANISH THE SUPER LEAGUE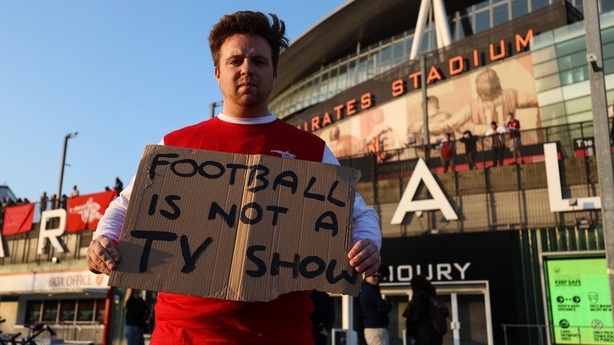 A cackhanded attempt by a 'dirty dozen' of European giants to ringfence their status and money sparked an incredible response from the wider footballing public that exploded into a circus.
Bray Wanderers tweeted to deny their involvement, Ian Holloway said it was an insult to the recently deceased Prince Phillip, and Manchester United fans stormed Old Trafford, leading to the clash against Liverpool being postponed.
Time will tell if the whole debacle was genuinely a watershed moment for the game or merely an early failed attempt by the wealthy owners who still want to push this, or something similar, through.
The day after the Super League announcement UEFA unveiled their new Champions League format: a 36-team group stage with four extra matches per club.
Super League indeed.
THE ALISSON BECKER AWARD FOR INJURY-TIME DRAMA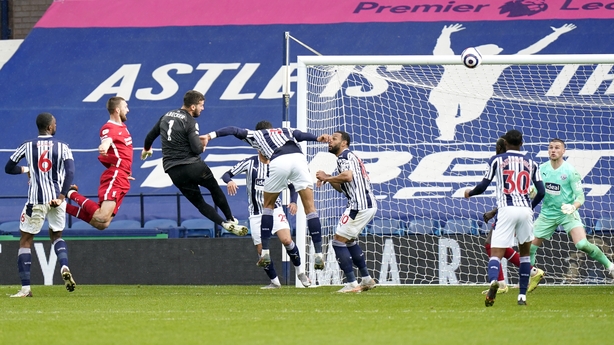 And the winner is... Alisson Becker. In the third-last game of the season, Liverpool were drawing 1-1 at West Brom. Their Champions League hopes hanging by a thread, the goalkeeper came up for a corner in the 95th minute.
Far from just being a penalty-area distraction, the Brazilian got on the end of Trent Alexander-Arnold's corner to glance a header Niall Quinn would have been proud of to the net and seal a crucial 2-1 win.
He became the first goalkeeper to score in a competitive fixture in Liverpool's history, and could scarcely have picked a better time to do so.
NATHAN AKE AND ROY KEANE - PEAS IN A POD
Before Dias arrived, Ake was City's big summer splurge. He joined from Bournemouth for £40m and went on to emulate a certain Roy Keane by going down with one team and then winning the title with another the very next season.
Keane did the same in 1994 after he'd gone to Manchester United from Nottingham Forest.
THE BAD LUCK OF THE IRISH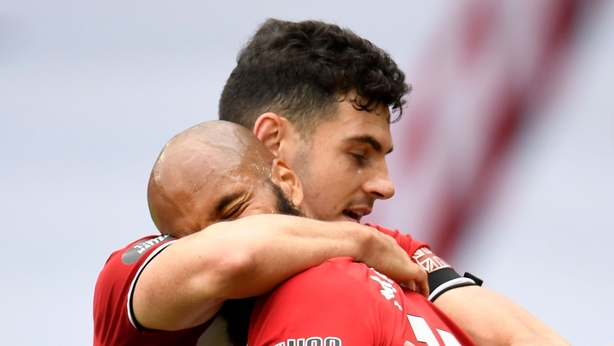 It's not been a vintage year for Republic of Ireland players plying their trade across the water.
Sheffield United were effervescent last term - this time around they wilted. With Enda Stevens, John Egan and David McGoldrick regulars, the Blades have been the team to keep an eye on for Irish fans.
It was disappointing then to see them endure a torrid season, returning to the Championship after winning just seven of their 38 games.
At West Brom, Dara O'Shea and Callum Robinson also suffered the drop, though Robinson could at least take comfort in his knack of scoring against Chelsea: four of the frontman's five Premier League goals came against the Blues.
Matt Doherty's summer move from Wolves to Spurs was supposed to take him to the next level, but the Dubliner has gone backwards.
Aaron Connolly has also struggled to kick on at Brighton who, oddly, feel like they've taken forward strides under Graham Potter despite finishing 16th - one place below where they finished last season albeit with the same number of points.
Jeff Hendrick (Newcastle United) and Seamus Coleman (Everton) were both part of middling campaigns with their clubs who took 12th and 10th respectively. The Toffees promised so much more after a great start. They did however finally manage to beat Liverpool at Anfield for the first time since 1999.
Burnley did what Burnley always seem to do under Sean Dyche - doggedly securing their top-flight status while occasionally annoying some of the bigger names. Robbie Brady (again hit by injuries) and Kevin Long never consistently established themselves in the side and it was a similar story for James McCarthy at Crystal Palace. The midfielder played at Anfield last Sunday but he's now out of contract and on the hunt for a new club.
Aston Villa's Conor Hourihane had to drop out of the Premier League in January to get regular football but he has flourished on loan at Swansea who have made the Championship play-off final, where they'll face Brentford.
---
QUOTES OF THE SEASON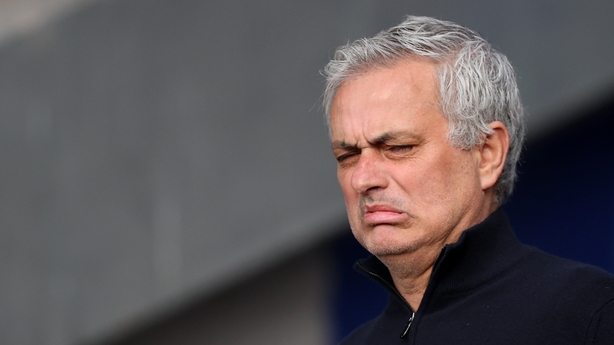 "I think the never having been relegated thing... to lose that would kill me if we did go down." - Sam Allardyce stuck his neck out when he took over at West Brom. Ultimately, he did indeed suffer the dreaded drop.
"That was history - but obviously the wrong type." - Jurgen Klopp had to pick his jaw up off the floor a few times as his reigning champions were hammered 7-2 at Aston Villa.
"We're not even in the race so we're not a horse. We're a pony." - Jose Mourinho's modesty came early in the season at a time when Spurs were actually doing well enough to make some people believe the Portuguese boss was playing mid games.
"It hurts more, not less, to have this result again." - Southampton Ralph Hasenhuttl swallows the bitter pill of a second 9-0 loss in two seasons, this time at Manchester United. Leicester had annihilated the Saints the previous campaign.
"Normally I have three weeks off and eat potato salad." - West Ham's Czech midfielder Tomas Soucek likes to keep things simple at Christmas time.
"If that was my son and he stays down and he needs his mates to help him up, he doesn't get food because that's embarrassing." - Ole Gunnar Solskjaer wasn't happy with Spurs' Son Heung-min.
"I think as a father you have always to feed your kids." - Luckily Mourinho resisted the temptation to be overly dramatic with his response.
"Like we say in Portugal, bread is bread and cheese is cheese." - Another Jose nugget of wisdom as he took aim at Solskjaer.
"Heston Blumenthal, who mixes chocolate with eggs or something stupid and outrageous. Pep is nearly the Heston Blumenthal of football." - David Moyes talks up Guardiola and highlights the lunacy of mixing chocolate with eggs, also known as a cake.
"Twelve of Europe's leading football clubs have today come together to announce they have agreed to establish a new midweek competition, the Super League, governed by its founding clubs." - A joint statement that slipped under the radar in April.
"I'm disgusted by Manchester United and Liverpool the most. Liverpool, they pretend 'You'll Never Walk Alone,' the people's club, the fans' club. Manchester United - 100 years, born out of workers. And they are breaking away into a league without competition, that they can't be relegated from? It is an absolute disgrace." - Gary Neville was a passionate opponent of the grand plan.
"It's amazing the amount of uproar that comes into the game when someone's pocket is being hurt. It's a shame it's not like this with everything that's going wrong in the game, like racism." - Leeds striker Patrick Bamford put it all into perspective.
"We drank a bit, we danced, we hugged a lot, we remembered how good it was. Then at 11.30pm, 15 pizzas arrived and that was the best moment of the night." - Pep Guardiola celebrated Manchester City's title like a Teenage Mutant Ninja Turtle.