Manchester City manager Pep Guardiola paid an emotional tribute to Sergio Aguero after the striker made his final Etihad Stadium appearance for the club.
The striker scored twice after coming on as a substitute as Premier League champions City ended their league campaign in style with a 5-0 victory over Everton.
As Aguero's decade-long spell playing for the club at the Etihad came to an end, Guardiola described him as irreplaceable.
"We love him so much - he is a special person for all of us. We can not replace him. He showed his quality in those 30 minutes," he told Sky Sports.
"It was a perfect end, a fairytale moment. It was so good.
"He made an incredible two goals to finish the game in a good mood and now we have five days to prepare for the final."
The post-match ceremonies also included a special tribute to Aguero in recognition of his career but, as Guardiola pointed out, there is still time for one last chapter.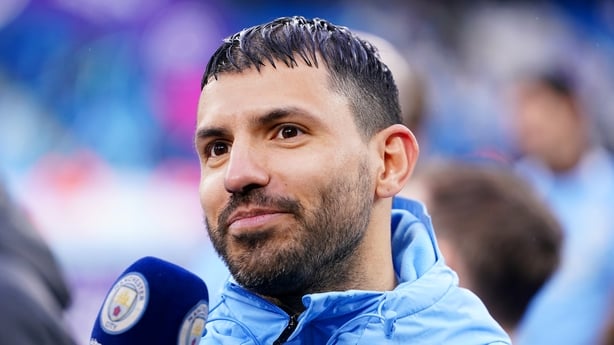 Asked if Aguero could play against Chelsea in the Champions League final in Porto, Guardiola said: "Of course. We have five substitutions. He has a special feeling, he has something special.
"Of course he will be ready if we need him to help us win the Champions League."
City will now wrap up celebrations and turn their attention to completing their European quest.
Guardiola said: "We have time. We will go home now. We've enjoyed the last two weeks, every moment, of being champions. Now today we celebrate but tomorrow we train.
"Then we will have a day off and then we have two or three days to prepare for the final."
Aguero, who has won five Premier League titles and took his goals tally for the club to 260, said: "Before the game I felt so strange, the sensation is not good. I prefer to think about the good moments.
"I'm a striker, my target is to score goals, so I'm so happy because it's my last game and to score two goals is fantastic for me.
"When I came here the first title for me was the most important, for the club and for me. Then Man City started to win more titles so I'm so happy because it's not easy to be 10 years at one club, for me it's an honour."
Everton, who were without Seamus Coleman and James Rodriguez, had begun the afternoon with a chance of qualifying for Europe but manager Carlo Ancelotti accepted his side were completely overwhelmed.
"It was a difficult afternoon," said Ancelotti, whose side missed a penalty at 2-0 through Gylfi Sigurdsson. "It is almost impossible to compete with them, they are the best team. It was difficult. We tried to compete but today was not the day.
"We tried to push a bit and apply pressure because we wanted to try to win but we were punished on the counter-attack. We lost some easy balls.
"We had the ability to come back into game with the penalty but in the second half there was no chance to come back."
The result left Everton a disappointing 10th in the table but Ancelotti remained positive.
Ancelotti said: "We have improved compared to last season but now we have to look forward to be competitive and get more points next season."