FIFA will carry out a feasibility study on holding the World Cup and the women's World Cup every two years after backing a proposal at its annual congress on Friday.
The two competitions are currently held every four years but the Saudi Arabian Football Federation (SAFF) put forward a proposal for a study of the impact of switching to every two years.
"We believe the future of football is at a critical juncture. The many issues that football has faced have now been further exacerbated by the ongoing pandemic," said SAFF president Yasser Al-Misehal.
"It is time to review how the global game is structured and to consider what is best for the future of our sport.
"This should include whether the current four-year cycle remains the optimum basis for how football is managed both from a competition and commercial perspective," he added.
FIFA president Gianni Infantino called it an "eloquent and detailed proposal" with 166 national federations voting in favour with 22 voting against.
Infantino said the study would look into the qualification systems for the tournaments.
Ireland last qualified for a World Cup in 2002.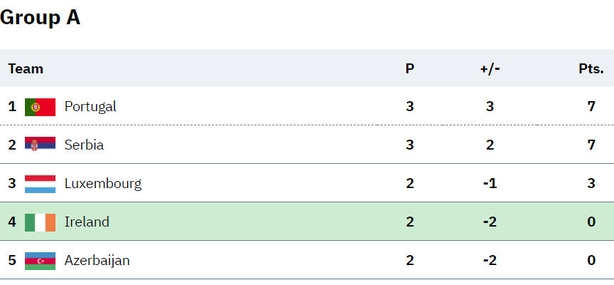 Infantino also said FIFA did not collude with clubs over the foundation of the short-lived European Super League.
The president of La Liga, Javier Tebas, is adamant that Infantino and other members of the FIFA hierarchy held meetings with, and offered encouragement to, the clubs involved in the Super League project, which was launched on 18 April but had collapsed within 72 hours.
Infantino has strongly rejected the idea of any competition that would be played outside of football's existing structures, but insists his role as FIFA president is to be open to speaking with everyone, and said that just because the Super League had collapsed did not mean that the status quo in the game should be accepted.
"At FIFA it is my responsibility to hear, to meet, to discuss with football stakeholders - our member associations, leagues, our clubs, everyone: big, medium and small," he said.
"To listen to some clubs and to speak with some clubs doesn't mean in any way whatsoever that FIFA was behind, was colluding, was plotting, (on) any Super League project.
"We should look at the facts and not rumours or corridor gossip, especially not coming from certain parts," the Swiss said.
"I have been working in positions of relevance for decades now and I know many clubs, I speak with clubs for many years, since my days at UEFA. And when speaking to European clubs, the Super League topic always is a topic for discussion, always. Everybody in football knows that.
"For years and years some clubs are studying and preparing for this or similar projects. In the 16 years I was in UEFA we always managed to manage that and I can tell you that there were projects that were far more advanced than the one we have seen recently."
Infantino joined UEFA president Aleksander Ceferin in denouncing the Super League at the European confederation's Congress the day after the league's foundation had been announced, and FIFA also put out a statement rejecting the idea of a breakaway competition in January.
UEFA has instructed its disciplinary inspectors to examine whether Super League hard-liners Real Madrid, Barcelona and Juventus have violated its rules, with Champions League bans a possibility.
Infantino said it was important to "leave room" for a way back.
"We are ready to defend football from projects we know are wrong and we need to be strict about that," he said.
"But I also left room, and also will always leave room, for clubs to come back, to discuss, because we need to care about football as a whole."
We need your consent to load this SoundCloud contentWe use SoundCloud to manage extra content that can set cookies on your device and collect data about your activity. Please review their details and accept them to load the content.Manage Preferences
Listen to the RTÉ Soccer podcast on Apple Podcasts, SoundCloud, Spotify or wherever you get your podcasts.