Dundalk sporting director and interim manger Jim Magilton has revealed players will pay for the cost of Covid-19 tests at the club this week as well as a charitable contribution after revealing he had no prior knowledge of a team bonding session in Belfast.
The Lilywhites avoided being forced to play their Under-19 side in upcoming games after their playing staff returned negative Covid-19 results following the trip to Belfast which broke Covid-19 protocols.
All players and coaching staff underwent Covid-19 testing on Tuesday morning and returned negative results, which was a huge relief to the club as they may have had to use their Under-19 squad for up to three fixtures.
Speaking to RTE Sport, Magilton said: "It certainly was (an embarrassment to the club) and we had to deal with it. We offer our sincere apologies to everyone, especially the FAI, HSE, frontline workers and our fans. It was misguided to say the least.
'In hindsight, it wasn't a great idea' - Sean Murray tells @CorkTOD of the @DundalkFC regret following their Covid guidelines breach at the weekend pic.twitter.com/4SJ0IdMOVY

— RTÉ Sport (@RTEsport) May 13, 2021
"Bonding sessions are important for teams but to do it during this time was at best stupid and we have to deal with the repercussions.
"We will deal with it internally, but we will be looking for the players involved to pay for the tests and to make a donation to a local charity."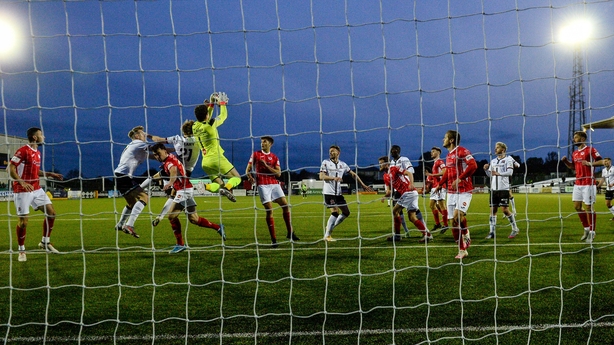 "We welcome the apology by the players involved and their commitment to make a donation to a local charity," a statement from the FAI read.
"The FAI engaged with Dundalk throughout this process and reminded all involved that, at a time when all Irish football is easing back into action with the assistance of all State agencies, this breach was most unwelcome and unacceptable."
It was the latest in a season of calamities at Oriel Park as title challenges and group stage European football seem a world away.
With just 10 matches played, Dundalk are 16 points behind leaders Shamrock Rovers and last week's defeat to Sligo Rovers now leaves them with a battle to qualify for Europe next year.
Magilton's side travel to Donegal to face a Finn Harps side which earned a 2-1 win in Oriel earlier this season tomorrow evening, with pressure on everyone at the club.
"It's a challenging time. We have to deal with it. There's no point us shying away. It is where it is. We are where we are and we have to show character.
"Character is shown in many different ways. Results have to be better, there is no question about that.
"The good thing about that is we have a talented bunch of players. We just have to get a few results on the board and build on that momentum. If we can great."
The Belfast incident has further irked Dundalk supporters after the flat display against Sligo.
However Magilton does not believe it gives us side further motivation to respond to their poor season so far.
"No because it's a game of football. Regardless of what happened last weekend, if it gives them all resolve and gives them an extra yard then great.
"If they use it to get a result then well and good. It doesn't excuse their behaviour (of breaking Covid-19 guidelines). I feel when a player steps over the white line, they are responsible for their own performances.
"Players know the importance of the game and they also know the importance and relevance of what they did (by going to Belfast)."