Ray Houghton has described his former Republic of Ireland team-mate Alan McLoughlin, who passed away today aged 54, as a "genuinely lovely football man."
McLoughlin, who revealed in March he was living with a form of kidney cancer, played for Ireland on 42 occasions between 1990 and 1999.
He was, of course, best known for scoring one of the most important and dramatic goals in Irish football history, the equaliser against Northern Ireland in Windsor Park in 1993, which secured Ireland a spot at the 1994 World Cup in America.
"He was just a genuinely lovely, lovely football man" - Ray Houghton pays tribute to his friend and former teammate Alan McLoughlin #RTEsoccer pic.twitter.com/hrKliPNySr

— RTÉ Sport (@RTEsport) May 4, 2021
Houghton told RTÉ Sport the news had come as a shock.
"It's terribly sad news. I didn't expect anything like this at all," he said.
"I only knew about his illness in the last couple of weeks. I saw on social media, I knew he was blown anyway by the number of people who really wanted him to get through it.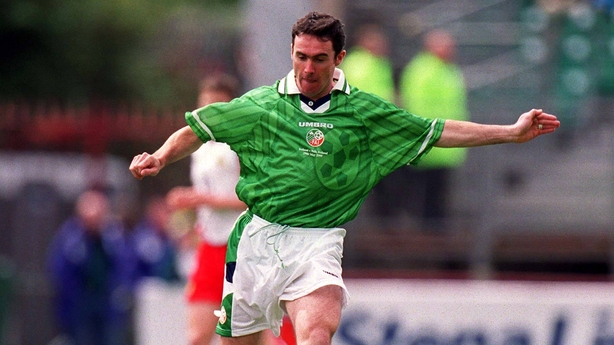 "He'd come through that. I remember speaking to him about the illness he had before. He made very light of it.
"He didn't want anyone to get worried or upset about it. But I didn't realise how bad it was this time around."
"The news today is dreadful for everyone who knows him. My heart goes out to his family and friends. At this particular moment, I just can't imagine what they're going through.
"Losing someone so young, who had so much to live for and who was such a lovely fella.
"There's not one person I know, who played with Alan or against him, who would have a bad word to say about him. He was just a genuinely lovely, lovely football man."
Absolutely gutted to hear my old teammate with the ROI Alan McLoughlin has passed away!What a great bloke and a player he was.I'll always remember his famous goal against Northern Ireland at Windsor park in a 1-1 draw that got us to USA https://t.co/tb4SDxNveP Topman

— John Aldridge (@Realaldo474) May 4, 2021
Former Ireland team-mate Paul McGrath tweeted: "So sorry to hear of the passing of Alan. I met Alan back in our [Manchester] United days and we also had a lot of successes and laughs with the Irish team.
"So sad for Alan's family and friends, Rest in peace, pal."
Legendary Ireland goalkeeper Packie Bonner also expressed his condolences to McLoughlin's family and paid tribute to his former teammate.
Gutted to hear the sad news about our great team mate Alan McLaughlin, he was a great personality to be around. He will be greatly missed. Sincere condolences to his family. RIP my friend.

— Packie Bonner (@PackieBonner1) May 4, 2021
"Football sometimes throws up a special moment for a special person to do something magical..." - @Corktod reports on the sad passing of Alan McLoughlin, a man whose contribution to Irish football will never be forgotten #RTEsoccer pic.twitter.com/ZTpCi4dzHk

— RTÉ Sport (@RTEsport) May 4, 2021
Damien Duff pays tribute to Alan McLoughlin and Alan Keely who both sadly passed away in the last two days #RTEsoccer pic.twitter.com/40RaziZwot

— RTÉ Soccer (@RTEsoccer) May 4, 2021