Following Friday's draw for the World Cup qualifying stages, Ireland manager Vera Pauw believes that her side have "everything to play for" in their quest to qualify for the 2023 tournament.
Pauw laments the fact that Ireland must take on the world's fifth ranked side, Sweden, in their five-team group, however, the national team boss also accepts that the draw could have been tougher.
Third seeds going into Friday's draw for the Australia and New Zealand-hosted event, Ireland have been drawn in a group with the highly rated Swedes, along with fellow Scandinavian side Finland, Slovakia and Georgia.
The nine group winners will automatically qualify for the World Cup, while there will be three more places available for the second-placed sides, who will enter into a play-off format - two teams will go through, while the third-ranked side of the nine will go into the inter-confederation play-offs.
By admission, Pauw is realistically aiming for the play-off position in the group and the manager believes that it should be a straight shoot-out with the second favourites, Finland.
Ireland narrowly missed out on a place in the play-offs for the upcoming European championships, but Pauw is confident that her side can go one better in the upcoming World Cup campaign.
"Sweden is a really, really tough opponent," said Pauw. "They're going to the Olympics, they're one of the three [European] teams going.
"On the other hand, everybody in the first pot is tough; Germany, the Netherlands, or England, [so] we'll take that.
"The second pot was Finland. It's not the best draw, but it's definitely a team we can play against, and definitely a team that we have a chance against. If we grow the way we do now and if we get a chance to prepare well, we have a chance against them.
"This team hasn't seen the ceiling yet. I've said that before, but it is true. Every game, we are getting better, and if we keep growing, then I wouldn't see a reason why we do not have a chance.
"It's a tough group. It could have been a bit better, but it could have also been worse. In this group, we have everything to play for."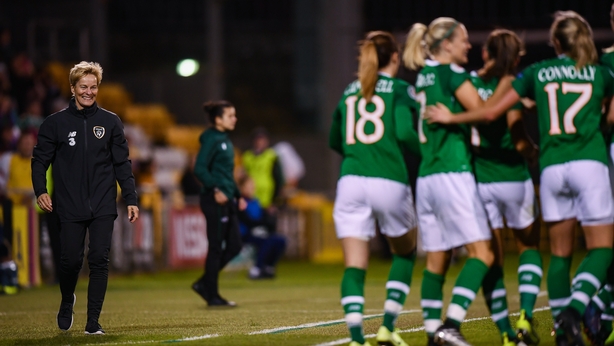 In an ideal world, Ireland would qualify automatically by topping the group and avoiding the play-off phase, which is quite the mouthful to digest with nine teams getting whittled down to three, however, Pauw does not think her side's ranking is good enough to be able to make such a statement ahead of the campaign.
Ireland are currently ranked 34th in the world, while only Germany, the USA, Netherland and France are ranked higher than Sweden, with Finland somewhere in between in 24th place.
"We can only succeed if we are realistic of where we are now. If we are now going to shout that we can beat Sweden twice in the group, that would not be realistic," said Pauw.
And the manager offered real insight as to what to expect from the two sides ahead of the campaign, which is set to begin in September, most notably, the Swedes, who beat Germany in the quarter-finals of the 2019 World Cup and only lost to the Netherlands after extra time in the semis. They beat England in the third-place play-off.
"Sweden had that dip between 2011 and 2015, 16, [but] they're actually now back on the top level.
"They have some young players, but also some very established and experienced players. That mixture makes them dangerous.
"Their playing style is starting to improve in the sense of more variety and creativity in the team, whereas before it was more power-based and overlapping-based.
"It will be very difficult to stop them from scoring and it will be difficult to score against them but we could have drawn a worse team from pot one. But the key country is Finland."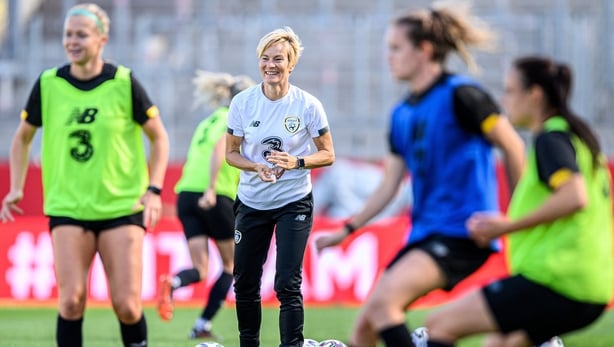 Finland will offer a different but equally difficult challenge for Ireland and Pauw expects them to play with a bit more physicality and a more direct style.
"We definitely can compete with them. They are physically strong, they're more direct and play with power. I think that suits us also.
"I think we have more creativity in the team but they have more experience, and they are more direct."
Lessons will have been learned from the recent Euros qualifying group, where Ireland squandered valuable points to Greece, while they lost a game they dominated and should have won in Ukraine, which ultimately cost Pauw's side a play-off place.
And the manager knows, that maximum points must be taken from the four games against Slovakia and lowest-ranked side Georgia to stay in the race for a coveted place at the World Cup.
"Slovakia and Georgia, we have to take all the points. This group is the same as last time and in every group all the time, the number one [seed] have an easy go, pot two and three are fighting for the second place, and the rest, you have to win.
"That's still the same thing.
"Our main focus is that we should get the mistakes out of our game so that we do not lose unnecessary goals. If we manage that, I am sure that we will qualify for at least playoffs."