Learn from the past, prepare for the future.
That is a mantra that Treaty United are likely to adopt as the games keep on coming in the SSE Airtricity Women's National League. With just one point collected from four games it hardly needs to be said by anyone connected with the Limerick club that an improvement is required.
Yet that is exactly what the players are focusing on. Ahead of the season kicking off a leadership group was formed, consisting of five players who would take the issues and sentiments of the entire squad to the management and act as the bridge between both.
Captain Tara O'Gorman is the main voice in that group. Not that the 22-year-old is the oldest or loudest but that her role demands a certain kind of authority to bring the collective together.
"Some teams in the League will have players who have been around a lot longer and may be more experienced, but we have a young squad so I'm one of the players who has to step up," admitted O'Gorman.
"It's been tough as there are no easy games in the Women's National League. But the girls are a pleasure to work with, the management - both last season and this season - have been great, and the club itself has been very supportive.
"The Leadership Group has been good in that regard. We are able to speak with each other honestly and if the players have any issues they come to us. Sometimes I have to think about my own performance, to get myself right first and then do what I can to help the team - it's about finding that balance.
"It's good that we have each other in that Leadership Group because if someone is having a bad day then someone else can step up."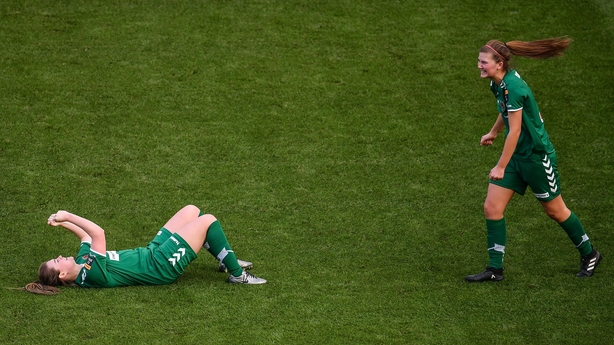 Strength in unity is something that the group are preaching ahead of Sunday's visit of champions Peamount United. It is a challenge that they must rise to, not shy away from.
For O'Gorman, who enjoyed FAI Women's Senior Cup success with a young Cork City team in 2017, there are lessons to take from their opening three games that can help them this weekend.
"We can't go into the game with any fear at all. I think we have to give it our all and in a way we have nothing to lose because if we came out with a result it would shock everyone else but between ourselves we have to be confident going into the game," said O'Gorman.
"We know that eventually when it clicks people could be surprised. I suppose we can see right now what is going wrong and what we need to go right so it's good that we can address that early on in the season.
"But we know that we have to play better. There are only little bits of things that are going wrong. Hopefully we can go on a run sooner rather than later but we know that anything in this League needs to be earned."