Manchester City manager Pep Guardiola believes the European Super League plans to have permanent members rather than teams qualify on merit is "not a sport".
Asked about the concept of a competition in which there is no promotion or relegation, which his club has signed up to, Guardiola said: "It is not a sport where the relation between effort and success does not exist.
"It is not a sport where success is already guaranteed, it is not a sport where it doesn't matter when you lose."
The Catalan admitted he feels uncomfortable being asked about the competition because he does not yet know much more than the initial statement and called on the clubs behind it, which also include Liverpool, Manchester United, Arsenal, Chelsea, Tottenham, Real Madrid, Atletico Madrid, Barcelona and Juventus, to make their intentions clearer.
Guardiola said: "It is a statement, and no more than that. It is a little uncomfortable for us. We don't have all the information. Once we have all the information, I will give my opinion.
"We are going to play in the Champions League next week, we are going to try to reach the final, and next year we are going to play European competitions because we deserve it, we won it on the pitch.
"We did our job and, after that, the right people have to clarify. They have the obligation, the duty as soon as possible, today better than tomorrow, to come out all around the world and clarify the situation that is to come, and the benefits and why they took the decision."
Guardiola is the second manager of a proposed Super League side to criticise the proposals after Liverpool's Jurgen Klopp reiterated his opposition last night.
Following the example of Chelsea's Thomas Tuchel 24 hours earlier, Real Madrid boss Zinedine Zidane refused to be drawn on the matter during his press conference today.
Real club president Florentino Perez is the proposed chairman of the project.
"That's a question for one person, the president," said Zidane. "You can say I'm sitting on the fence, and that's fine. Because what I like doing is coach, that's it."
---
European Super League reaction - live updates
---
The 14 Premier League clubs who met in the big six's absence today said they "unanimously and vigorously rejected" plans for a Super League.
"The Premier League is considering all actions available to prevent it from progressing, as well as holding those shareholders (clubs) involved to account under its rules," the league said in a statement.
"The League will continue to work with key stakeholders including fan groups, Government, UEFA, The FA, EFL, PFA and LMA to protect the best interests of the game and call on those clubs involved in the proposed competition to cease their involvement immediately.
"The Premier League would like to thank fans and all stakeholders for the support they have shown this week on this significant issue. The reaction proves just how much our open pyramid and football community means to people."
The clubs also met with the FA and British Prime Minister Boris Johnson, who reportedly told the football authorities that he is prepared to introduce new legislation to prevent the formation of a European Super League and publicly promised his "unwavering support" for their efforts.
Johnson told the virtual meeting that the Government could "drop a legislative bomb" to prevent the proposal going ahead as planned, sources said.
"No action is off the table and we are exploring every possibility to ensure these proposals are stopped," the Prime Minister said after the meeting.
I will engage with other EU governments about possible common action against this #SuperLeague proposal.

It is wrong and would divert money away from football communities, destroying core principles on which sport is supposed to be based. https://t.co/Lgwh3mgjTc

— Micheál Martin (@MichealMartinTD) April 20, 2021
Taoiseach Micheál Martin said he would engage with other European Union member governments to consider "common action" to prevent the Super League.
"I will engage with other EU governments about possible common action against this Super League proposal," the Taoiseach tweeted.
"It is wrong and would divert money away from football communities, destroying core principles on which sport is supposed to be based."
However, a Madrid court later warned UEFA and FIFA against imposing sanctions on club and players until it fully considers the Super League case.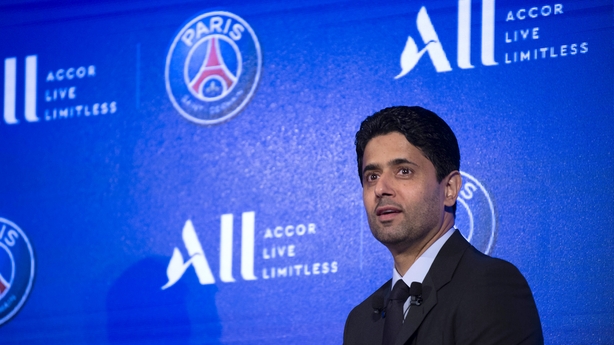 Last year's Champions League finalists Bayern Munich and Paris Saint-Germain have both shunned the breakaway group after their representatives, Karl-Heinz Rummenigge and Nasser Al-Khelaifi respectively, were elected European Club Association representatives on the UEFA executive committee until 2024.
Spanish LaLiga president Javier Tebas will be the European Leagues representative on the ExCo.
PSG president Al-Khelaifi said the Super League proposals had been driven by self-interest and instead backed UEFA's planned reforms to their elite competition.
"Paris Saint-Germain holds the firm belief that football is a game for everyone," he said on the club website. "I have been consistent on this since the very beginning. As a football club, we are a family and a community whose fabric is our fans – I believe we shouldn't forget this.
"There is a clear need to advance the existing UEFA competition model, presented by UEFA yesterday and concluding 24 months' of extensive and collaborative consultation across the whole European football landscape.
"We believe that any proposal without the support of UEFA – an organisation that has been working to progress the interests of European football for nearly 70 years – does not resolve the issues currently facing the football community, but is instead driven by self-interest."
Bayern Munich also confirmed they have said no to the Super League.
Chief executive Karl-Heinz Rummenigge said in a club statement: "On behalf of the board, I would like to make it explicitly clear that FC Bayern will not be taking part in the Super League.
"FC Bayern stands in solidarity with the Bundesliga. It always was and is a great pleasure for us to be able to play and represent Germany in the Champions League.
"We all remember fondly our 2020 Champions League victory in Lisbon – you don't forget such a joyful moment. For FC Bayern, the Champions League is the best club competition in the world."
President Herbert Hainer added: "Our members and fans reject a Super League.
"As FC Bayern, it is our wish and our aim that European clubs live the wonderful and emotional competition that is the Champions League, and develop it together with UEFA. FC Bayern says no to the Super League."