Assistant Mike Newell was sent off for the second time as Waterford lost again, with high-flying St Patrick's Athletic continuing an impressive start to the term.
Newell saw red over a bizarre argument about the colour of the tape on the Pat's players' socks, an early goal from teenager Darragh Burns deciding a game that entertained, sometimes because of the football.
The hosts, facing the second of three games in a busy week, made six changes, with some of their younger players in Alfie Lewis, Ben McCormack and Burns impressing. Waterford, meanwhile, were still without Brian Murphy, the veteran goalkeeper who has clashed with management and again did not make their squad.
Saints took the lead within two minutes. Chris Forrester broke down the right and played it to 18-year-old Burns, who turned onto his left and his shot was deflected in. Ronan Coughlan probably should have made it two on nine minutes.
Ian Bermingham found Shane Griffin who squared for Coughlan; after Paul Martin blocked his snap attempt, Griffin blazed over. Then Forrester combined with Coughlan but the former's shot lacked power. Forrester was unusually sloppy in the first half.
In fairness to the struggling visitors, they exerted some influence as the half progressed, without creating anything. Adam O'Reilly blasted straight at Vite Jaros before curling one that the impressive Liverpool loanee dealt with easily.
At the other end, a fantastic Saints move resulted in the busy McCormack dragging wide. He is one for the Inchicore faithful to look forward to.
Paul Martin has gained from the Brian Murphy issue and he produced a world-class save to deny a Coughlan header from a corner with five minutes left to the break.
Robbie Benson came on at the interval for Saints, who created a nice chance off a corner for Ben McCormack early in the second half but he got his angles wrong with his right foot.
The impressive McCormack then played a precise pass to Coughlan who looked likely to score, only for a Waterford defender to get a crucial block.
Waterford's Shane Griffin got some power behind his drive with half an hour to go but the ever-impressive Jaros was not troubled. Patrick's have been excellent from set-pieces this term. They thought they had made it 2-0 midway through the half but referee Graham Kelly saw an infringement before Coughlan headed in.
On the home bench Stephen O'Donnell implored Kelly to tell him what Pat's player had committed the foul, to which Kelly replied he should relax. Saints couldn't quite relax just yet.Kelly was again centre stage, to an extent, when he banished Newell to the dugout after an argument with the Pat's dugout over the colour of the Saints' players tape on their socks.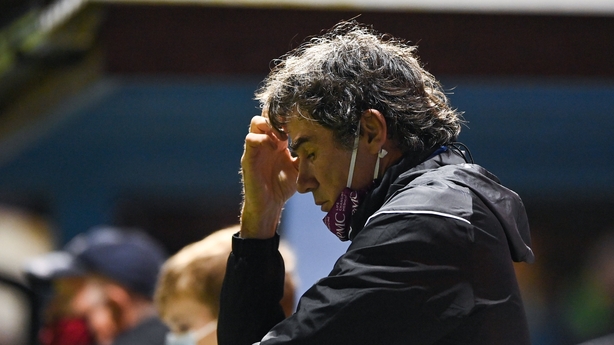 It was the nominal assistant coach Newell's first game back on the bench after being dismissed in Drogheda week one. It energized him to a degree that was at odds with how quiet the Waterford bench was throughout the game. Promising Waterford defender Kyle Ferguson played a brilliant ball into John Martin who could easily have equalised if he connected but ultimately Blues hardly had a shot of note all night.
At the other end a Darragh Power connection probably prevented a certain goal as Saints tried to put the issue out of doubt.
The victory has Pat's, Sligo and Shamrock Rovers all on 14 points from six games, Waterford with three. Three of the Blues' more vocal and experienced players - Murphys Brian and injured Daryl and seriously injured Oscar Brennan - were all missed here. Newell faces another ban.
St Pat's Athletic: Desmond, Barrett, Bermingham; Burns, Forrester, McCormack (Smith 65), Lewis (Lennon 82), Griffin (Mountney 54), Coughlan, King (Benson 46).
Waterford: Martin; Power, Evans, Ferguson, Mascoll; O'Reilly, O'Keeffe, Sabowale, Griffin (Mutswunguma 62); Waite, Martin.
Referee: Graham Kelly