In the end it was perhaps no surprise that Shane Keegan and Filippo Giovagnoli have departed Dundalk FC.
Giovagnoli first arrived in Ireland as an unknown from the Met Oval Academy in New York last August as an interim appointment following Vinny Perth's departure from Oriel Park.
He subsequently guided the Louth club to the group stages of the Europa League and secured silverware by clinching the FAI Cup against Shamrock Rovers in the Aviva Stadium last December.
That led to him being given the job on a permanent basis but just 41 days ago he was demoted from head coach to coach with Keegan named team manager as the club looked to get around the fact that the 50-year-old did not hold a Pro Licence - something which yielded a €50,000 fine from UEFA for the offence of 'shadow coaching' in the Europa League group stages.
Dundalk's poor start to the Airtricity Premier Division, which has yielded two points from a possible 15 so far, heaped more pressure on what was an unwieldy arrangement. On Monday, Dundalk confirmed Giovagnoli and Keegan had officially left the club, with sporting director Jim Magilton now also acting as interim manager. We are expecting news this week as to the make up of a new management ticket.
John Gill, who worked as first-team alongside Vinny Perth at Oriel Park, feels Perth has "unfinished business" at Dundalk and would welcome his return just eight months on from his sacking.
Speaking on the RTÉ Soccer Podcast, Gill said: "Vinny took over after Stephen Kenny and was a penalty kick away from winning a treble in his first season. And then eight games into last season, he gets the sack after enrolling and then completing his Pro Licence.
"Vinny feels he has unfinished business. I think he has as well. Vinny would be a good fit for the club, he knows the players and I think the supporters would like him. He advocated the role of a sporting director for Dundalk. That has now come to pass.
"I think he would need certain perimeters to do the job. I think he would go back hungry. He would work alongside Jim Magilton, who would do all the other day-to-day business."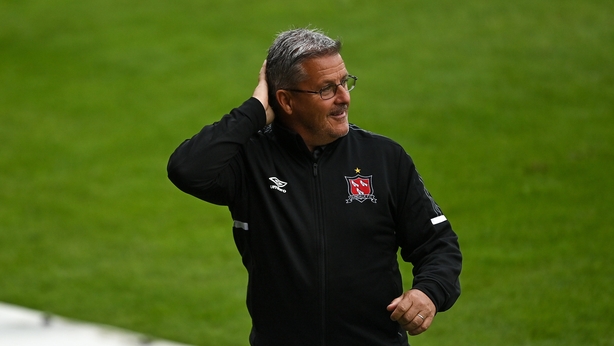 Gill, with whoever Dundalk put in place as the new manager, believes things can be turned around. He also hopes that owners PEAK6 stay involved.
"It will take a little bit of work and a little bit of foresight on Dundalk's part but the situation can be saved, " he added.
"Clarity needs to be given to the players and people supporting the club. It's time now to draw a line in the sand and try to move forward.
"They need to appoint a qualified manager, somebody that will give direction and leadership. I'm not saying that Filippo didn't give that; what I'm saying is that he was put into a difficult position but the club knew about his qualifications or lack of. They got a rap on the knuckles from UEFA last year and a heavy fine."
"If you don't have your toolbox with you, you can't do your work. It was never going to work. Watching what was going on was just like a car crash.
"It's important that PEAK6 stay involved. There's not too many people out there that will put their hand their pocket and come up with €1.5million. We are looking for investment in Irish football. We need more PEAK6's. For people to come in and invest they need to trust their management structures, trust the manager and give him the tools to do the job."
Listen to the RTÉ Soccer podcast on Apple Podcasts, Soundcloud, Spotify or wherever you get your podcasts.