Dundalk need to make an instant managerial change or risk mid-table obscurity according to RTÉ Soccer analyst Paul Corry, who says he feels for their long-serving players as their dominance continues to ebb away.
The Lilywhites have made a disastrous start to the season, losing three out of four matches, and they were fortunate to take a point on the opening day against Sligo Rovers when late on the Bit O' Red could have won it but for a disputed offside call.
Despite major investment in imports such as Han Jeongwoo, Jesus Perez, Sam Stanton and Sonni Nattestad, Filippo Giovagnoli's side have looked a shadow of the side which challenged for and won five league crowns in the last decade.
Shane Keegan is listed as team manager this season, due to the Italian lacking the relevant qualifications to be in charge of a Premier Division outfit, and it hasn't helped a growing perception that Dundalk are far from a slickly-functioning club.
Giovagnoli did lead the Louth side to the Europa League group stages last year, but his record of three league wins in 13 matches is a disappointing one, if he is considered to be in charge.
They are already nine points off the top of the league.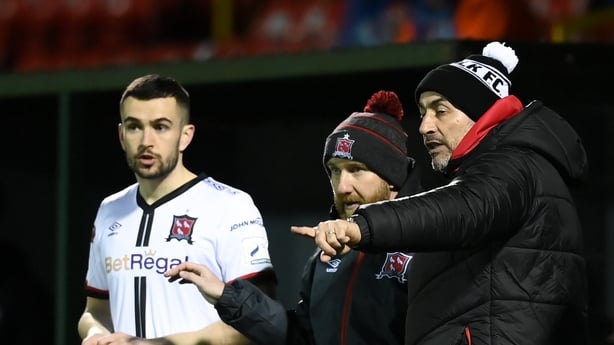 Corry told the RTÉ Soccer Podcast: "It's not great on and off the pitch. I know they qualified for the Europa League last year but if you look at their league form, they've carried in that from last year.
"It's not good. If you look at the games, and I've looked at the number of games Filippo Giovagnoli has been in charge, he has had three wins the league over all those games. It was a huge gamble when they brought him in. When he came in originally he got a reaction out of the players.
"That is what they were looking for and it sparked them into life a bit. They got extremely lucky with the Europa League draw, lets make no bones about that. As a gamble it paid off with the financial windfall from that.
"But longer-term I just don't see it being the right fit for the club. When you are watching games, I always say your eyes don't lie. The performances just aren't there. I just don't see any signs of that changing around over the next couple of weeks. It might do, but I don't see it being sustainable going forward. If you ask me I think they need to change it.
"(The management team) isn't a good fit for Dundalk going forward. When you look at the other sides in the league, most clubs have started slowly, but if they were to pick up, a gap could quickly open up. It's worrying time on and off the pitch.
"It's not great to see because they've certainly been a leading light in the league over the last number of years. They certainly have the personnel and the players in there to turn it around. I just don't see signs of it on their first four league games."
Dundalk's new recruits have showns glimpses of ability, yet it has been the group of players at the club in the long term which have helped them so far.
Patrick McEleney scored in Sligo, Patrick Hoban against Finn Harps, while Chris Shields is still tasked with trying to hold the midfield together.
Corry added: "I feel sorry for some of the players within the squad. The reason is the expectation and pressure falls on the same shoulders every year. I don't think the recruitment has been good enough.
"They haven't brought in personnel strong enough to step up and bring the club forward. Patrick Hoban, Chris Shields, Michael Duffy, Andy Boyle and David McMillan are the ones they rely on. After that they haven't added enough. Shamrock Rovers moved to bring in Liam Scales, Gary O'Neill, Jack Byrne, Sean Kavanagh and Aaron MCEneff.
"I ask why Dundalk were not bringing those players into the club when they were far ahead financially and in a position to build. I can't get my head around it. The players who do it every year may be feeling the pinch now because they can't raise themselves to previous standards."
Dundalk face leaders St Patrick's Athletic on Saturday in a match which could have a big say in their season.
Last season Cork City collapsed from a leading side in the country to finish bottom of the table.
The Rebels had slashed their budget which led to a different strategy for signing players, and it is not something Corry envisages happening in Oriel after their big spending.
"I strongly doubt they will go the way of Cork City, there is enough quality there to win enough games which Cork didn't have," he insisted
"But we don't want to be talking about Dundalk winning enough games to be middle of the table. We want to see them pushing Shamrock Rovers and whoever else. It is a difficult situation and something needs to change really quickly."
Listen to the RTÉ Soccer podcast on Apple Podcasts, SoundCloud, Spotify or wherever you get your podcasts.
We need your consent to load this SoundCloud contentWe use SoundCloud to manage extra content that can set cookies on your device and collect data about your activity. Please review their details and accept them to load the content.Manage Preferences