1 December, 2020. The Republic of Ireland wrapped up their qualification campaign for Euro 2022 with a home game against Germany.
It was always going to be a tall order to get something against the classy Germans and with Ukraine getting the win over Montenegro, Irish hopes of making the finals were finally extinguished.
Yet on that night in Tallaght, Grace Moloney made her competitive debut between the posts for the national team. It was an occasion to cherish for the 28-year-old, who plays her club football with Reading in the Women's Super League. 
Speaking to the media ahead of the Republic of Ireland's friendly games against Denmark and Belgium, Moloney elucidated in some detail what it meant to her to finally get the call.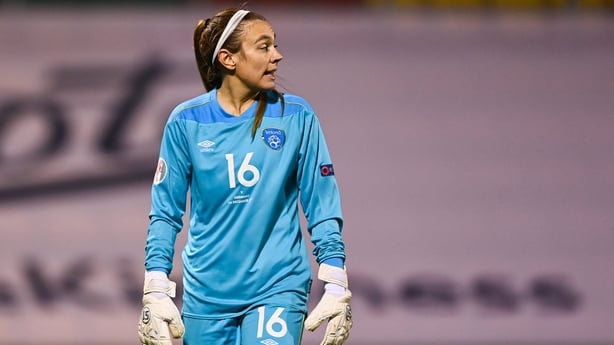 "I was waiting for that day for ages," she said.
"Unfortunately due to Covid, my family could not be there. It was probably the best day of my life. I really appreciated the support from everyone.
"The national anthem was playing and I was bawling crying. My mum saw me crying. It means the world to me, the absolute world to me and my family. I say that to the girls all the time. People ask me to put it into words, but I can't. 
"My goal is to be the number one for Ireland."
Also vying for that spot are West Ham's Courtney Brosnan and Marie Hourihan of SC Braga, who both were named in Vera Pauw's squad for this week's games. 
And while each are equally determined to nail down the netminder role, there is a strong emphasis on what works well as a collective, as Moloney explained.
We need your consent to load this YouTube contentWe use YouTube to manage extra content that can set cookies on your device and collect data about your activity. Please review their details and accept them to load the content.Manage Preferences
"When we are training, we are always supportive of each other and I'd say 'well done Courtney, well done Marie'. Whoever is picked to start, we will always be fully supportive of them before a game, whether they want more kicking or crosses. Whoever is deemed the best goalkeeper at the time, we will fully support them. 
"I have been amongst the squad for years and this is certainly the most competitive it has been for the number one spot. Before, there was Emma Byrne, a constant presence. In the last campaign three different goalkeepers played and Niamh Reid-Burke could have played as well. It keeps the three of us on our toes because we all want to play. That's a good thing."
Speaking of Emma Byrne, it is clear that Moloney looks up to a player who was capped 134 times for her country. 
"When Emma Byrne was playing, I wanted to be in every camp with her. I wanted to take her spot, whether that dream was way too big for me, I didn't care.
"I remember coming back from the World Cup with the Under-17s and at the airport Emma gave me a pair of her goalie gloves. My dad picked me up and I said to him: 'Dad, you'll never believe what Emma Byrne has just given me'. They were a pair of gloves that she had for five years, but to me it was the best thing ever."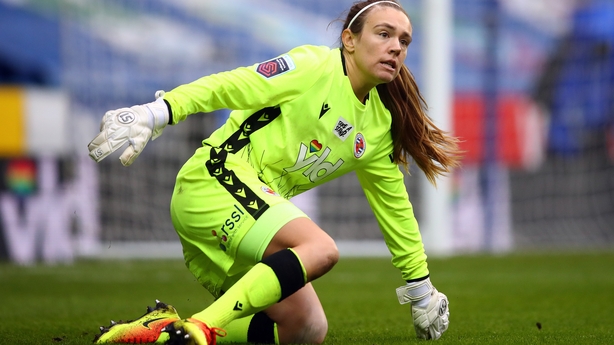 Moloney's efforts for Reading this season have been recognised with her presence on numerous team of the week selections. 
One local paper summed up one performance with the words: "Royals stopper Grace Moloney pulled Reading through many dangers, toils and snares"
Last Saturday, however, Reading lost 5-0 to West Ham. The goalkeeper made no excuses in saying it was "my worst game" of the season. A blip it would seem, as Moloney also points to the many positives from the current club campaign.
"We had the New Zealand number come to club and my mentality was that she's not going to take my spot"
"Because we have not been playing well I probably had to step up a bit more. Lockdown was massive for me in changing my mentality. I looked at my game to understand what type of goalkeeper I was.
"As goalkeepers when we make mistakes, it's obviously highlighted the most. It's important, however, to have the confidence to own the mistake and say 'that's my fault' and get it out of your system as quickly as you can. It's better for a team to play in front of a goalkeeper who is really confident. 
"During lockdown I worked with two coaches. One helped me with the mental side of my game and the other helped me with having the ball at my feet and working with the team in possession. We had the New Zealand number come to club and my mentality was that she's not going to take my spot. I've worked hard to keep her out, even though some felt I would be the one to make way.   
The qualifying draw for the 2023 World Cup in Australia and New Zealand takes place on 30 April. Having been of an Under-17s squad that reached a World Cup finals, Moloney would love to sample something similar again in a far-off location.
"It would mean everything to make the finals. I played in the Under-17s team that went to the World Cup and the experience from that is something we still talk about now. Going to a country like Trinidad & Tobago, a place you wouldn't usually go to, and the group of girls we had there, we just came together so much. It was absolutely brilliant."  
Watch the Republic of Ireland's friendlies v Denmark (Thursday 6.30pm) and Belgium (Sunday 6.30pm) live on the RTÉ Player