Republic of Ireland defender Louise Quinn is hopeful the "undying passion" in representing the country comes across to the uncapped quartet invited into Irish camp this week. 
Ireland play friendlies against Denmark on Thursday and Belgium on Sunday and manager Vera Pauw has called up Florence Gamby of London Bees, Lily Agg from London City Lionesses and Emily Murphy of Chelsea but currently on loan at Birmingham, to the squad. 
Glasgow City's Aoife Colville was due to join up also but withdrew yesterday through injury. 
Pauw insisted she is conscious of becoming embroiled in another Declan Rice or Jack Grealish scenario while also being sensitive about denying Irish-born players their chance in the squad. 
'We all have this undying passion for the Irish team' - @louise_quinn4 sets sights on World Cup, reports @Corktod #RTESoccer #RTESport pic.twitter.com/sz1hprkcjp

— RTÉ Soccer (@RTEsoccer) April 7, 2021
Quinn, who made her Ireland bow on 2008, said while the players will be welcomed into camp, it is up to those concerned to buy into the team. 
"I want people in the squad who want to be here, who are passionate about the country," she told RTÉ Sport's Tony O'Donoghue. "Once you put on that Irish jersey, that should be your jersey, if you want it. 
"If you are not sure, that's a tough situation. For me, everything is about the jersey and you have to be committed to it.
"We all have this undying passion for the Irish team. It's the only colour jersey we want to be wearing, and we want to make sure that comes across to them. I think it will easily. Hopefully they just thrown themselves into it and get involved as quickly as possible." 
One player who certainly a central part of the Irish team is captain Katie McCabe.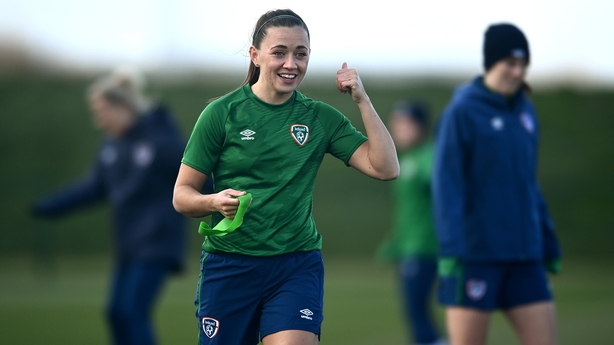 The ace attacker has continued her rich vein of form with Arsenal this season and on Sunday could reach half a century of caps.
A great deal of responsibility rests on her shoulders to both provide and score goals, but Quinn insists the 25-year-old is thriving in her role. 
"She has grown so much. When she was given the armband first (by Colin Bell in 2017 as a 21-year-old), it was a shock to herself, a real shake-up, but you look at her now, she has matured, grown as  player, and played consistently week in, week out. 
"Last season, she was the most consistent, and for me, the best player at Arsenal. Now she is finally getting that recognition.
🚀 @Katie_McCabe11 with the rocket! #BarclaysFAWSL pic.twitter.com/GWZQE96LRF

— Barclays FA Women's Super League (@BarclaysFAWSL) February 28, 2021
"When she comes into the Irish camp, she has us all in order, she is organised, always carrying around a notebook with her, who knows what's in it. 
"She has excelled. She does it on the pitch, but she does it off it as well." 
The 30-year-old has settled well in Florence, but concedes on the pitch, Fiorentina have room for improvement both domestically and in Europe. 
They are currently fifth in Seria A, 25 points adrift of leaders Juventus, while the recent 8-0 aggregate defeat to Manchester City in the Champions League was as reminder of the gap to the elite teams in European football.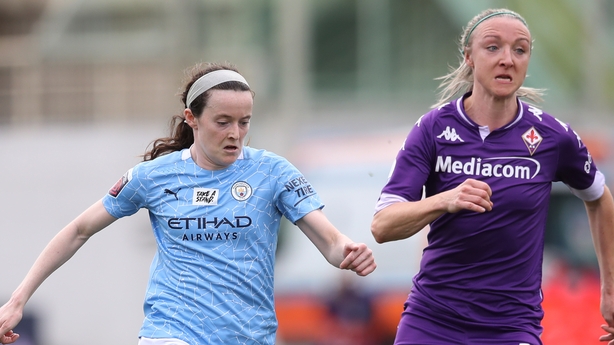 "It was extremely tough," she says of the defeat to City. "It shows the difference of pace between leagues." 
"It's about putting yourself up against the best and it was really nice to see how some of the girls reacted. To see them up against some of the best players in Europe was great." 
Now the focus is very much with green-tinted glasses. 
Having narrowly missed out on clinching a play-off spot for the 2022 UEFA Women's European Championships before Christmas, the 2023 World Cup campaign is looming on the horizon. 
We have seen how much we have grown; we know we have the potential
The fact that Pauw has agreed to a two-year extension was warmly received by the squad, and the upcoming games against Denmark and Belgium are all part of the building blocks towards a World Cup dream. 
"We have seen how much we have grown; we know we have the potential. That was why it was so devastating (to miss out on the Euros). We definitely need a good draw, but we know that we can challenge. 
"These teams are tough opponents, and easily someone we could face in the qualifiers." 
Watch the Republic of Ireland's friendlies v Denmark (Thursday 6.30pm) and Belgium (Sunday 6.30pm) live on the RTÉ Player