Given the condition of many League of Ireland football stadiums, it's no surprise that three SSE Airtricity League Premier Division grounds - Bohemians, Sligo Rovers and Finn Harps - are earmarked for redevelopment.
But is this rush to modernise a good thing? Irish grounds are imbued with nostalgia and they accommodate our meaningful personal memories. Is there a risk that modernisation will destroy the soul of Ireland's football stadiums?
Bohemian's five-season Dalymount Park saga continues to unfold, with €918,000 of government funding having been allocated for planning just over a month ago. The redevelopment itself is projected to cost €34.3m.
Dalymount is almost crumbling; the terraces in the Tramway End have been officially condemned. And although its redevelopment is necessary for the sake of Irish football, supporters cherish the ground not for its aesthetics, but for the memories and relationships they have made there. 
Much would be gained from modernisation, but perhaps we need to pause and reflect on what we could be losing in the process.
The current state of many Irish stadiums is appalling; facilities seem far more decrepit than the majority of other European top-flight [and second-tier] clubs.
However, other leagues have had long-term financial backing from their football associations, whereas the relative lack of investment in the LOI - where the champions receive approximately €120,000 in prize money - has left clubs with poor facilities and  minimal funds to develop grounds.
The redevelopment of the original home of Irish football, Dalymount Park, is one of seven sports projects financed by the new Government Large Scale Sports Infrastructure Fund. 
There are community benefits, too. The plan for Bohs' development includes community facilities: a library, a shopping centre, flexible community space and meeting rooms, plus concourse space at ground level which can be used for community activities and events on non-matchdays.
Following last month's Dalymount Park funding announcement, Minister for Finance Paschal Donohoe said: "This is really important not just for Bohs, not only for soccer, but for the continued regeneration of Phibsborough."
But some fans believe modernisation could numb Irish grounds' romance. Killian Molloy, a Bohemians supporter, says: "It's been a project for five years now to develop Dalymount Park. It's slowly getting there. And while a lot of Bohs supporters are looking forward to the redevelopment, there's a sacrifice. Dalymount is quite an old-fashioned stadium, and I do think it will take a little bit of the romance out of the ground."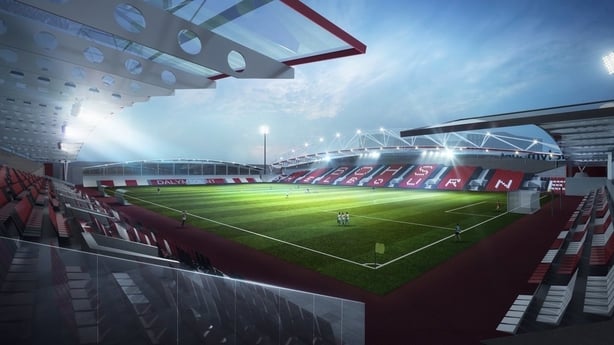 The redeveloped Dalymount is set to be a steel and glass crucible with modern flourishes.
Should we be impressed by this glamour? We have personal history in these imperfect stadiums, and with modernisation, there's going to be a rupture with these memories. 
Many supporters would want a shiny, new building, which is understandable considering that some of the current grounds are in such a state of disrepair. A modernised ground will bring an exciting spark of change and will help prepare the club for a financially stable future with greater revenue streams. 
But we also need to think about the break with each fan's past. The memories of granddad buying your curry chips on the terrace, or the time as a kid your favourite player signed your shirt on the touchline. Aren't football grounds so much more than what's on the outside?
League of Ireland stadiums aren't billion-euro domes, but they have a soul. It's a soul that supporters treasure. "I can't really remember a time when I didn't go to the matches at Dalymount," Molloy says. "I have an emotional attachment to it. It's tricky not being there on a Friday night, currently."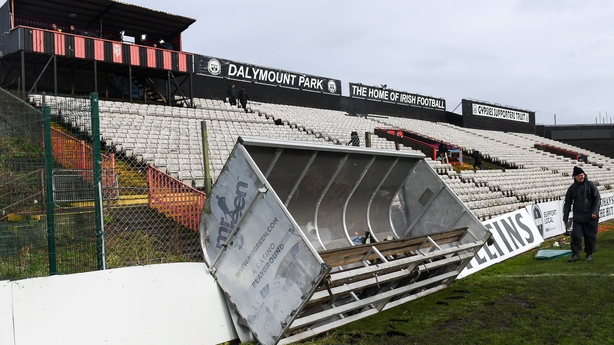 A caveat of the modernised Dalymount Park is that Bohs will have to ground-share with a local rival, Shelbourne. And although it could be seen as bringing the community together, wouldn't this nullify the rivalry? Molloy adds: "I don't like it at all. I don't understand it. It doesn't appeal to me, or many other Bohs fans." 
Dalymount Park is an escape, a second home. Match-going is a pilgrimage to this idyllic space of comfort. You're surrounded by thousands united by a common emotional connection to the ground.
Is football fan culture about the design of these modern arenas?
"It's about the people that you meet there," according to Molly. "You know everyone. Everyone goes through the turnstile and everyone has their own place where they sit, and you develop friendships with the people that you see. Dalymount is so much more than a stadium.
"It's the little things that are just amazing. I love seeing the stadium floodlights when I'm travelling to a game at Dalymount. You can see them from a good couple of kilometres away. They just stand out to me. But I love it all."
Bohs fans will forever be in love with their second home, but there is a major need for regeneration; one that needs to be approached in the right way, without abandoning Dalymount's soul.
Sligo Rovers also have plans to redevelop their stadium, the Showgrounds. Some supporters feel modernisation would be the right thing for the club. "We do want to improve our ground. We've spent €30,000 in the last six months just doing a feasibility study to improve the stadium. We have big plans ['The Masterplan'] to make it more modern," says Gerard O'Connor, a Rovers supporter.
The ground has three stands; all of which are quite dilapidated and seemingly outdated. There is an important yearning for redevelopment, but fans also feel an intense loyalty towards the Showgrounds and its history.
We need your consent to load this comcast-player contentWe use comcast-player to manage extra content that can set cookies on your device and collect data about your activity. Please review their details and accept them to load the content.Manage Preferences
O'Connor says: "There's a great story from the 1960s that emphasises our fans' attachment to the Showgrounds. The lease for the stadium was set to run out, and we would have lost the ground. But a group of trustees - Rovers, like Bohs, are run by a fan-owned trust - came together to try and negotiate a deal to buy the ground from the owner. 
"It was difficult to find the money and it was difficult to find the owner. So they went around Sligo from house to house, collecting around two shillings a week from the people of the town. People wouldn't have had a lot of money then, and two shillings was a lot. But they donated enough money to keep Sligo Rovers at the Showgrounds. 
"The stadium and the club are intertwined with the community and we love our ground." 
The Showgrounds is a stadium that brings the community together. O'Connor adds: "You know almost every face there. It's amazing. There's a very friendly atmosphere; there's a sense of togetherness and camaraderie. I love it."
He appreciates that his stadium isn't too cutting-edge. "I don't like the bowl-type stadiums of today. I think these extremely modern grounds are soulless. They're all the same, there's no culture with them." 
Meanwhile, almost 13 years since Finn Harps announced their €6.7m plan to move stadium they finally got the news they craved on Thursday night when it was confirmed that the Department of Sport have made a provisional allocation of €3.991m for its construction in Stranorlar.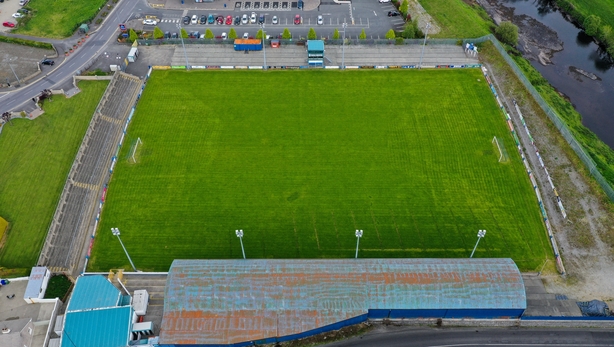 Finn Park has been the home of the Harps since 1969. The blue-roofed stand is a decaying tin barn with some seats underneath and the rest of the ground is terraced. While traditionalism and a 52-year history should be embraced, it also must be acknowledged that a new arena would be a tremendous shot in the arm for the entire area of Stranorlar, where the new ground is sited. 
A number of Irish grounds' facilities are dilapidated and don't welcome away supporters. Dundalk's Oriel Park has a particularly poor away end. Molloy says: "It's just terrible. You have an option to pay €20 for a little section in the home stand. Which is bizarre. Or you can pay €15 to be outside on a little terrace, and you can't see the corner flag down the far end of the pitch. It's a horrible place to watch a match. But it's all part of the fun."
Stadiums need to be bespoke for supporters and football culture. There's a pattern - the best grounds are often run-down sheds that have little aesthetical merit but embrace nostalgia and inspire relationships. The modern design is just window dressing. However, redevelopment brings financial benefits and a buzz among supporters. So, what's the answer? 
O'Connor notes: "We need regeneration, but we also need to keep our history, our tradition, our foundations. I think the two of them can happen hand in hand."
Only time will tell.