Last August, Vinny Perth launched a passionate defence of Stephen Kenny after Jason McAteer had aired his concern that the new Republic of Ireland manager might struggle with the job.
As part of his defence, Perth referenced a chance meeting himself and Kenny had with Graham Potter, now the manager of Brighton and Hove Albion.
In 2016, Perth and Kenny were in Spain with Dundalk on a summer training camp when they crossed paths with Potter, who was there with Swedish side Ostersund. The trio were kindred spirits.
Potter took over at Ostersund in 2010 with the club languishing in the fourth tier. By the time he left eight years later he'd guided them into the top flight, leading them into the Europa League group stages in 2017/18. They made it to the last 32, losing to Arsenal 4-2 on aggregate but enjoying a famous 2-1 win in the second leg at the Emirates.
Potter had turned heads; Championship side Swansea came calling.
He took the job in 2018 and finished tenth in his first campaign. The next summer he was on the move again, this time to the Premier League with Brighton, who had sacked Chris Hughton.
Hughton, as he always seems to, had done a really solid job at the Seagulls. Having taken the reins at the start of 2015, he got them promoted to the Premier League in 2017 and kept them up for two campaigns finishing 15th and then 17th, albeit Brighton slumped in the second half of his final campaign, winning just three times in 23 games.
In Potter's first season Brighton finished 15th; this year they are 16th, with nine games to go.
On the face of it Potter hasn't really progressed the side at all, and yet he is often mooted to eventually get a crack at a bigger club. Why?
The answer lies in the perception of his approach and the values people in the game place in his philosophy.
Potter's teams play with such verve and style that it's easier to believe they are not far away from becoming a better side. Right now their problem is goals. They often boss games in terms of possession and chances but lose or draw. If they had a more clinical striker, they could be pushing towards the top eight.
This matters because bigger clubs look at someone at Potter and think, 'well if he can do that at Brighton, what could he do for us?'
| | | |
| --- | --- | --- |
| Qualification campaign | Ireland | Group winners |
| World Cup 2010 | 2nd (18pts) | Italy (24pts) |
| Euro 2012 | 2nd (21pts) | Russia (23pts) |
| World Cup 2014 | 4th (14pts) | Germany (28pts) |
| Euro 2016 | 3rd (18pts) | Germany (22pts) |
| World Cup 2018 | 2nd (19pts) | Serbia (21pts) |
| Euro 2020 | 3rd (13pts) | Switzerland (19pts) |
This line of thinking has been applied to Kenny too. He didn't get the Ireland job just because he won league titles and FAI Cups with Dundalk. It was the way he won them, the way his side played in Europe. He forged a reputation as a manager who could make a team greater than the sum of its parts using a progressive, attractive approach.
Mick McCarthy kept his seat warm while the former Dundalk manager went for a spell with the Under-21s and that only served to heighten the anticipation of what the Tallaght man would do in the big job as he swiftly moulded the younger payers into an invigorating outfit.
After taking the reins with the seniors, he coaxed a spirited performance in defeat to Slovakia in the play-offs to offer more evidence of a manager capable of emboldening his players, and while wins continued to elude Ireland, that barren run was in the context of a lot of rotten luck with regards to injuries, Covid-19 withdrawals and the surprise retirement of David McGoldrick.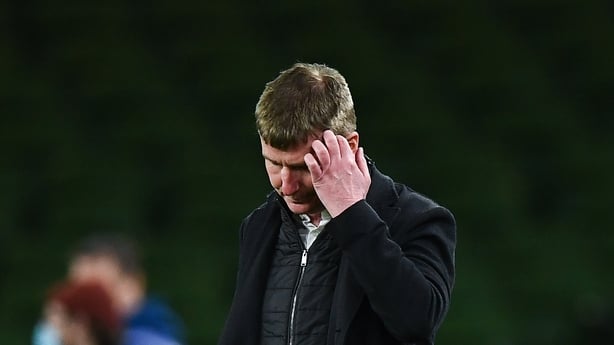 Saturday night's defeat to Luxembourg has understandably altered the mood.
Kenny has inherited his dream job at a time when Irish football is in a state of worrying flux from top to bottom. There are deeper issues at administrative, grassroots and developmental level that have been festering for years, but there's no sugar-coating Saturday's result. It was a terrible setback that the manager described as "completely unacceptable".
Kenny has tweaked his system during his tenure, most notably adopting a 3-5-2 set-up the last two games, but there's been times when he's looked a bit naive.
Slovakia's talisman Marek Hamsik was allowed to exert his influence too easily in Bratislava; Dusan Tadic swung the game in Serbia's favour when he moved centrally on Wednesday night without an adequate reaction to his growing threat from the Irish dugout; and last night Ireland stuck with the same system throughout an increasingly directionless second half.
All managers need wins but they are especially precious when you're trying to implement a new way of doing things. Success breeds confidence in the methods. Bad results open the door for doubts to creep in.
That said, to axe Kenny right now would make little sense. Where would Ireland turn to? When Martin O'Neill left, Hughton and Sam Allardyce were among those mooted to replace him. Apart from being an obvious abandonment of the football principles the FAI committed to when appointing Kenny in the first place, would either man even want to take the reins?
Ireland's average finishing position over the last six campaigns is about third [second, second, fourth, third, second, third].
After September's trip to Portugal, Kenny has home games against Serbia and Azerbaijan. If he's still without a win after those three matches, he'll be in trouble, but if he can earn another third-place finish from this point then he'll get a crack at qualification for the Euros.
At Sunday's EGM FAI chairperson Roy Barrett reiterated the association's support for the manager. "I've a lot of confidence and respect in Stephen and his team and what they are trying to achieve," he said.
"Last night was a setback, that's all it is. I've healthy respect for what they are trying to achieve and how they are going about it."
Time will tell if this is Kenny's lowest point, a bit of short-term pain for long-term gain. Perhaps he can take solace from the experience another man who formerly managed Shamrock Rovers.
Seven and a half years ago Michael O'Neill watched his Northern Ireland team tumble to a 3-2 loss against Luxembourg in the 2014 World Cup qualifiers.
"Unacceptable" O'Neill said afterwards, foreshadowing Kenny's reaction. O'Neill's team eventually finished second bottom of Group D, behind Azerbaijan and Israel.
Two years later, he led them to the Euros.