Stephen Kenny admitted that it was a "bad night" losing to Luxembourg but said that he is not currently concerned about his position as Ireland manager.
Since taking over from Mick McCarthy, Kenny has been in charge for ten games and has yet to win a match, while his side have failed to score in eight of those fixtures.
Ireland's World Cup dreams are now all but over, as they have lost their opening two games of the qualifying campaign, a defeat in Serbia in midweek, followed by a shock result to the 98th-ranked side in the world.
Kenny sent out his side with the intention of playing possession-based, attacking football, but the side failed to really gel and, despite creating a few goalscoring opportunities, the manager admitted that it wasn't enough.
And when asked whether he was concerned about his position as national team manager, Kenny said that it was not a concern.
"That's not even in question," said Kenny, speaking to RTÉ Sport. "I'm not even concerned with that at the minute. I'm concerned that we had a really, really poor result tonight, that none of us are happy with that."
Ireland captain Seamus Coleman told RTÉ Sport that the responsibility was on the players in what was an embarrassing performance, but the manager also accepted that it was his system and it was a reflection on his decisions.
Ireland now sit in bottom place of the five-team Group A, with six points dropped from the opening two games in an eight-game group, however, the manager is not yet writing off the entire campaign.
"It's early to say that [we cannot qualify], but it is a terrible result," said Kenny.
"There is no getting away from that, you can't hide from that. It's a really disappointing result, and it's not good enough.
"To go from the performance in Serbia to that against Luxembourg, it's completely unacceptable."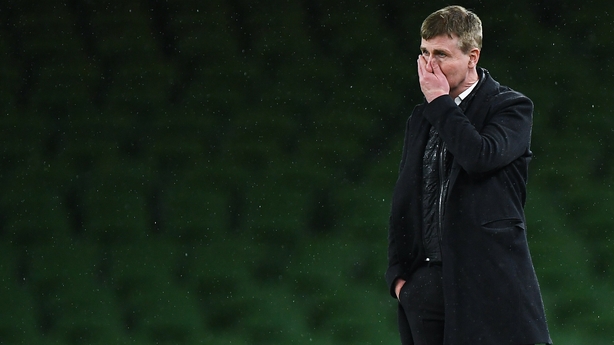 The manager claimed that his side had done their homework on what Luxembourg would offer in Dublin, having improved dramatically over recent campaigns, and he dismissed the idea that the players were complacent going into the game.
"We did not underestimate Luxembourg. We knew Luxembourg had pushed Ukraine tight last year, they'd done well and taken points in the Nations League.
"Coming into the game, the players' morale was good, their attitude was good, and they were determined to get a result. We weren't complacent in any way."
The manager could only put it down to the fact that his side did not create enough chances in the game, and while he said that he felt that the team were capable of playing the way he asked them to play, he noted that the same system has resulted in two defeats.
"I take responsibility for changing the system, we changed it against Serbia and I think it worked very well. I take responsibility for the whole thing, it's just not good enough.
"The players are a lot better than they showed. Compared to the performance in Serbia it is chalk and cheese.
"I introduced a new formation and we've got no points after two games and I'm not getting away from that. I have to accept responsibility for that.
"We had more of the play. We thought James [Collins] had scored, it would have been an outstanding team goal, but we didn't create enough in that period, to be honest. We're quite disappointed with that, very disappointed, to say the least."
Aside from not creating enough, Kenny pointed to the physicality of some of the players who he felt struggled to be at their optimum level as a result of not playing enough football in recent weeks for their clubs.
"I'm not making excuses at all, but a lot of players struggled with the physical capacity of trying to play two games in three days. A lot of them haven't played in a while for their clubs and that was very evident.
"It wasn't their psychological preparation or their determination. They all love playing for their country and wanted to do better than they did but some players struggled to get any where near to where they were the other night."
Ireland will play Qatar in a friendly fixture on Tuesday in Hungary, while their next competitive game is against Portugal in September.