One of the toughest jobs over the last few years in the League of Ireland has been playing centre-forward for St Patrick's Athletic.
The jersey has been handed to several talented strikers, but none have been able to raise the Saints past mid-table mediocrity.
Their scoring problems led to them faltering to 0.78 goals per game in 2020, their lowest ever total. Even with last year being a shortened season, the problem has been present for some time.
In 2019 they limped to 0.81, their third-worst ever return. Only five times in their history have they scored fewer than a goal per game over a season and two of those have come during Stephen O'Donnell's time in charge.
The problems were crystalised in August and September last season when they went 529 minutes without scoring. Since 2016 no team has had a scoreless run that long without ending the season relegated.
For 2021, new additions Ronan Coughlan and Mahum Melvin-Lambert have the responsibility of being the fulcrum of an attack that has scored the fewest goals of the eight clubs to play in each of the last three seasons.
| | |
| --- | --- |
| Team | Goals 2018-20 |
| Dundalk | 183 |
| Shamrock Rovers | 163 |
| Bohemians | 122 |
| Waterford | 115 |
| Cork City | 110 |
| Sligo Rovers | 95 |
| St Pat's | 94 |
2017 was the last season that Pat's got a meaningful goal contribution from scoring stalwart Christy Fagan when he totalled seven.
He finished his glittering career at Richmond Park with 63 league goals in 144 starts that helped the club to four major trophies. That was just short of one goal every two games, the usual benchmark for an elite striker, at a goal per 195 minutes.
The return most closely resembling this was achieved by the first man to try and fill his scoring boots. In 2018, American Jake Keegan scored nine league goals from 23 starts at a rate of a goal every 218 minutes. But, at the end of the season, he was enticed home by Greenville Triumph.
The following year, Mikey Drennan was recruited following an impressive half-season showing at Sligo Rovers. He initially took to the job like a duck to the Camac water with six goals from his first 10 games. Only Pat Hoban was ahead of him in the scoring charts at the end of April.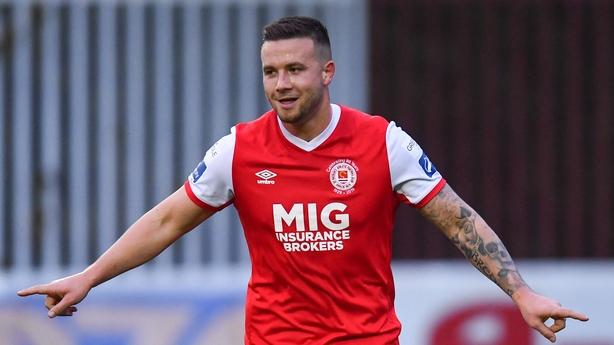 But the tides rapidly turned, and the Kilkenny man hit a dry spell that lasted through the remaining 16 games he played for the club.
Gary Shaw featured more regularly as that season progressed and despite coming to the club with 28 career Premier Division goals he scored only once for the campaign. Like Drennan, he drew a blank after April.
For 2020, the Saints scouted abroad to bring in Martin Rennie from Scottish club Montrose. His solid record in his home nation was cause for belief, but it did not translate to the League of Ireland. He played in just ten games, only two of which were starts and returned home without a scoring souvenir.
As the 2020 season resumed, loan signing Georgie Kelly from Dundalk was perceived as a near sure bet for goals. Though never playing a starring role at Oriel Park, he scored efficiently in his limited opportunities with a goal every 100 minutes as well as being First Division top scorer in 2017 and runner-up the following year.
A good fit appeared to have finally been found with a double in his second game, a 2-0 win over Finn Harps. But that was followed by their painful five-game scoring drought with Kelly only scoring one further time in an away loss to Finn Harps in late October. He was the club's top scorer with three.
The departure of consistent Conan Byrne at the end of 2018 has exacerbated the issue. In his six seasons with the club, he never failed to score fewer than seven goals. No player has matched that number since.
| | | |
| --- | --- | --- |
| Player | Goals | Minutes per goal |
| Christy Fagan | 63 | 195 |
| Jake Keegan | 9 | 218 |
| Mikey Drennan | 6 | 364 |
| Gary Shaw | 1 | 1765 |
| Martin Rennie | 0 | - |
| Georgie Kelly | 3 | 315 |
Ronan Coughlan joins the squad with a respectable goal record from his two seasons in the colours of Sligo Rovers. He totalled 14 league goals at a rate on one per 269 minutes. That volume would not bring a 20-goal season but a return in the double figures would represent a valuable improvement.
Joining Coughlan is one of the convoy of young talents from the UK crossing the border to bring their services into Ireland as Mahum Melvin-Lambert has come in on loan from Reading. O'Donnell will be hoping he can export his underage scoring at home and deliver goals in Ireland saying:
"He has a great goalscoring record in the Reading Under-23s and has scored six goals in his last 11 games. Nahum will give us a lot more attacking options heading into the season."
The Saints scored just 10 times when games were either level or they trailed in 2020, only more than Cork City. That is a sign of a team unable to create good chances against an opponent not committing too much to its own attacks. As a result, they took just two points from losing situations in 2020, the fewest of any team not relegated.
In the last three years the Inchicore club have been good at keeping possession and attempting shots, but the stuttering Saints have been near the worst in the league for hitting the target and turning those shots into goals.
| | | | | |
| --- | --- | --- | --- | --- |
| Year | Possession (rank) | Shots per game | Shots on target | On target conversions |
| 2018 | 52% (3) | 10.9 (7) | 40% (6) | 32% (4) |
| 2019 | 51% (3) | 9.9 (5) | 37% (9) | 22% (10) |
| 2020 | 52% (4) | 8.4 (4) | 34% (9) | 29% (9) |
They have had to rely on having the league's fourth-best defensive record over the last two years. A repeat of that cannot be taken for granted in 2021 with ever-presents Brendan Clarke and Luke McNally departed along with Rory Feely who played all bar one of their league games.
While it's 19 months since O'Donnell's appointment to the hot seat at St Pat's, in reality, he has only been in charge for 25 league games.
There should be plenty of time to allow for improvement. However, the man he replaced, Harry Kenny, left after only four more games and had a better points per game record (1.48 vs 1.2) and goals per game (0.83 vs 0.76).
We may learn a lot about whether the updated 2021 version of this Saints team can produce improved cutting edge with three of their four opening games coming against the three best defences from last year.
First up, a trip down the Luas line to face a Shamrock Rovers defence that conceded just one in its last six home games.
No pressure!
Watch Shamrock Rovers v St Pat's live on RTÉ2 and the RTÉ Player on Friday from 7.30pm