Contracts have been signed, photos holding jerseys posted to social media and initiation songs sung, badly. Another transfer window has closed.
This is still the time of year where fans can view new signings as the one who will take them to the next level and not just keep a section of the bench warm. The last few months have seen the usual re-shuffling of the pack and some talented young players leave the league but also a variety of new faces join as clubs have continued to expand their horizons in the quest for fresh talent.
We are looking at one signing for each Premier Division club who could be critical in shaping the season of their new club.
Bohemians – Stephen Mallon
Roberto Lopes, Dan Casey, Warren O'Hora, Daniel Leahy, Daniel Kelly, Fuad Sule, Dylan Watts, Danny Mandriou, Danny Grant, Ali Regbha, Andre Wright.
Not a bad 11, ignoring the lack of a goalkeeper. All are players who have left Bohs for the UK or a bigger spending rival on this island during Keith Long's time in charge. They are not unique in this sense but have shown an incredible ability to not only be unhurt by these losses but to continue improving with some excellent recruitment.
Two of those players, Danny Grant and Andre Wright, have moved away since the end of last season. The reliance on those two players was significant for Bohs. The last nine Bohs goals in 2020 were scored by one of the pair. No player scored an open play goal over the second half of the season other than the Grant-Wright combo with the only exception being a Keith Ward penalty. It is a continuation from the end of 2019 as since Wright signed, either he or Grant scored or assisted 58% of Bohs league goals.
Long identified Mallon as "a key signing for us…..Having lost two key wide players in Danny Grant and Kris Twardek in recent months." Mallon impressed with two goals in seven starts for Derry City but was not a regular starter and was a sub as many times. It will be a big step up for him to replace the PFAI Young Player of the Year so help will be needed from other additions like Liam Burt, Bastien Héry, Thomas Oluwa, Georgie Kelly and Brad Rolt.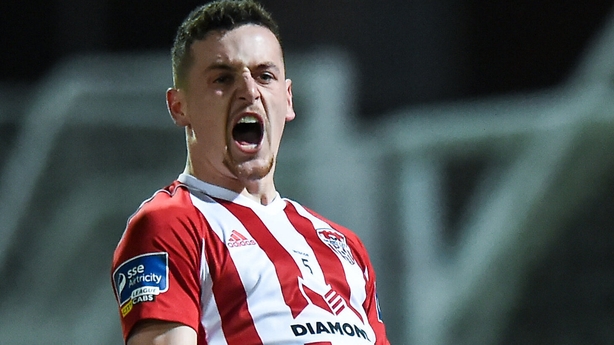 Derry City – David Parkhouse
Like many teams, Derry City found goals hard to come by in 2020. They scored 18 times in their 18 games, a rate only better than one season (2015) since 2007. Only two players scored more than twice, James Akintunde with four and Walter Figueira with three. Having lost Figueira to north-west rivals Sligo Rovers, additions were needed.
Returning for a second spell is David Parkhouse. He was one of Declan Devine's first signings following his reappointment for the 2019 season. Since 2012, Rory Patterson is the only Derry City striker to score more than Parkhouse's 11 that year, doing so in both 2013 and 2016. Pat Hoban got 13 in 2019 and was the only striker to outperform the goal return of Parkhouse.
The Candystripes scored just one headed goal last season, (6% of their goals being the lowest percentage) and perhaps Parkhouse could help. He showed impressive balance in 2019 with five goals of his right peg, four on the left and two with his head. They were also slow starters in 2020 with only Cork City and Finn Harps having fewer than their seven first half goals. On his own Parkhouse had six in 2019. He also had five goals away from home, only one fewer than Derry's in all last year. Parkhouse could be the solution to a lot of Derry's problems.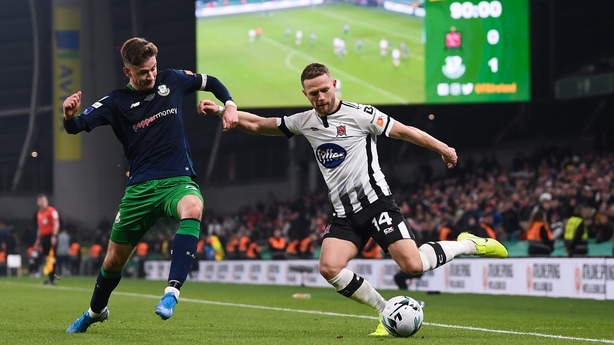 Drogheda United – Dane Massey
To achieve the promotion that had twice eluded his Drogheda United side Tim Clancy added valuable experience to his defence for 2020. Although they were top scorers in 2019, they were hampered by having just the fifth best defence. In came Derek Prendergast and Hugh Douglas bringing nearly 450 games of league experience. The Drogs went from 1.33 goals conceded per game to less than one on their way back to the top flight.
But improvement in the Premier Division is still possible and necessary. They managed just one clean sheet against a top four team (Bray Wanderers). Clancy has not just added some experience, he has added a player in Massey who is only behind Ian Birmingham and Ronan Finn for most appearances from any outfield player in the league. Not to mention having won every trophy in the game multiple times while still only 32 years old.
Along with the likes of Gary Deegan and Dinny Corcoran, Clancy is adding some experience to the youth that helped Drogheda return from their longest First Division spell in 30 years.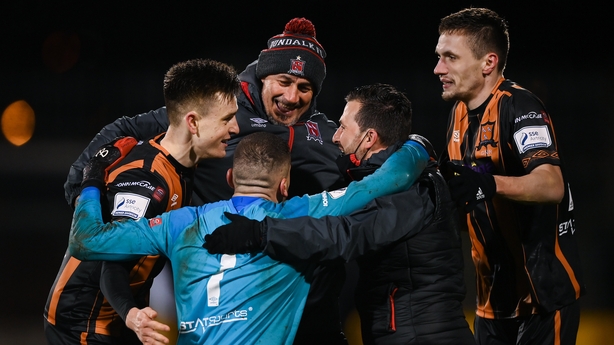 Dundalk – Alessio Abibi
Much restructuring of the Dundalk squad has taken place in the last year with just eight players left who had played for Stephen Kenny. A lot of experience has departed with the likes of Sean Gannon, Dane Massey, Sean Hoare and John Mountney but they do have players in their positions that have been at the club already who could make up for what is being lost.
The goalkeeping position may be different. The loss of Gary Rogers in goals was compounded by also losing his deputy Aaron McCarey meaning there will be a brand new shotstopper behind the back three or four. Cherrie has played for the club before but that was seven years ago and Abibi has no experience of this league.  Based on selection and his penalty shot-out performance in the President's Cup, it appears Abibi may get the nod to start.
This area must be of concern for Dundalk as their defensive record was what deteriorated most last year when they fell away from their usual title contending position. Only relegated Cork City (30) and Finn Harps (24) conceded more than their 23. Despite the season only being half as long, it was more than they had conceded in either of their previous two single seasons. In the five games played without Rogers, they conceded nearly half a goal per game more. That will need to tighten up if Dundalk are to recoup their position at the head of the Irish footballing table.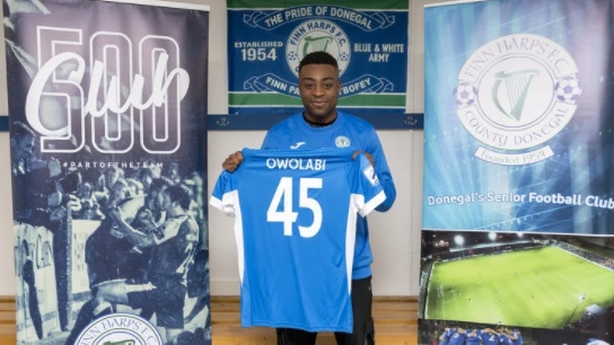 Finn Harps – Tunde Owalabi
Finn Harps started last season with just three goals from their opening eight games. No team had fewer since Shelbourne has two after eight in 2013. They recovered enough over the second half of the season to wriggle their way out of the relegation fight in familiar fashion but will want to avoid falling into the same peril again.
The Donegal club had a heavy reliance on set plays with 47% of their goals coming from dead balls (including four of the seven goals scored in the league from throw-ins). Over the last two years it has been 49%, the highest figure of any side in the Premier Division. Some extra dynamism would be useful for the team that took the fewest shots in the league at just 5.6 per game.
While forward Ryan Shanley has joined from Hibernian, he comes with just 26 minutes of league football played. Also coming from Scotland is Tunde Owalabi who as recently as 10 weeks ago was playing SPL football for Hamilton Academical. What is more impressive is his record in the English lower leagues where he scored 26 goals in a season for Radcliffe and 28 the next year for FC United of Manchester. If that form is transferable to the SSE Airtricity League, then Harps may have enough to avoid a relegation dogfight.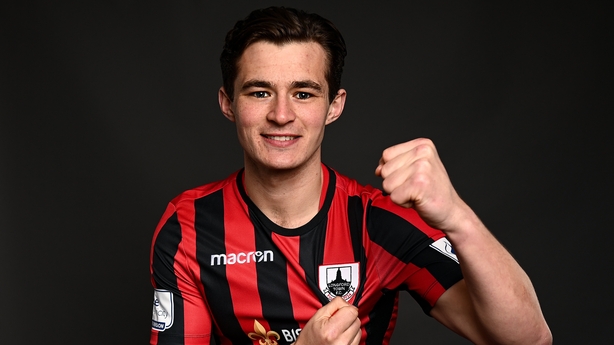 Longford Town – Aaron Dobbs
Contrasting approaches have been taking to squad enhancement by the two promoted clubs. Drogheda United have added buckets of top level experience in Darragh Markey, Dane Massey, Dinny Corcoran, Gary Deegan, Colin McCabe, Daniel O'Reilly and Ronan Murray. Longford Town have taken a different approach. Paddy Kirk, Aaron Bolger, Conor Davis and Aaron Dobbs have all played in the Premier Division but none are older than 22.
They are a team who scored 18 goals fewer than the top scorers in their Division (UCD) and 13 fewer than Drogheda. Their top scorer, Robert Manley, finished six off the top of the charts and has never scored in the Premier Division. New strikers Davis and Dobbs will have a lot of responsibility. Both have scored twice at this level.
It is Dobbs who has a little more experience with 29 career PD appearances while with Shamrock Rovers and Shelbourne last year. He is also familiar with the club after scoring five goals at Bishopgate during the 2019 season. A better return than the zero goals produced in Shelbourne's relegation season will be what Daire Doyle is hoping for.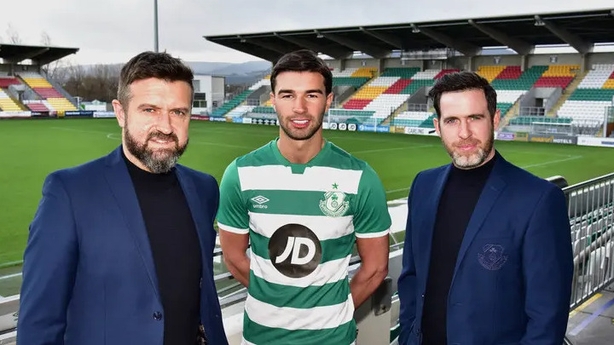 Shamrock Rovers – Danny Mandriou
Much like fierce rivals Bohemians, the Hoops have lost some key offensive weapons. Most notable, Jack Byrne. The star of their show last year was involved by scoring or assisting on 41% of his team's goals in 2020. That was up from 29% in 2019.
Playing a similar position, Mandriou will be expected to bear a significant amount of that burden. Optimism can be taken from the fact that Mandriou outscored Byrne in their first season in the league by 11 to eight despite playing fewer minutes and over both years has scored a goal every 198 minutes to Byrne's 241.
The first of two concerns would be in goal creation. Byrne's assist total drastically outmatches Mandriou 19 to three. Byrne had three in a single game against Waterford last year. All three of Mandriou's were in 2019 which is the other concern, his output dropped considerably in 2020. He only made five league starts and wasn't in the matchday squad for half of the games. The 2019 version of Mandriou will need to show up in Tallaght if he is to play a part in Bradley's title defence.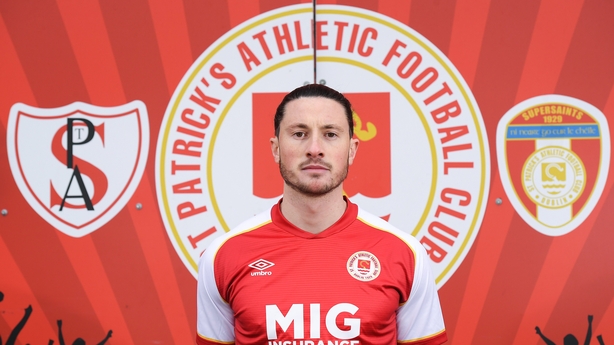 St Patrick's Athletic – Ronan Coughlan
St. Pat's have been eighth in goalscoring for each of the last two years. It almost cost them last year as they finished just one point above the relegation play-off spot. They have had numerous centre forwards over the last few years from Mikey Drennan to Gary Shaw and Georgie Kelly but none have been able to find the net regularly.
It may seem unfair to place all of the blame on the strikers but the numbers point that way. They were fourth last year for average possession and shots taken per game. But they were ninth for both percentage of those shots finding the target and percentage of those resulting in a goal.
Coughlan joins following a successful time with Sligo Rovers scoring six last year after eight the year previous. However, four of his six in 2020 were penalties, the Saints were not awarded any of those last year so there is no guarantee that scoring can be replicated. Coughlan may be asked to lead the way, but a collective effort will be needed from a drew that drew a blank 50% of the time last season.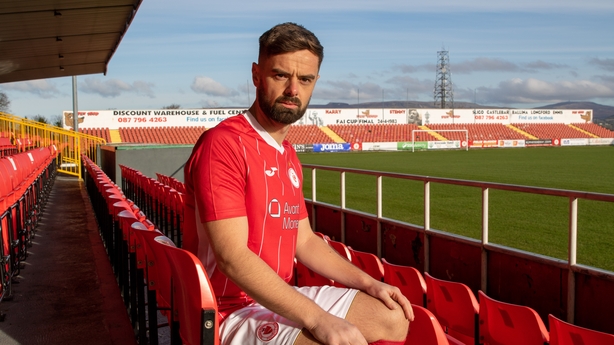 Sligo Rovers – Greg Bolger
European games played:
Greg Bolger – 27
Sligo Rovers – 24
In the history of the club, The Bit o'Red have played fewer European games than Bolger in his career. Sligo Rovers are 60 years older than Bolger. His record when he gets there this is much better too, in four of his eight seasons his side got through the first stage compared to just two from nine for his new club.
That experience of playing in Europe while keeping domestic matters in hand could be crucial. Although there are four players at the club who were in the squad for the club's last European game seven years ago in Richard Brush, Regan Donelon, David Cawley and John Russell. Six of the eight starters on the final day of last season who have remained with the club have never played a European fixture. It will still be a trip into the unknown for many at The Showgrounds and Bolger's know how will be very useful.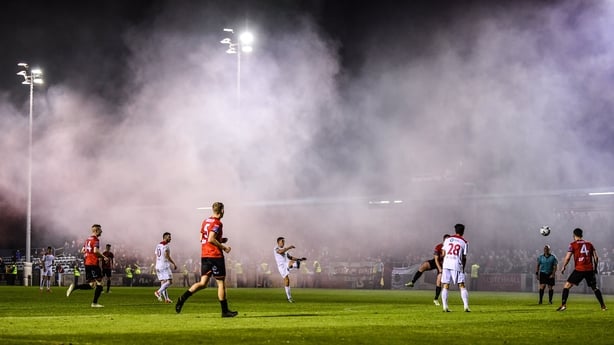 Waterford – Oscar Brennan
The Blues have a difficult team to analyse. They have brought in many young players from youth academies in the UK with little senior experience. Mixed with those is some young, local players who have just began experiencing first team football over the last year or two. With them is two players at the opposite end of careers largely spent abroad in Brian Murphy at 37 and Daryl Murphy at the same age.
One of the few players who could be described as being at their prime is new signing from Shelbourne, 24-year-old Oscar Brennan. For a team likely to field many debutants on opening night and with the only manager in the league with no prior experience of managing in Ireland, that knowledge could be vital.
Brennan has experience of competing in the top half of the league from his two years at Bohs when they finished 5th and 6th as he made 28 and 25 appearances respectively in 2017 and 2018. After helping Shelbourne to promotion in 2019, he endured a relegation battle with them last year. He arguably should have had more than seven starts as with him in the team they average 1.29 points per game, the second-best for any of their outfield players. Having the experienced spine of Brennan and both Murphy's could be vital for Waterford's 2021 fortunes.
Some of the above players may have dream debuts, some may be disastrous. Managers will be currently deciding whether to trust the reasons they brought players into the club when making their first team selection or if they should rely on the tried and tested. The main hope for all is that there will be a 36-game season this time to allow everyone the time to show what they can do.