Derry City great Liam Coyle believe that manager Declan Devine will be out of a job if he does not lead the Candystripes to European football this year.
After a promising start to his second spell at the club, the 2020 campaign was a miserable one for Derry.
They increased their budget by 30% for last season but disappointing recruitment and the impact of Covid-19 hampered the Candystripes for much of the year.
In the end, they only avoided the relegation play-off on the final day of the season.
Derry will be operating off a smaller squad this year, and while the likes of David Parkhouse and Danny Lafferty are back this season, they will be relying on youth players to make up numbers.
Coyle told the RTÉ Soccer Podcast: "It's no surprise that people are not giving Derry a chance. When you look at Derry last year, it was an absolutely shocking season from everybody concerned at the club. It has to be better.
"A top four spot would see a vast improvement for Declan Devine, but I think that is the minimum. Anything less, I think Derry could be looking for another change.
"He is into his third season now. He finished fourth in his first season. It seemed like it would be a stepping stone (to finishing even higher). But every season seems to be a complete rebuild for Derry. It's not good enough. They are trying to stabilise it now.
"They are trying to build a more local based team and keep people here rather than bringing in 13 or 14 new players every season. Declan is in his third season and there's been a lot of investment put in by the chairman. He'll be looking for a return on it.
"The bare minimum for Declan this season has to be a European spot. If he doesn't get that, Derry might look another direction and bring in someone else."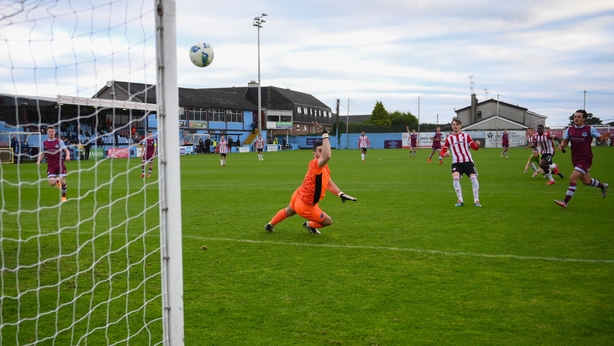 Securing Parkhouse on a long-term deal was a major fillip for Derry after he bagged 11 league goals in 2019.
He returned to his parent club Sheffield United after that breakthrough year at Derry, but subsequent loan spells to Stevenage and Hartlepool did not go well.
One concern for Coyle is Derry may not have the same quality of player around Parkhouse as two seasons ago, and the lack of the element of surprise on his return to the league.
Coyle added: "David did well two years ago. He was an unknown quantity. He went back to England and it hasn't worked out for him. The thing about it was last time he was here he had two wingers to provide a lot of crosses and assists.
"That is the way David plays, he is an old fashioned centre-forward. If Derry don't have those players to put those type of balls in the box for him, then he might struggle.
"People will know more about him this time as well and they will know what he is about, so it is going to be harder for him. The one thing he gives us you is 100% commitment. For Derry fans, that is all they want to see."
Derry start their season away to Longford Town on Saturday.
Coyle feels that as Derry try to begin the year well, and with close to their best team available, they could be a match for any side.
But depth remains the concern for the Candystripes legend.
Young Irish starlet Joe Hodge will be missing the opening games in one such issue.
Asked if thinks Derry can bounce back from the disappointing last 12 months, Coyle said: "I don't know to be quite honest.
"The starting XI will be fairly competitive. Outside of that, you are not looking at a massive squad and players of the same calibre coming in to replace anyone missing. If you get injuries, and we have already had Joe Hodge go back to Manchester City (for the next month), then it is going to be hard.
"Bringing in the right players to push you on is where Derry have struggled the last couple of years.
"If they keep everyone fit, they will give anyone a game at the Brandywell. If they pick up injuries and suspensions, that is where the problems will start. Derry do not have the same pool of players that Bohemians and Shamrock Rovers do in Dublin.
"Youth football here is as weak as I've seen it for quite a long time. There is nobody here coming through of a calibre where you could base your team around them for two or three years. A lot of young players are untested. Even at the Under-19 level, Derry haven't been doing well.
"Defensively Derry are okay. They have a strong back four, with Danny Lafferty back as well is a big plus.
"There is still a question mark on the goalkeeper Nathan Gartside because I don't think anyone has seen a lot of him to make a judgement on him."
Listen to the RTÉ Soccer podcast on Apple Podcasts, SoundCloud, Spotify or wherever you get your podcasts.
We need your consent to load this SoundCloud contentWe use SoundCloud to manage extra content that can set cookies on your device and collect data about your activity. Please review their details and accept them to load the content.Manage Preferences