Dundalk have officially appointed Shane Keegan as first-team manager, replacing Filippo Giovagnoli who is stepping back to the position of coach, while also saying there will be a "collective" in picking their starting XI.
Jim Magilton was named as sporting director at the club last December and is seen as the off-field head at Oriel Park. 
But on the football side there has been another change, with Keegan stepping up to a new role.
Keegan will now officially be in charge of the first team, with Giovagnoli and assistant Giuseppe Rossi part of a larger coaching set-up.
Dundalk were fined €50,000 last year for Giovagnoli "shadow-coaching" in the Europa League without the necessary qualifications.
Keegan, who previously was opposition analyst at the club, filled in on the sideline for several games in that competition because he has a UEFA Pro Licence.
Giovagnoli led the club to the group stages, and to an FAI Cup win, but the lack of coaching qualifications was set to cause more issues this year.  
Now Keegan has been promoted ahead of his Italian colleague.
Magilton told RTÉ Sport: "Looking at the collective and our coaching staff, we felt this was the way forward. Shane is team manager and then we have collective coaches.
"Filippo is very much at the heart of it. If you look at the fantastic job he and Giuseppe did last year, we have worked through pre-season trying to get the guys over the line in terms of written permission with their parent association which they've done.
"Credit to the Italian FA for allowing this to happen, they now have written permission to go apply for coaching courses. Giuesppe has applied to go on the 'A' licence on the FAI course.
"Unfortunately Filippo has to wait as there is an ongoing Pro Licence course and it doesn't expire to 2022. Hopefully with my contacts within UEFA, we can get them up to the necessary standard. The Pro Licence is the ultimate in terms of coaching.
"Filippo and Giuesppe are desperate to continue their coaching. We're going to help them do it."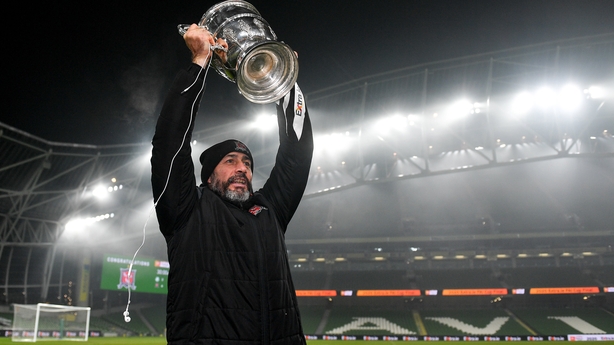 Magilton said that the spotlight will be on the former Galway United and Wexford boss if results do not go their way this season in the bid to reclaim the Premier Division title from Shamrock Rovers.
"Shane has got that (Pro Licence) and he is part of the whole process. Ultimately people will want to know who makes the decisions. There is collective decision-making here and the buck stops with the manager. That hasn't changed since time began.
"The buck stops with me too. As the sporting director I'm putting new structures in place. Then we go down, and I'll be looking at the coaching team. We are being very open and transparent here.
"We're not trying to reinvent the wheel or do anything outlandishly ridiculous. It will hopefully develop the football club and take it to the next level.
"Filippo is very much part of it, all the important decisions, from the ground up. With the extensive knowledge of Filippo and Giuseppe, why would we (exclude them)?
"We sit around, it's a thinktank, the same as everyone. It may be different, it may be a change.
"We feel with our group of people we are going to move forward this way.
"It's not for everyone, of course, every other club will have a way of doing things."
Magilton said the Dundalk staff members have been extremely busy with off-field projects.
A number of personnel have left the club in recent times, leaving some administrative work to fall back on the football staff.
The former Shamrock Rovers coach has been tasked with securing a club licence to play in the league, as well as trying to stay on top of recruitment.
Giovagnoli, along with Magilton and Keegan, has been working on recruitment and player registration.
Magilton said Dundalk have appointed a new secretary and will also announce a licencing officer soon in order to alleviate the workload.
The Lilywhites are next in action on Friday night when they travel to Tallaght Stadium to face Shamrock Rovers in the President's Cup final.
The match will be live on WATCHLOI.