Jack Byrne has been around the block enough times to live in the moment when it comes to football.
Still just 24, the Dubliner has had an eclectic career that's included spells in England, Scotland, Ireland, the Netherlands and now Cyprus, with APOEL Nicosia. 
There's been bumps on the road which have helped Byrne to keep things in perspective when plans don't go smoothly, so events over the last three months haven't ruffled his feathers.
Having made the move to APOEL from Shamrock Rovers to link up with his former Republic of Ireland boss Mick McCarthy in January, the reunion was cut short just hours after Byrne made his debut.
McCarthy, nine games into his tenure, was sacked.
Byrne then suffered an injury blow when a disc herniation in his back required surgery that ruled him out for the next three months. He'll miss his country's opening World Cup qualifiers Serbia and Luxembourg.
But there's no cloud hanging over Jack Byrne right now. 
"It's been great," he said at the launch of the Spar FAI School Zone, a new digital learning initiative for teachers and parents.
"It's different, waking up every morning and putting shorts and a T-shirt on rather than a big jacket and a hat! The club have been great with me since I came in.
"It's unfortunate that I got the injury so soon but they've been really helpful, really supportive. I'm just looking forward to getting back fit and giving it a good go."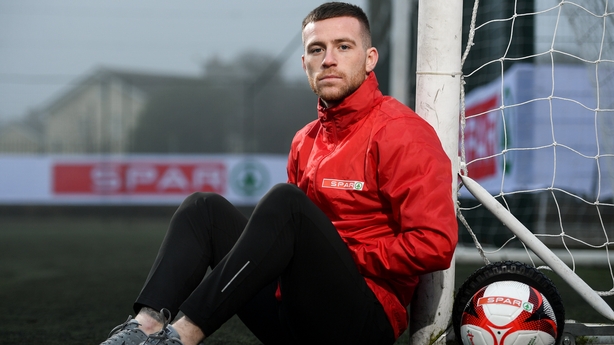 His move to APOEL hasn't quite taken off yet but Byrne has a natural self-confidence and a 'you only live once' approach to his career that means he's only focusing on the positives. And there's many positives.
For one, he has a good relationship with the two men who replaced Mick McCarthy: Savvas Poursaitidis at APOEL and Stephen Kenny at Ireland.
Byrne spoke to Kenny before moving to Cyprus and said he continues to be a huge support. 
"Stephen, not just as a manager but as a person on a human level, has always been really good with any of his players.
"I just had a conversation with Stephen about what I was thinking of doing. He was supportive of that. He never tried to butt in, he just said 'best of luck, we'll be watching the games'. He offered me some advice. He was brilliant. He's always brilliant with me. He gave me my competitive debut.
"I know he's the same with all the lads.
"He was on the phone to me straight away when he heard I was getting the operation. It shows the kind of person he is." 
Byrne has also slotted into the dressing-room seamlessly. The players like him, even making the effort to produce a jersey with his name on the back of it as a show of support after they scored against Pafos FC last Saturday.
"I can't speak highly enough of the lads since I've come here. They don't speak the best English but you're still able to have the banter with them and the craic.
"They're starting to understand me a bit more, my personality, and I'm starting to understand them. It's been really enjoyable. I've only been here a couple of months but I've made some really good friends. I'm just looking forward to seeing how it goes.
"It is going to be a great learning experience. I am going to be 27 when I finish my contract here, if I stay for the two and half years and if I stay for longer, brilliant. Even at 27, I am still a young man. I can go and do something else, play somewhere else." 
He had plenty of offers to move back to England during the course of his spell at Shamrock Rovers but Byrne is smart enough to know where his strengths lie. At this point, he feels playing in a European league where the game is technical and quick suits him best.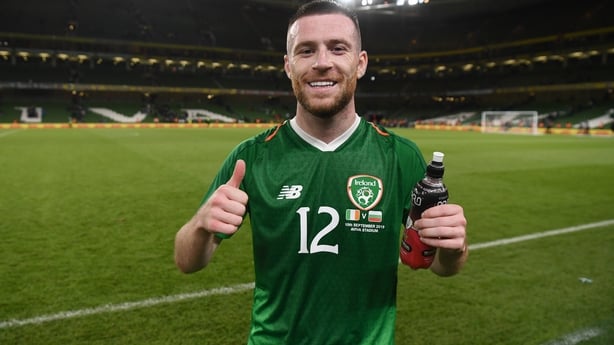 Apart from that though, he just fancied a change.
"I wanted to try something different. If it wasn't for Shamrock Rovers I wouldn't have been in the Ireland squad so it wasn't a case that I needed to move to get in the Ireland squad or in the Ireland team.
"Being out here at a huge club like APOEL gives me the opportunity to hopefully play European football, hopefully win league titles. That's what this club is used to. They don't accept anything less. That's the kind of pressure that I want, that was the challenge I was looking for.
"I definitely think the European style suits me. Most people understand that. Anyone who sees me play would probably say 'he suits Europe more than England', not to say I couldn't play in England because I would give it a go.
"I had options to do that but I chose to come here because the style suits me. I love it. It's a big club. People outside of Cyprus maybe don't realise that it is such a big club.  It's nice to be involved in it."
Listen to the RTÉ Soccer podcast on Apple Podcasts, SoundCloud, Spotify or wherever you get your podcasts.
For more details on the Spar FAI School Zone visit here