The new head of the FAI, Jonathan Hill, said that he would love nothing more than to see Ireland beat Portugal to qualify for the World Cup in front of a packed Aviva Stadium in November.
In the current Covid crisis, the prospect of having even a handful of fans present at a sporting event would please most palates, but for the new man at the helm of Irish football, perhaps a medium-term goal is something to aspire to amidst all the hard work that is no doubt taking his immediate focus.
Hill met with the Irish media on Friday for the first time since taking over his role as chief executive four months ago, and his main message for Irish football is to look forward and not back.
It was not long into the hour-long call before the question was put to the new chief as to whether he read the book that was by and large about the old boss, Champagne Football, and while he conceded that he read excerpts of the best-selling book by journalists Mark Tighe and Paul Rowan, he stressed that his main focus was on driving the FAI forward, albeit by learning lessons from the past.
Hill also stated that he knew a lot about Irish football, having spent over 25 years in the game, most notably, working with the English FA, however, he did stress that he was not acquainted with his predecessor, John Delaney.
In a wide-ranging interview, Hill covered most aspects of Irish football, from his relationship with Ireland manager Stephen Kenny, the current status of Robbie Keane, through to the return of League of Ireland football, where he hopes fans will be back inside the stadiums for the second half of the season.
Hill remains bunkered down in his London home as a result of the Covid crisis and ongoing travel restrictions, and while he said that it was not an ideal situation, as he likes to deal with things face to face, he did say that he hoped to be in Dublin by the time the World Cup qualifiers start in March.
"I've read excerpts of it, in The Sunday Times serialisations," said Hill when asked about Champagne Football.
"It would be foolish of me to say it's not important to understand the past to frame our here and now and our future as well. There are any number of legacy issues, some of them in the book and some not, that I've had to listen to and deal with to move forward. That's part of the job, but I am focused on the future because what else can I do?"
"I don't know John, so I cannot answer that question in terms of a comparator," said Hill, when asked how he was different to John Delaney.
"I am, hopefully, a reasonably straightforward, straight-talking Yorkshireman. I like to think that I have an open and collegiate approach to doing business.
"I'm not afraid to take decisions and I think I have a solid understanding of the world of football. I've been in it for 25 years and ten of those years I spent with the Football Association in England, so nothing I am seeing now in relation to the perennially debates that happen within any football association are new to me.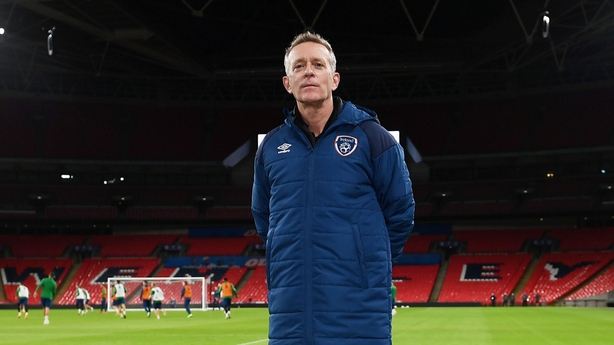 "The whole of the last three or four months have been an education in both the history of Irish football and a learning process that will hopefully inform how we will address our current challenges and clearly we have many.
"But also how we approach the future of Irish football, and to be quite honest, I'm more interested in the next 20 years of Irish football than I am of the last twenty years.
"Although clearly, I learn as everyone does lessons from the past, but hopefully you take those lessons and apply them in the most appropriate way you can in developing the modern, progressive and diverse, fit-for-purpose organisation that everyone I have spoken to wants to see in the FAI and across the whole Irish football."
A baptism of fire, perhaps as Hill found the association dealing with yet another crisis in the aftermath of the England friendly in November, as a story was leaked in relation to a motivational video played before the game by Ireland manager Stephen Kenny, which led to an internal investigation over the matter.
But Hill believes that he has a strong relationship with the manager who appears to have the new chief's full support going into the World Cup qualifying campaign.
"Stephen and I talk on a regular basis," said Hill. "We have a good strong relationship and we talk about all issues, and Stephen and his team, and all of us within the organisation have learned from that final quarter of 2020.
"All of our attention now is focused on giving Stephen the best possible preparation for that World Cup qualification process. He has eight weeks until the first game and I know that he is already working extraordinarily hard in relation to being prepared for that."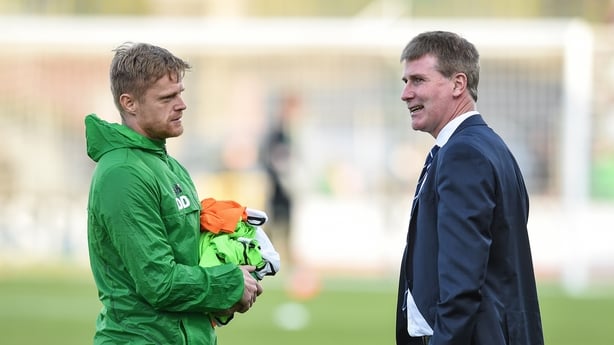 Ireland coach Damien Duff has since resigned from his role within the team - replaced today by Chelsea coach Anthony Barry - and while the former international winger did not go into too much detail about the reason for his departure, Hill believes that he will still have plenty to offer Irish football.
"We had a long conversation in relation to a a range of issues," said Hill when asked had he since spoken to Duff.
"He reminded me of his passion for Irish football and for the Irish national teams, he is completely supportive of Stephen and the team and I don't think there would be any Irish man or woman more proud that Damien should Ireland qualify for the World Cup in 2022.
"Do I want to harness that passion? Absolutely, and we agreed that we would keep in touch, and I have no reason to disbelieve that Damien will play a major part in Irish football moving forward."
Duff's former international team-mate Robbie Keane was also a topic of conversation with Hill, and while the new chief executive confirmed that the record goalscorer was still an FAI employee, he admitted that he had yet to talk to him about his role within the association.
"Robbie remains an FAI employee. I haven't had the opportunity yet to sit down and talk with him, I will do that. Robbie is a legend in Irish football and I look forward to having an open and honest conversation with him about the situation.
"I am open to all different possibilities in relation to Robbie. But Robbie will tell me where he is currently, I hope, when we get the chance to chat."
Another issue that has been causing headlines since taking over the role has been the anti-Irish abuse that current midfielder James McClean has had to endure, and while Hill said that the association has shown the player support on social media, he admitted that he has not spoken personally to the Derry native.
"I have not spoken to James personally, but clearly we are aware of the issues and we have supported James as an organisation and an association via social media, but very simply, no individual should have to face that sort of abuse.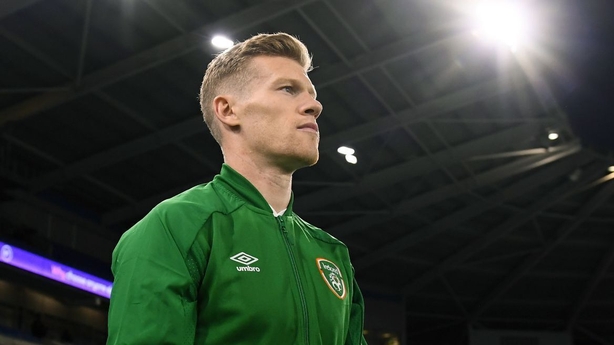 "This a complex issue – I am speaking with the FA on a regular basis – in fairness to the English FA I think they are committed to eradicating similar activities, but it also needs the support of the governments and the social media companies as well.
"In our association, we have Des Tomlinson engaging on a daily basis with other football associations and also with UEFA and FIFA so we are very aware of the issue."
Of course, Hill arrived to the job at a time when all-things financial were very relevant, such was the precarious position that the association had plunged into in recent years, and while there is no current main sponsor for the international team, the new chief executive ruled out a betting partner to help generate funds.
"We would not [partner with a gambling company]," said Hill.
"I was asked by the board to assess it in relation to having betting partners in relation to sponsorships, they asked me to look at the pros and cons.
"We debated the issues openly and in the end it was decided that it was not something the board wanted to pursue and I was supportive of that decision. We will not have a betting partner.
"If I had a [main] sponsor I'd have told you by now. I inherited a situation where 3, our national team sponsor up to 2020 and who had been there for 10 years, left. I inherited that. To find a new sponsor in a Covid scenario was always going to be a challenge.
"That does not mean we're not in the marketplace, I believe in that platform, that we are the No 1 sport in the world, a World Cup qualification year reminds us of that, we are out there talking and it's our intention to find a partner."
So looking to the year ahead from a footballing prospective, Hill admitted that it will be a challenge to get fans back into the stadium for both the League of Ireland and the international side, while he believes it is realistic to plan for their re-openings in the second half of the 2021 campaign.
"Like other sports and sporting associations we will have to have a fair approach when we have fans back in but we will be happy to get to the stage where we have 5,000 or 10,000, even when the crowds have been small, even 3,000, they make a lot of noise.
"If we can have 5,000 Irish fans in the Aviva Stadium I believe they will make a lot of noise. We want to get as many of our fans into the stadium as possible, and [I'm] hopeful we will have fans back in the stadia for the second half of the season.
"Nothing would give me greater pleasure than to see a full Aviva Stadium when we beat Portugal to qualify for the World Cup but we are looking at a phased return of fans which is a sensible and prudent approach."