Former Dundalk goalkeeper Gary Rogers says he will be dedicated to spotting and nurturing the best young talent in the League of Ireland in his new role as a scout for the company headed by renowned agent Jorge Mendes.
Mendes is one the most high-profile and successful football agents in the world, working with the likes of Cristiano Ronaldo, David de Gea and Jose Mourinho.
His company GestiFute has offices in Porto, Lisbon and Dublin. 
Rogers, 39, announced his retirement in December after a sparkling 21-year career. 
Speaking to the RTÉ Soccer Podcast, he elaborated on what his new position will entail.
"The league is the only show in town in terms of games so I'll be looking at the players in our league first and foremost and hoping to look at the underage leagues when they get up and running," he said.
"I'll be keeping an eye out for good up and coming talent, trying to get them organised for moves across the water - England, Portugal, Spain or wherever it may be - to develop their talent. 
"It's a pretty big organisation. Jorge Mendes is the founder of it, they're based in Portugal but have an international base here. They represent players from all over the world.
"The most famous of those would be Ronaldo. On our own shores here they represent Matt Doherty as well so there's plenty of big names associated with the association. It's a really exciting opportunity to work with such a big company that represents so many big names all over the world."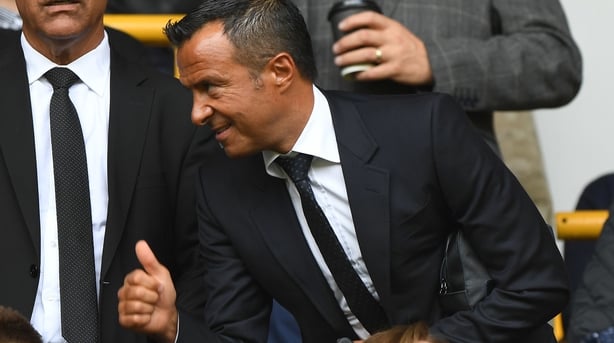 Rogers will also link up with the Monaghan Gaelic footballers as a coach when the inter-county season gets going and he admits he's been seeking fresh challenges since retiring.
"The opportunity came up. When I was playing I wasn't really looking outside of that. It's about your connections and being able to tie that in with looking at the best young talent coming through. It's within football, which is what I know best it's what I've done my whole life.
"It's across all levels. For the time being it's going to be the League of Ireland because that will be the first football up and running here.
"For now the strategy will be looking at the young players coming through in the League of Ireland. With the way football is at the minute I think younger players are going to get good opportunities to play senior football in this country."
In this post-Brexit landscape, minors are not allowed to moved to the UK before they turn 18. That presents an opportunity for GestiFute to spot good players and potentially link them up with clubs across Europe. 
"You've got to tailor to each player's individual needs," Rogers added.
"It may not be the case now that players go away at 15 or 16 to clubs - it certainly won't be the case with the UK.
"You've got to tailor to the player and look at their characteristics. Does it suit them to stay in the League of Ireland and gain experience here? Or does it suit them to go to an academy maybe in Portugal or Spain or the Netherlands?
"You've got to look at the individual and the characteristics of each player and do what's best for your players for them to get the maximum out of their talent and career."
We need your consent to load this SoundCloud contentWe use SoundCloud to manage extra content that can set cookies on your device and collect data about your activity. Please review their details and accept them to load the content.Manage Preferences
Listen to the RTÉ Soccer podcast on Apple Podcasts, SoundCloud, Spotify or wherever you get your podcasts.