Gareth Bale is not playing at Tottenham because he is coming towards the end of his career, his agent Jonathan Barnett has claimed.
Spurs have been involved in 22 Premier League matches following Bale's return to the north London club on loan from Real Madrid, but the 31-year-old has started only two of them.
Barnett also pointed the finger at Tottenham boss Jose Mourinho for Bale's lack of minutes on the pitch.
Mourinho last week questioned Bale's Instagram post which suggested he was in good health despite being unavailable to feature in his side's FA Cup defeat at Everton.
Asked why Bale was not playing regularly in his second spell at Spurs, Barnett, speaking at the Financial Times' Business of Football event, said: "He's towards the end of his career. Really, you have to ask Mourinho that."
Barnett then moved to defend Bale's record. The Welshman won two LaLiga titles and four Champions Leagues at Real Madrid.
"When they say, 'What's happened to him?' – he's won more trophies abroad than any British player in history," Barnett added.
"He has enough money for the rest of his life. He has a very good lifestyle, so that is what has happened to him"
"He's done very well financially, and he has enough money for the rest of his life. He has a very good lifestyle, so that is what has happened to him."
Bale came through the ranks at Southampton and joined Spurs as a 17-year-old in 2007 before sealing a then world-record €100m move to the Bernabeu six years later.
Addressing his initial transfer to Spurs, Barnett, who has overseen the Welshman's career, said: "With Gareth we always knew where he wanted to be.
"We knew he had the talent so when clubs came in, the first thing we did was look at the clubs that were there and the ones to progress his career.
"We chose Tottenham for clear reasons; the path to the first team and good coaching.
"We turned down two offers for more money at the time but we spoke with him, his parents and they listened to us and he ended up at Real Madrid."
Meanwhile, Mourinho says Hugo Lloris still has his full backing after a string of recent errors by the goalkeeper.
The France captain had enjoyed an impressive start to the campaign as Spurs rose to the top of the Premier League but has been at fault for a number of goals in recent weeks, including two in Saturday's 3-0 defeat to Manchester City.
But Mourinho is backing the 34-year-old to come good as insists he remains one of the best goalkeepers in the world.
"When a player is a top player, it's not because of one mistake or two or three that means he's not a top player again," Mourinho said.
"That's the most important thing. I shouldn't speak about it because he's not my goalkeeper, but I don't think he will take it in the wrong way. For me, Alisson is one of the top five best goalkeepers in the world and in the last couple of matches, not at Leipzig, but in the matches before he's made big mistakes but he is one of the top five goalkeepers in the world.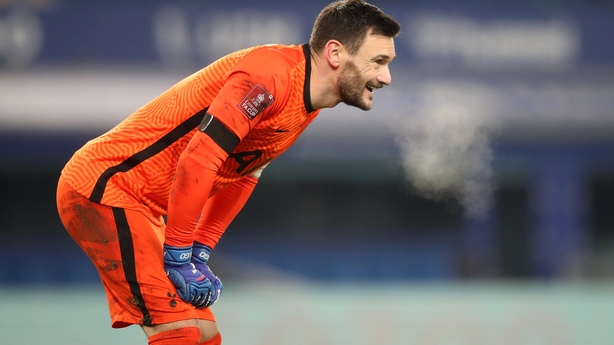 "And Hugo is the same. He's an amazing, amazing goalkeeper that is performing super consistently since he recovered from that fracture. Since my time here, he (Lloris) is recovering so, so well. If he had responsibility in one or another goal we conceded recently, he's still the same goalkeeper.
"He's my number one choice and he has all my trust and my confidence."
Lloris is likely to make way as Spurs return to Europa League action on Thursday against Austrian side Wolfsberg, with Joe Hart expected to come into the side.
When Spurs last played in Europe before Christmas they were top of the Premier League, but their form has nose-dived since and three wins from their last 12 games has made them outsiders to qualify for the top four.
That might make winning the Europa League their best route back into the Champions League, but Mourinho has not closed the door to a top-four finish.
"It's difficult in any case but it's possible in both cases. The fourth position in the Premier League is of course very difficult but is mathematically possible.
"Last season we were in a very, very bad position to try to get into the Europa League spots and in the end we made it in the last minute of the last game but we made it.
"In the Europa League there are an incredible number of matches and we are in the 10th and not even in the last 16. Still in the last 32, so long, long competition.
"Very good teams, very good teams. You just look to the English teams in it and you see how strong the competition can be, but it's open. We're one of the 32 teams that has a chance to win it and we're going to try."
Spurs will be without Sergio Reguilon for the trip to Budapest, where the game was moved to due to the coronavirus pandemic, but the Spanish left-back could return at the weekend against West Ham.
On the venue switch, Mourinho said: "If this tie is played one match let's say in neutral stadium, and another one in our stadium, probably they will feel a little bit, they will feel that is a little bit unfair because it's two legs, and normally two legs is one home one away.
"But the rules are the rules. Many times I disagree with rules, other times I agree with them. But you just have to accept the way it is. I don't think my opinion is important."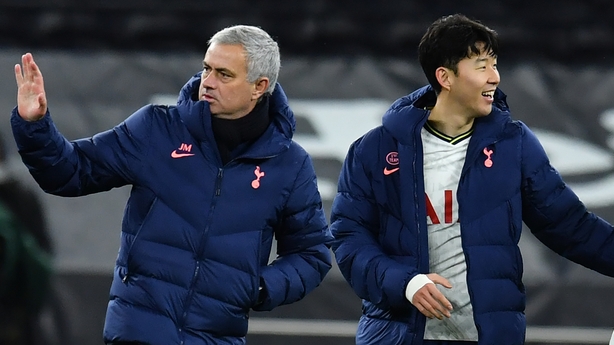 Striker Son Heung-min says it is not the right time to discuss whether he is going to sign a new contract at the club.
The South Korean has been one of the stars of the season for Spurs, who are keen to tie him down on a bumper new deal.
But negotiations have paused because of the coronavirus pandemic, with boss Mourinho saying it is indecent for players to be earning big pay rises when much of the world is suffering.
Son, whose current deal runs until 2023, is of the same mindset but insists he is happy in north London.
"It's a bit unfair to talk about a new contract at the moment, I am focused on the games and my team and that is the most important thing at the moment," he said. "I'm happy to be here and I'm working hard as a player and the team.
Despite recent results, Son claims the mood in the dressing room is good and everyone remains behind Mourinho.
Asked whether the Portuguese had lost the dressing room, he said: "The rumours are just rumours. Our changing room has been fantastic.
"Obviously it depends on the results. I'm very sad if we lose and happy when we win. It's like everyone else. The mood went down when we had a couple of bad results but the dressing room hasn't changed.
"Everyone is happy and having a laugh and focused on every game. It is a bad rumour."