Izzy Atkinson has had the most frantic, surreal few days of her life.
The versatile wide player has been hyped up since making her Republic of Ireland debut aged just 16 under Colin Bell and consistently excelling for Shelbourne in the Women's National League, so she's used to being under the spotlight.
This, however, has been on a different level.
On Monday night Atkinson completed a switch to professional outfit Celtic, the club she and and her family have supported for years.
Born and raised in the north Co Dublin seaside town of Rush, this was the move Atkinson dreamed of as a kid. Now, it's a reality - and the excitement has, she says, been "overwhelming".
Atkinson has been on the radar of Hoops boss Fran Alonso for a while now.
Alonso has previously worked alongside Ronald Koeman at Everton and served as a technical coach under Mauricio Pochettino when he was managing Southampton. He sees serious quality in the Irishwoman - still only 19 - and was keen to bring her to Glasgow, where Keeva Keenan has been impressing for the last two and a half years.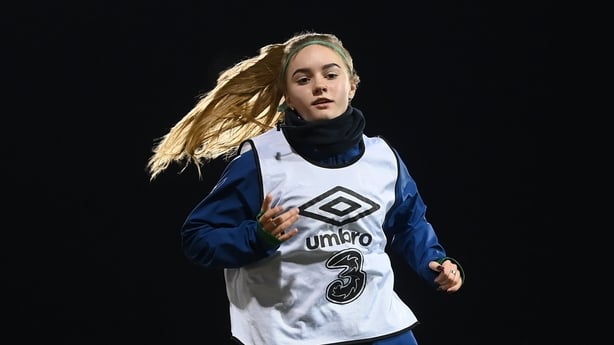 "I only made my decision about two days ago - it only felt real when I made my decision and said yes," Atkinson tells RTÉ Sport.
"The past month has been crazy, but especially the last few days. I've been overwhelmed by the support. I'm just so grateful.
"Fran got in touch with me about a month ago. It wasn't like, 'we want you to sign right now'. It was just him getting in touch, being very welcoming and saying a lot of positive things about myself, really emphasising how good Celtic are and the difference between stepping up to be a professional and stuff.
"Keeva is one of my pals. I've been chatting to her every day, I'd say I've been doing her head in! I would have been with her with the Ireland seniors as well, so I'm really glad to have her by my side. We're two Dublin heads, two Ireland heads. I'm just glad to have her there when I go over."
This is quite simply too good an opportunity for Atkinson to turn down. It's just over a year since Celtic announced their decision to have full professional status for their women's team so she'll be going into a slick, high-level environment.
The start date of this year's Scottish Women's Premier League campaign will be subject to a government review in February but Atkinson is hopeful of getting to Glasgow in the next couple of weeks.
"I can't pass this up, I couldn't say no."
"I'll be seeing my Shels team-mates before I go hopefully... hopefully I can get in before I leave and train with them," adds Atkinson.
"They're back on 10 February. I sent a text to the group to inform them all. I was in tears. It's like leaving a limb behind. I've had four seasons with Shels... I would not be the player or the person I am today without them.
"I'm going to miss them so much but I if I want to do what I want to do - be a professional footballer and live my dream - I can't pass this up. I couldn't say no.
"There's a government announcement on 10 February. If that goes well we could be back on 15 February. I could be going over in two weeks. We won't know until 10 February. I'm ready now. I'd go right now if I could."
Atkinson is almost two years into an Arts degree at Maynooth University. She intends to finish her semester online from Glasgow and come back to complete the course at some point with the aim of becoming a primary school teacher or working in psychology. For now though, her sole focus is on football.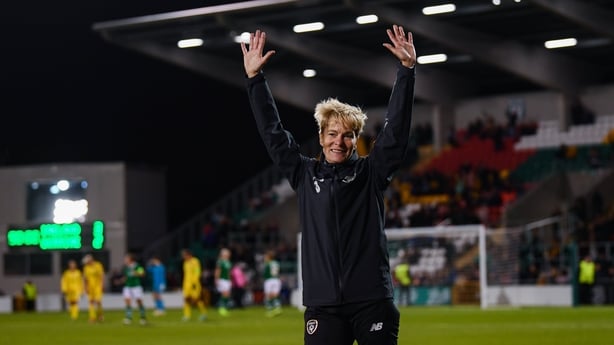 Ireland boss Vera Pauw (above) sent a text of congratulations but Atkinson says this development in her career is just the start of a long road if she is to break into the Dutch coach's plans.
"I haven't called her properly yet but she just said congrats on the move. In Ireland you're not professional. you're amateur. I still haven't broken into the Ireland team under her yet, I've only been in squads.
"I've a lot to prove to her. I hope she sees this as me being ready now, ready to prove myself and be the best player I can be."
All that is for further down the road. Currently, Izzy Atkinson is walking on air, ready to live out her dreams and take every opportunity that comes her way.
"When I got in the Ireland seniors team and made my debut at 16 i don't even think I had this kind of support. It's only been two days and everyone has being going absolutely crazy. I'm just so grateful. I'm so glad to be there, I really am.
"The advice I'd give to someone is, 'go for it, never ever doubt yourself, never ever dismiss an opportunity'. I wasn't 100% about the move because it was all so sudden. Then I was like, 'I can't say no to this'. All I've wanted to do since I was a kid is be a professional footballer.
"Life is too short. Time goes too quick. Go for it."