Just three years after he hung up his playing boots, Stephen Bradley was handed the Shamrock Rovers reins in 2016 on a part-time basis.
He was just 31 years of age, but the path towards management was something he had set his sights on for some time.
"I knew from very early I would never fulfill my potential as a player," he told John Kenny in a wide-ranging interview for RTÉ's Saturday Sport.
Pat Fenlon's departure paved the way for Bradley, who at that stage was in the early stages of his coaching career having got involved in starting the club's academy system.
Four months later and the role was his on a permanent basis after the aim of European football was achieved.
Bradley made his pitch to the board, but even though he was confident in his ability, his inexperience was a potential stumbling block.
"It was a surprise to manage a club this size at such a young age. To be asked to take the job was a great honour."
??? 'After something like that happens to you, there isn't a lot that can hurt you' - @ShamrockRovers boss Stephen Bradley tells @JohnKennyMedia on @SatSportRTE that after the passing of his mother (2016), criticism easily washes over https://t.co/MF6VWXF6y8 pic.twitter.com/0A7CsRzlz0

— RTÉ Soccer (@RTEsoccer) January 16, 2021
In 2019 he helped the Hoops end 32 years of hurt and claim the FAI Cup. A year later and Rovers blazed a trail in the league, finishing on top and completing the campaign unbeaten.
Throw in a memorable cup final defeat, plus hosting Italian giants AC Milan in the Europa League, and it was quite the season for the Tallaght side.
It is in stark contrast to some testing times in 2018, when many felt his time in charge would be brought to an end.
Defeat to Dundalk in June was their eighth league defeat in 21 games and trailed the table toppers by a whopping 22 points.
A section of home supporters began to call for Bradley's sacking, with a banner 'It's not working out. Enough is enough' unfurled at full-time.
I lost my mother, the closest person to me in my life. After something like that happens to you, there is not a lot that can hurt you
The man in the hot-seat paid little heed to the criticism, with the loss of his mother Bernadette two years previously putting everything into perspective. Her passing at 58 from cancer added another layer of resilience.
"I lost my mother, the closest person to me in my life. After something like that happens to you, there is not a lot that can hurt you," he said.
"When the banners were up and people were having their say, it never hurt me personally. It annoyed me more than anything because I knew what we wanted to do. I knew where we were going and I always knew it would take time.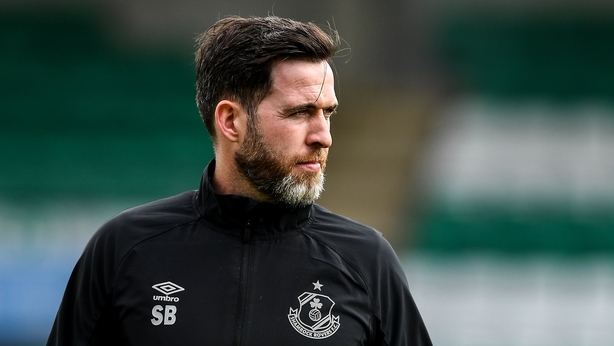 "We wanted to compete and win things, but we knew we were a million miles away from that when we came in. We were fighting to get fourth when I came in and we weren't competing to sign the best players in the country. We knew it wouldn't be a quick fix."
If the actions of a few were designed to weaken his position at the club, it certainly backfired.
"I remember the day the banners went up. We had a meeting with the board the following day and everything that came out was, what do you want for next year? Where do think we can improve on and off the pitch. Basically, "what can we do to help?
"There were a lot of knives from outside, but there was no panic inside (the club)."
The visit of AC Milan last September was another season highlight, where a goal in either half from the classy Serie A side put paid to any dreams of a European shock.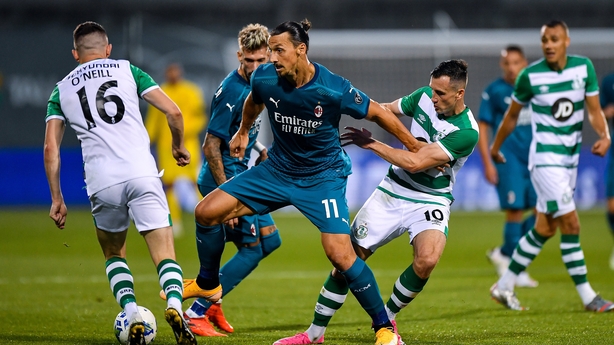 Swedish superstar Zlatan Ibrahimovic opened the scoring with a fine finish in the 23rd minute before the stylish Hakan Çalhanoglu secured their safe passage, but Bradley and his management team were very impressed by the Italians.
"As a club, they were different class, on and off the pitch. Before the game, after the game, having chats with the manager Stefano Piloi, the CEO Ivan Gazidis and Sporting Director Paolo Maldini.
"They really did their homework on us. It was clear to see when we spoke to them afterwards. They showed us a lot of respect. So much so, they invited us over for a game when everything settles down."
Bradley expressed his delight that the League of Ireland season was concluded in a Covid-19 environment - "I think it's too important to too many people. I think it shows that people are starting to see the league as an industry, a profession. For too long in this country we tend to see the sport as a hobby" - but is already focused on what lies ahead.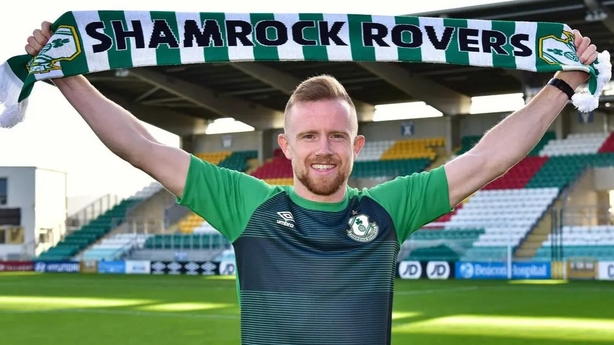 Sean Gannon, Sean Hoare (pictured above) and Danny Mandroiu have been added to the squad, and with a target on their backs as champions, Bradley is aware they must rise to the challenge to add more silverware to the cabinet.
"That's the aim, to be successful again. We have to be clever and plan, but day-to-day, we have to work really hard. We can't work as hard as we did last year, it will have to be harder as the teams are coming for us.
"We have the quality to win games, but we have to work hard."
Listen below for the full interview
We need your consent to load this SoundCloud contentWe use SoundCloud to manage extra content that can set cookies on your device and collect data about your activity. Please review their details and accept them to load the content.Manage Preferences