Stephen Kelly believes it would be a "natural progression" for John O'Shea to make the step up to Republic of Ireland manager Stephen Kenny's senior coaching staff after Damien Duff's decision to leave his role.
Former Ireland winger Duff confirmed his departure as one of Kenny's assistant coaches on Saturday after five months in the set-up.
No reason was given for the decision, although it is understood he was unhappy at an investigation launched into a video shown to the Ireland players before their friendly against England at Wembley in November last year.
There has been no confirmation regarding a replacement but Duff's former Ireland team-mate John O'Shea, who is part of the Under-21s coaching team, is one name who has been highlighted.
Speaking on RTÉ's Game On, fellow ex-Irish international defender Kelly shared his thoughts on the Waterford native's chances of promotion to the seniors.
"John is with the U-21s there at the moment so that's probably an opportunity and a natural progression and that's where Stephen [Kenny] has come from," he said.
"He's a relatively new coach. Myself, John, Damien and (current Ireland assistant manager) Keith Andrews, we all did our coaching badges together with the FAI.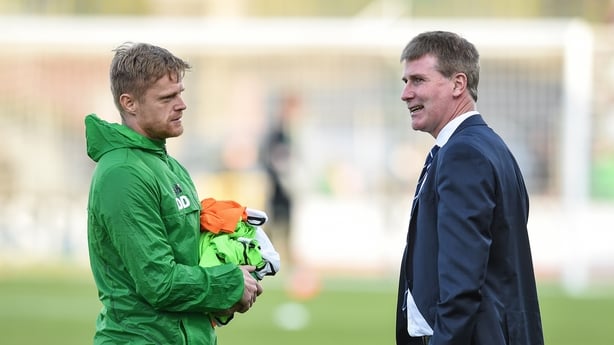 "When we were all playing, they put a scheme on for us and we all kind of did our A Licences together, so we all worked first-hand with each other and they're all very good coaches.
"Keith, John and Damien went on to actually coach for different teams and I've gone down a different path. But for John, he's coaching at Reading regularly as well and then the fact he's with the '21s, it is a natural progression and a step up.
"Keith and Stephen Kenny have come from there so you could see that definitely being an option and the whole push from the FAI has been to bring in ex-players with quality and how they know how to progress from the '21s to senior level all the way through and understand the complexities and what it takes to be a player at the top level for a long period of time which is why they are drawing on these ex-players. John is probably the ideal candidate for that."
On Duff's decision to step down, Kelly added that it appeared "amicable" and felt that it is unlikely that the investigation into the motivational video was a factor.
Republic of Ireland assistant coach Damien Duff says our #WorldCup2022 draw "could have been an awful worse" and jokes that the staff will avoid making any more motivational videos. pic.twitter.com/dByR7NPsKK

— RTÉ Soccer (@RTEsoccer) December 8, 2020
"I doubt it was related to that motivational video. You saw Damien 's comments on RTÉ the day or two after the game when he came to do Champions League and I was working on it with him and he was very dismissive of those comments and quite funny in the way he articulated putting them to bed," said Kelly.
"So I'm not too sure it's related to that. It's just one of these things that happen I think."