Lionel Messi has hinted at a future move to the MLS as he opened up on his protracted stand-off with Barcelona over the summer.
The Argentinian looked certain to depart the La Liga giants after informing the club last August that he wanted to leave, insisting a clause in his contract allowed him to do so on a free transfer. Barca, backed by La Liga, countered that a €700m release clause would have to be paid.
In the end he stayed, but in an in-depth interview with Spanish TV channel La Sexta, Messi admitted he would be open to a switch to America at some point in his career.
"No [I won't talk with other clubs because] I don't have anything clear until the end of the year," he said.
"I am going to wait for the season to finish. The important thing is to think about the team and to try and win titles, not to get distracted with other issues.
"I don't know what will happen. I am focused on what we have in front of us over the next six months. It would not be right to tell you what I am going to do after that because even I don't know.
"Nothing will be crystal clear before the end of the year. I'll wait until the season is over.
"I would like to play in the United States and experience life and the league there, but ultimately come back to Barcelona in some capacity.
"I'm not thinking too far ahead in the short term and just want to see how the season finishes."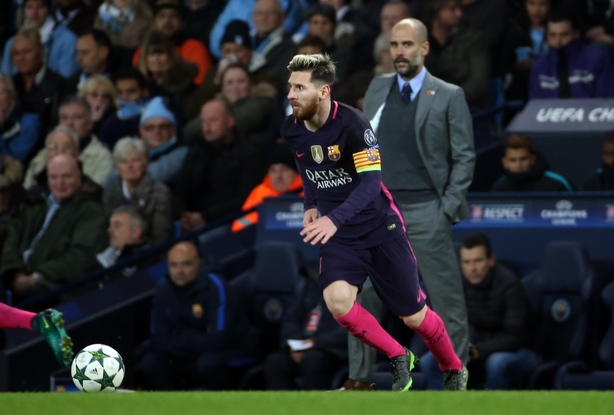 Manchester City had been heavily linked with a move for Messi, who remains in contact with his old boss Pep Guardiola. However the attacker cooled speculation about a reunion.
"I don't know how long my last chat with Pep Guardiola was, but we do talk," he said. "We don't talk about whether we are going to meet again. For me Pep is the best, he has something special."
On the breakdown of his relationship with the Barcelona hierarchy, Messi added: "It was a manner of making a point and expressing my feelings.
"It was far from easy for me to say I wanted to leave the club and the city… but I genuinely felt it was time to go.
"I felt I'd completed a cycle and it was time to leave the club that had given me so much.
"I wanted to win titles and battle for the Champions League and felt it was time for change. The president [Josep Maria Bartomeu] then started to filter this and that to paint a negative picture of me.
"I spent the whole year telling Bartomeu that I wanted to leave Barcelona. But the president always said 'no'.
"Leaving for free last summer? I knew that if we went to court, we would have won. Not just one lawyer told me that, many did. But I didn't want to leave Barca in that way…"
The multiple Ballon d'Or winner also suggested that coaching is not among his ambitions once he retires, but would like to remain involved in football in another capacity.
"I don't see myself as a coach, perhaps a sporting director to hire players I want or that the club that I'm at needs," he said.