In a year where so much positive work was done to showcase, broadcast and shine a light on women's sport, it's deeply unsettling that a young female footballer in this country felt left with no option but to highlight some of the disgraceful comments that unfortunately, remain far too common in the direction of women and girls in the game.
In a hugely progressive move, the FAI provided a livestream of the Women's Under-17 National League final between Shamrock Rovers and Cork City for all the supporters and families who could not attend the game.
However, in a hugely regressive way, some of the comments that were posted on the available feed were just vile.
Vile, derogatory and actually shocking. What was worse, is that they were aimed at players playing at U-17 level. I've been around football a very long time and have heard a lot, but this was shocking.
Shocking to think that anyone would pass such remarks about young female footballers, but even worse that they would feel no shame or self-awareness in publicly posting them.
Whilst we do not know the ages of the people who posted these remarks, it's equally worrying whether they are from older men, or younger lads. In fact, one of the derogatory comments was posted by a poster who presented themselves as female.
Jessie Stapleton is a talented, bright footballer with incredible ability. She is a young, Irish woman who plays for Shamrock Rovers with the potential to achieve a huge amount in the game. But on Wednesday evening, in the aftermath of the Women's National League U-17 final, she was moved to highlight some of the comments that were aimed towards female players, like her.
"What comes with playing girls football in Ireland…" is what she said.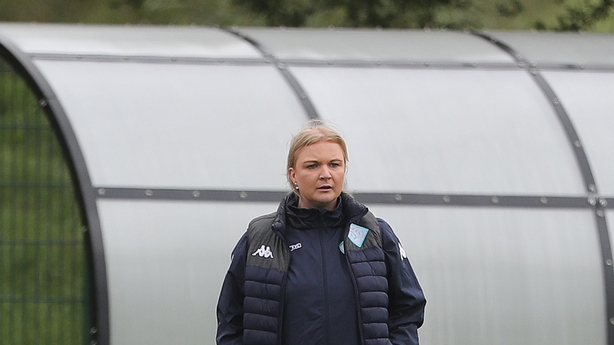 Just think about that for a second.
"What comes with playing girls football in Ireland…"
In a year where such commendable strides were made by campaigns such as 20x20, and the many people who backed it and supported it in so many different ways, that any young female player or athlete should be subjected to such commentary is wholly and totally unacceptable.
It's a sorry indictment of the misogyny that still exists in some facets of the culture of football in this country and if we believed that things were moving on and progressing, this is a stark reminder that there is a lot of work still to be done.
It shows also how much education is still needed and how these stone-age biases still exist as barriers to females who want to pursue a career, or even a hobby in sport.
I know I have had my own experiences but I almost took solace in the belief that things were changing and they were challenges the next generation would not face, but these are 15, 16, 17-year-old girls and they say, this is what comes with playing girls' football in Ireland in 2020.
All too often it's left to the females to call this behaviour out. All too often, they are branded as the problem if they do.
How powerful would it be if males called it out?
I understand there are cultural challenges due to unconscious biases but the only way to change these initially is to make them conscious biases. Then they are decisions to behave in a certain way.
And this isn't a big feminist or PC brigade battle. It's a basic behaviour expectancy in the 21st century. Would any man feel comfortable with their daughter being commented on in this way?
This is just about very basic levels of respect, mutual respect.
With growing visibility and exposure, women in sport is normalising
This is exactly why the game needs more and more females. As players, coaches, managers, administrators, staff, in the Boardrooms and in the media.
However, what is changing, is the support for women in sport. And that is the biggest positive. These people, of this stone-age ilk are in the minority now. The women's game is growing at a rate that cannot and will not be stopped.
With growing visibility and exposure, women in sport is normalising. Whereas my generation may have felt isolated and in fear of calling things out, the upcoming generation has the confidence and support to do it and we must ensure that continues.
We must change the landscape from one where they battle for their place in the game, to one where they can focus on battling to realise their potential in it.
The leadership for this needs to come from the FAI and whilst some work has been done, more needs to be done.
Who in the FAI will be an official voice for these female players? Who will stand up and say this is not how our national association wants any of its players to be treated? Who will have the courage to put their name to saying this is not right, is not acceptable and that our association and clubs do not condone this behaviour? Who will be a voice for change even if it raises a few eyebrows initially.
We know it's Christmas, but it would be a shame to miss this opportunity to show solidarity with these young players and the support that is there for them. We cannot accept or allow them (or others) to believe that this is what comes with playing girls football in Ireland.
The game does not belong to one, single cohort of society. It's everyone's game and everyone has a place in it. It's football for all, or is it?