Jose Mourinho does not expect Gareth Bale to be fit for Tottenham's top-of-the-table clash with Liverpool and insists his side are suffering from just as many injuries as the defending champions.
The Wales international missed Sunday's 1-1 draw with Crystal Palace due to illness and he has not yet trained with the team ahead of the journey to Anfield tomorrow.
"We still have a training session this afternoon," Mourinho said.
"Yesterday he didn't train with the team. He trained inside, not even outside. In this moment I'd say not but let's wait for the feelings and let's see the training session."
Reds boss Jurgen Klopp has complained about a lengthy injury list, but Mourinho has downplayed the significance of it.
He said: "I think Alisson is not injured. (Trent) Alexander-Arnold is not injured. (Joel) Matip, I believe that he's going to play. Fabinho is not injured, (Andrew) Robertson is not injured, (Jordan) Henderson is not injured, (Georginio) Wijnaldum is not injured, (Mohamed) Salah is not injured, (Roberto) Firmino is not injured, (Sadio) Mane is not injured.
"(Virgil) Van Dijk is injured and Van Dijk is a very good player of course. But give me Liverpool's list of injuries and compared that list with what is the best Liverpool team.
"I can give you a list of 10 injuries at Tottenham. We have two kids of the under-16s with injuries, we have two others in the under-21s and two in the under-23s. We have (Erik) Lamela and (Japhet) Tanganga.
"And here is a list of 10 players. But is (Hugo) Lloris injured? No. (Toby) Alderweireld injured? No. (Eric) Dier injured? No. (Sergio) Reguilon injured no? Harry Kane injured? No. (Heung-min) Son injured? No. Lucas (Moura) injured? No.
"So where are the injuries? Injuries are normal. James Milner is injured, Lamela is injured. You know. Every club has injuries now and again. Liverpool has a big injury. Which is Van Dijk."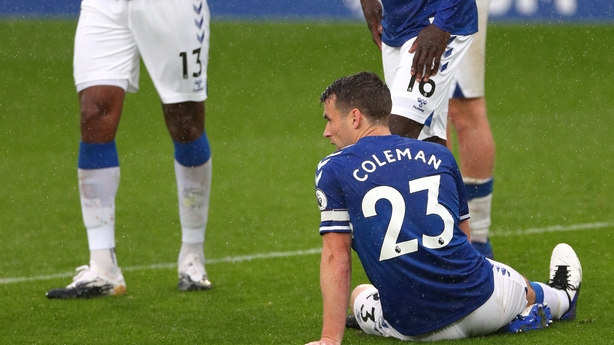 Meanwhile, Everton captain Seamus Coleman's comeback from a hamstring injury has been delayed after manager Carlo Ancelotti stressed he could not risk the defender.
Despite not having a fit senior full-back available, the Republic of Ireland skipper will be held back despite the plan initially being to face Leicester tomorrow after recovering from an issue sustained in mid-October.
Playmaker James Rodriguez will also miss the trip as he has not recovered from the problem which kept him out of Saturday's win over Chelsea.
"We prefer to leave him (Coleman) out for this game and be ready for the next game on Saturday," said Ancelotti
"We are without James who started his individual rehab yesterday. We have to check him day-by-day.
"(His injury is) not a big problem. When he starts to train with the team, it means he will be able to play. We have to look at him for Saturday or for next Wednesday."