There may be a familiar feel to the line-up of this year's FAI Women's Cup final with Cork City and Peamount both involved again but this is the first time the two sides meet in the showpiece event. 
Both Cork and Peamount have been finalists over the last three season with Cork lifting the trophy in 2017 and Peamount finishing as runners up last year and in 2018, and both teams will be desperate to win the final for only the second time in their club's history. 
Peamount go into the game as heavy favourites to emerge victorious. They have already beaten Cork 3-0 on two occasions this season and lost just one game on their way to the league title but while skipper Aine O'Gorman is eager to secure the league and cup double, she's not taking Cork lightly 
"A lot of us in the dressing room have too many silver medals so it's time to take home gold," she said.
"The last two defeats in the final for Peamount by Wexford were difficult to take as well but we're confident about Saturday.
"Cork are improving all the time, they've good young players like Zara Foley and Saoirse Noonan, who will bring a massive threat upfront. We have to stick to the task to get the job done." 
While O'Gorman is always going to talk up her opponents the fact remains that Peamount finished 14 points clear of Cork in the league, dropping just three points all season. 
With more experience and a host of international players among their numbers, all signs point towards a Peamount win over a youthful Cork side with an average age of just 20. 
However Peamount's history in cup finals has been patchy to say the least and Cork's manager Ronan Collins is hoping that his side's opponents will feel the weight of history on their shoulders at Tallaght Stadium. 
"Peamount have a lot of bad memories of FAI Cup finals and that could creep up on them," he told The Echo. "That can get the most of you as well that you feel is there a hoodoo or a monkey on your back.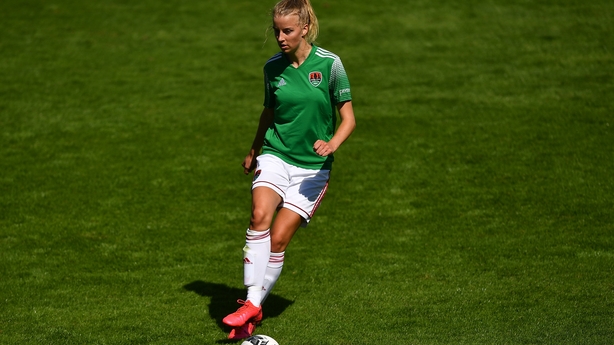 "The pressure is on them but even if we were in their situation, it's another game of football. You put your performance targets out and you go and reach them. If you can do that consistently enough things will go your way.
"I can't say that we have ever brought it up that we are the underdogs. We just play the match I suppose, it's all about what we can do. 
"The big thing I have seen from the girls this year is that consistency of performances has increased week on week on week.
"If you can get those preparation points in order, then you have everything ready to go out and put in that type of performance where they can show what they can do." 
While it didn't work out for Cork in the league against Peamount this season, they do have the tools to catch the Dublin side out. 
Their quick counter-attacking style and the natural pace of the likes of front pair Christina Dring and Lauren Egbuloniu will give Peamount much to think about but Cork's real hopes rest of keeping things tight at the back. 
The Rebels haven't been able to do that in the two previous encounters with Peamount this season, shipping six goals and again they look to have their work cut out in keeping the likes of O'Gorman, Stephanie Roche and Alannah McEvoy quiet. 
Cork are a young team, rapidly improving and this battle between them and Peamount for silverware could well be one that's repeated time and again over the next few seasons but for now, the experience, talent and wise heads of the Dublin side should be enough to prevail and see Peamount clinch the double. 
Verdict: Peamount
Watch the final live on RTÉ2 and RTÉ Player from 2.30pm or follow our live blog on RTÉ.ie/sport and the RTÉ News app.