Filippo Giovagnoli felt that winning the FAI Cup was important for Dundalk to show that they are still a formidable side and that they would be back challenging for honours in 2021.
The Lilywhites endured a tough league defence this season, losing their title to Shamrock Rovers and undergoing a change of management mid-way through the campaign, and the new man in charge believes the win at Lansdowne Road was vital to stop Shamrock Rovers from completing the double, which would have boosted their confidence going into next year's campaign.
Dundalk fought back from a 1-0 deficit to eventually win this year's showpiece 4-2, with the game going to extra-time for the fifth time in six years.
Two David McMillan goals inside two minutes turned the game on its head as the Oriel Park side went ahead despite Rovers dominating through large parts of the game up to that point.
And the Hoops showed their strength to hit back straight away as Roberto Lopes headed home in the 74th minute to take the game into extra time.
Talk of Dundalk fatigue coming into the game due to their Europa League involvement over the last few weeks was quickly dismissed during the 30 minutes of extra time when it was the County Louth side who looked the more energetic of the two.
Rovers had enough chances to win the game throughout, however, it was the Lilywhites who proved more clinical with McMillan finishing all three chances with aplomb.
"It is really important because you also want to show that Dundalk is there, the team is there. It was a short season and short league and the cup has the same value as the league," said Giovagnoli.
"You want to show you are still on top with Shamrock and you can fight with them in the future. If they won the cup as well it would be a big problem because they would get more confidence and feel they are unbeatable, which they are not.
"We feel we can compete with them next year."
'I can't wait to go home to Italy to celebrate with my family'

Dundalk manager Filippo Giovagnoli takes in their FAI Cup win #RTESoccer pic.twitter.com/y4yDyh2OQ0

— Soccer Republic (@SoccRepublic) December 6, 2020
On a personal level, Giovagnoli spoke about the challenges that he has had to undertake since arriving to the League of Ireland and is looking forward to returning home to Italy for a visit once they finish their campaign with Thursday's clash at home to Arsenal.
"It means a lot for all the sacrifices that we, Giuseppe and I, have made the last three months," said Giovagnoli, speaking also about assistant manager Rossi.
"When you arrive in an environment where it is sceptical you have to prove yourself, that you should be at that level, and I think we have proved that with Europe and winning this trophy.
"We are going to keep working hard for this club to win more trophies, develop players, and make this club stronger."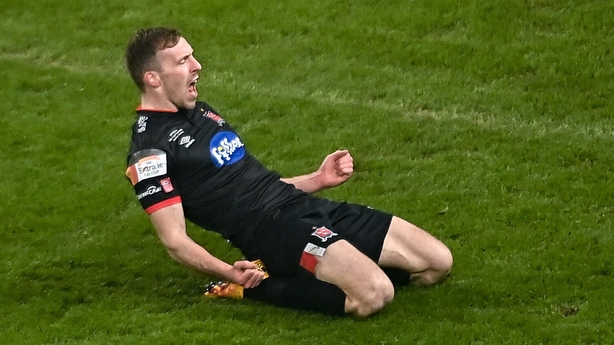 And the manager paid tribute to his players whose happiness is more important than the trophy in his eyes, while he singled out hat-trick hero McMillan, who he likened to former goal-poacher supreme Filippo Inzaghi.
"It is a really good feeling but the best feeling is when I see the players happy. When they are happy then I am happy too. To see them so happy after they have worked so hard. That is more important than a trophy.
"[David] is an unbelievable player and an unbelievable man."
Rovers manager Stephen Bradley felt that his side played well throughout the finale, however, he rued his side's missed chances, which he believes cost the Hoops their chance of landing their first league and cup double since 1987, having already secured this year's SSE Airtricity Premier Division title.
"I thought we played really well," said Bradley.
"They had little spells in the game, but we didn't take our chances and if you don't do that in a cup final against a decent side then it can come back to hurt you.
"We had enough chances to win it comfortably and we didn't."