Dundalk manager Filippo Giovagnoli will "100%" pick the team for tomorrow night's Europa League game against Molde despite being banned from acting as a head coach at the game. 
Giovagnoli does not possess the relevant coaching qualifications and the club was issued with a €50,000 fine as a result of the manager "shadow-coaching" in the early games of the group stages. Now he is prevented from sitting in the technical area during UEFA competition. 
The last contact the Italian will have with his side will be in the team hotel before they leave for the venue, and opposition analyst Shane Keegan will be acting manager for the game. 
And Keegan explained that he will have spoken about various scenarios ahead of the match, but it will be the manager who will pick the side.
"I assume they felt that he overstepped the mark," said Keegan, speaking at the pre-match press conference. 
"We'll have a team meeting before we go across to the match venue, but once we're over there then he is not allowed to make any communication with us, I think up to an hour after the final whistle," said Keegan. 
"But it won't differ to how it normally works domestically. Filippo asks myself and Giuseppe [Rossi] for our opinions, but it's 100% himself who makes the final call, as it should be.
"He will very much make that decision and then we will discuss the various scenarios that could occur during the game."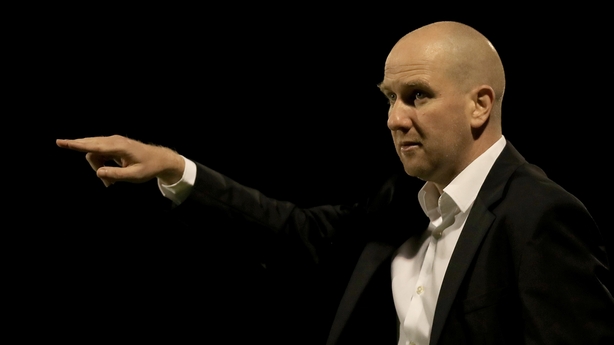 Looking ahead to the clash, Keegan is expecting another to tough test from the Norwegians who beat the Lilywhites in their opening group game in October. 
And Keegan expects Molde to be even better in the return game, with home advantage coupled with the fact that they are in a rich vein of form in the Norwegian league. 
"We expect a very, very tough game for sure. They are arguably in a lot better form this time than they were coming into the previous one.
"They had some iffy results coming into the last one but I think I'm right when I say they have won five and drawn one league game since we played them so they are really bang in form." 
But Keegan feels that there were plenty of positive to take from their home encounter, where Dundalk led 1-0 at half-time, and he believes that his side can once again go toe-to-toe with the Norwegians.
"We have to take heart from two thirds of our performance in the home game. I thought we were probably the better side in the first half and deservedly had that lead, but to be fair to them when they really turned the screw on us, we couldn't get out of our half, or our own third to be honest for about 20-25 minutes of that second half.
"But then we came back into it again and most people would agree that we were right to come out of that game scratching our head as to why we didn't have something to show from it.
"The fact we have gone toe to toe with them does give us huge, huge confidence, and any question marks that we have whether we thought that we were good enough to mix it with them after the first game, those question marks have been removed. 
"You have to respect them, they are a serious side, but at the same time we have to fully believe we can go and do something."