Louise Quinn believes that Ireland will need to be at their very best to have a chance of winning their crucial Euro 2022 qualifier against Germany on Tuesday.
The Ireland centre-half feels that the side need to put in a "ten out of ten" performance just to give themselves a glimmer of hope of turning over the world number two ranked side at Tallaght Stadium in their final qualifier.
Vera Pauw's side sit second in Group I going into the last round of games, but know that anything other that a win will likely see them lose out on that runners-up position with Ukraine lurking a point back in third place.
Ireland's group rivals face a facile home test against Montenegro in their last game and will likely leapfrog Pauw's side to claim the play-off place unless Ireland record an unlikely win against the Germans.
Former Arsenal defender Quinn, who now plies her trade in Italy with Fiorentina, said that the side have gotten over the disappointing defeat to Ukraine in Kyiv and said the mood is good following a week together at the team's Dublin base.
"It's been a really nice build-up, we've thankfully had a lot of time to come together as a group," said Quinn, speaking to the media on Sunday morning.
"[The Ukraine defeat] was very, very hard to take but at the end of the day, that's football. For me, we actually played a really, really good game and things just didn't... it just didn't fall for us.
"It's actually just been good to get together and just play a bit of football without thinking right at the start [about] the tactics.
"We were just getting into the flow of just playing together again, getting things back together. The mood is actually just really relaxed and for me, that's exactly how you want it to be: relaxed, enjoying the football and then just taking in everything."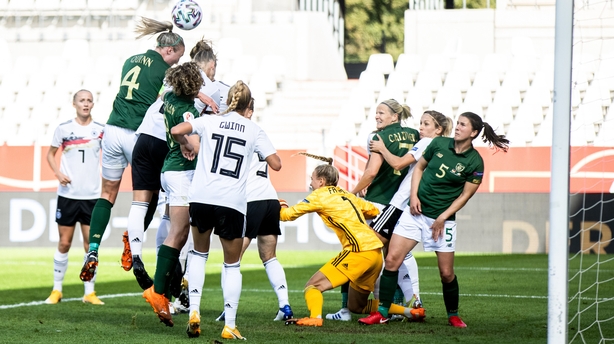 It's been a longer camp than what the team are more used to as Ireland only have one game in this international window, which means that all their focus for the past week has been on this one game.
The manager has been able to allow her side to ease into the week and has enjoyed more time than usual working with the players to get their minds ready for the challenge, while ensuring that by kick-off on Tuesday, the team will know exactly what is expected from them from a tactics perspective.
And Quinn believes that the extra time together has ensured a more relaxed mentality in the camp and feels that the momentum is building at the right tempo to be ready to meet the challenge head on when the sides meet.
"Tactically, we have a lot to be thinking about and doing but essentially, we know what our job is, we know what result we need to make this happen," said Quinn.
"What I am really enjoying is everyone's relaxed, taking in the information. In training, it's been some of the best football coming into some of the games that we've played in a long time. The mood is really high at the moment.
"It's just been building nicely. We had a really, really positive session yesterday where we were just starting with something and the improvement and the understanding of what we needed to do in the space of what it was, 30, 45 minutes, an hour, was incredible.
"We started off, and we were like, 'right okay, let's figure out what we're trying to do here'. By the end of the session, we were like, 'nice, we've got the hang of that', we'll look back at it on the video to see what else we can do to tidy it up.
"Yesterday was a real standout day for me as well. Things literally have been building so nicely. Having more time has given a chance for people to stamp their authority as well and show what we're really made of.
"Just to have that prep. It's the same with any international team, you've such a short time and we just want to be able to get on the ball, forward play and get on the pitch and do all that. For me, the momentum is building nicely."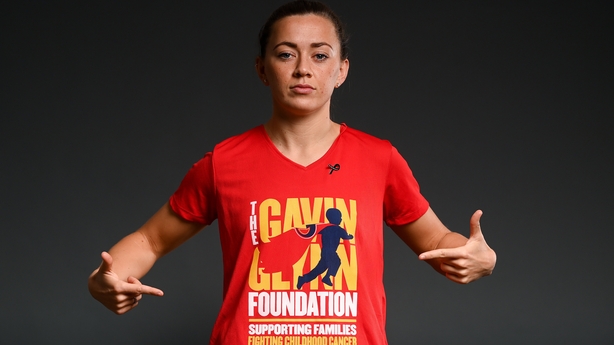 Ireland's opponents on Tuesday evening have been virtually flawless for the entire campaign with seven wins from seven, scoring 46 goals and yet to concede.
And if Ireland are to pull off the shock of the season, they will have to do what no other side has managed throughout the campaign, and score a goal against the stingy defence of this German outfit.
Quinn is maintaining a realistic approach throughout, and having played in a top side like Arsenal for so long, she knows exactly what awaits on Tuesday.
"We've been very, very real and realistic about what we need to do and obviously the opponent that we're facing, there's no hiding that and there's no point.
"We know that Germany are going have a lot of possession of the ball, that's how they play against most teams. So for us it's just finding an approach to the game that works for us."
The team have been very open all week about their hopes and aspirations for the game and are drawing inspiration from all quarters, whether the recent unlikely results in European football or the several upsets in this year's Gaelic championship.
Quinn is perhaps looking for more objective reasons to build confidence going into the game and she needs look no further than the recent meeting between the two sides, where Ireland kept the Germans scoreless in the second half, despite starting poorly and finding themselves 3-0 down at the break.
"The fact that we only played them a couple of months ago definitely gives us a better understanding about how they play, and we're in a better place now as that was our first camp back. Everyone was all over the place in terms of being back with their clubs and all the Covid stuff, so for me we are definitely in a better position.
"That second half was a massive learning path for us and just to see being down 3-0 at half-time, we really figured out how to fix it.
"It wasn't just Vera coming in with her tactics and ideas, but the players themselves were talking to each other, we were trying to figure things out and it was actually just a tough, tough game, but a really beneficial one for us as well."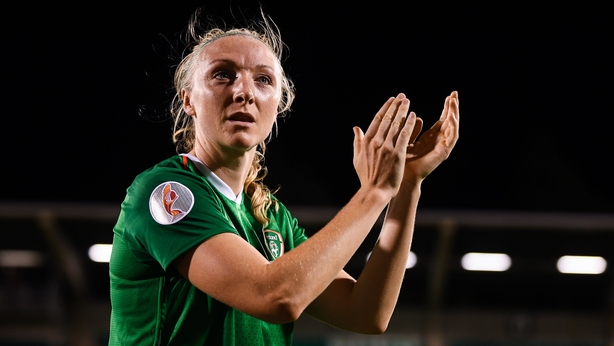 And looking ahead to the challenge of shocking one of the world powers of the game, Quinn knows that her side have to have their "best game", but is also buoyed by the fact that the team can determine their own destiny, while the they have created chances in every game that they have played throughout the campaign.
"We have got to have our best game, there is no doubt about it," said Quinn.
"Even if they have already qualified, they are still by far one of the strongest teams in the world so we know we have to have a 10 out of 10 game.
"We know that it is still in our own hands, yes against a very tough opponent but it is still in our hands to get that play-off spot as well.
"But it is absolutely possible from the talent that we have, strength from set-pieces and defensively, and still creating those chances.
"I think we've done that in every game that we've played. We have created some really, really good chances from set pieces and from open play, so then for us it is just that you've just got to take them.
"So we have to get out there, enjoy our football, give everything we have got and put in a performance that we can do.
"Even looking back at the last Germany game, we did create chances, we got quite a few set-pieces as well, a lot of corners, so we have got to take advantage of that and just be secure at the back and clean up some of those mistakes from our first game."
Follow Republic of Ireland v Germany via our liveblog on RTÉ.ie/sport or the RTÉ News app or watch live on RTÉ2 and the RTÉ Player.