As the world mourns the death of Diego Maradona, his former agent Jon Smith joined RTÉ's Game On to share an insight into the Argentina legend.
Smith, who came to work with Maradona through fellow Argentina great Ossie Ardiles, believes "history will be kind" to the 1986 World Cup winner and that he "doesn't know too many geniuses who aren't flawed".
"He was nearly two people in one body," said Smith.
"The personal time I had with him, he was little Diego. I'm five foot eight and he was one of the few people that I dealt with in the sporting world that was smaller than me.
"He was just a lovely boy from the slums of Buenos Aires who never forgot that and then when he crossed that white line and he walked onto the pitch, he became Maradona.
"Maradona had this intense belief that he had a God given talent and he had to work that talent and he had to play that talent and he felt it was a kind of divinity really, it was as strong as that.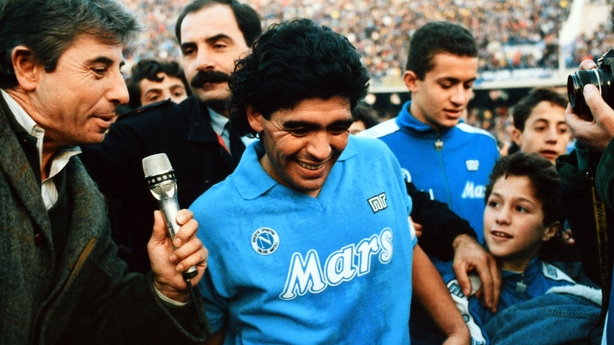 "So that's why he did everything to win. I used to see him in training and if he scored any goal, even a tap- in in a training game, he'd be celebrating like he'd scored another goal in the World Cup. It was quite intense to watch."  
The intensity also manifested in other ways, in the sense of the pressures he had from other people at the height of his career as Smith explained.
"Being a nice guy, he found it difficult to say no," he said.
"Very often, you'd get to the house in Naples for a meeting and there would be 35 other people there and they were all in his ear, all trying to advise and hang on.
"He found it very difficult to knock them away and sadly when the real bad boys came knocking, he couldn't knock them away either." 
Smith added that Maradona enjoyed it when he took him to London as "he could breathe a bit of oxygen" there away from the intensity of the spotlight in Naples.
"The emotional bubble that he lived in was a huge goldfish tank," he said adding that the pitch was Maradona's "heaven".