A campaign like no other for Ireland as the final group game against table-toppers Germany approaches on Tuesday at Tallaght Stadium.
Vera Pauw's side have raised the profile of the women's game throughout the country, as the national side grew into their mission to qualify for Euro 2021.
In fact, Ireland's positive start to the campaign saw them lead the table after going unbeaten in their first five games with four wins and a draw in Greece, while off the pitch, the crowds turned out in huge numbers to cheer the side on at their base in Tallaght.
A record attendance of 5,326 spectators turned out for the home victory over Ukraine in October of last year and the support has been acknowledged by the players, who now consider the home fans the 12th person on the team.
Unfortunately for Ireland, it was their away form that let them down in the end, as their unbeaten start came undone in Germany, going down 3-0, while their qualification hopes took a major hit in Kyiv. Pauw's charges dominated, while only needing a draw to secure second place, however, they lost to an unfortunate Aine O'Gorman own goal.
Ireland now need to beat Germany on Tuesday to progress to the Euro play-offs and while it is a big ask to turn over the number two-ranked side in the world, the Irish players are not giving up the ghost until the final whistle.
"I think we all know what's at stake," said Ireland captain Katie McCabe.
"If we beat the Germans, we get a play-off and anything less than that, we're out. We're all prepared and we're all ready. It's going to be a really good build-up to the game.
"I'm actually looking forward to the stretch of time that we have together on the pitch because the previous two camps, we've only had a day or two here and there due to Covid situations.
"I'm excited to be in for the week, to work on things that we haven't had time to work on previously. I'm really looking forward to it."
Fellow forward Amber Barrett is also maintaining her positive attitude going into the game against the much-fancied opponents, who have already qualified for the tournament.
"When you look at their squad, there's no doubt about it, their starting eleven are world-class and their bench could arguably start for other countries," said Barrett, who knows German football well, as she plays for Koln in the 2 Frauen-Bundesliga, Germany's second tier.
"So we're aware of their qualities and we need something special but it's always a possibility with the players we have. It's been done before. Football is a strange old sport, sometimes it goes for you and sometimes it doesn't. Hopefully well be on the right side of the result on Tuesday night."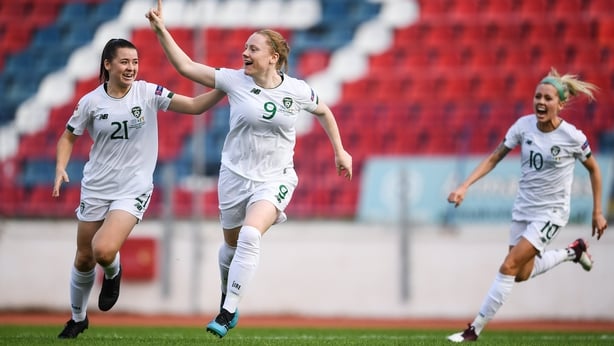 And while Barrett might not be too enthused about taking inspiration from Cavan's heroics in the GAA championship at the weekend, as they beat her native Donegal, she did take heart from the nature of these games, like the Tipperary win over Cork, which shows that anything can happen in sport.
"We know It will be extremely difficult and a betting man wouldn't put their house on us, but stranger things have happened over the last few weeks. Just look at the GAA.
"If you said on Friday, Cavan and Tipperary would be provincial champions, you would have laughed. Things like this happen in sport. We need to make sure we put ourselves in the position. Once we stay in the game, anything can happen.
"We can use the Tipp game as a motivation more so than the Ulster final, not as a Donegal woman! That was Tipperary's first title in 85 years and at the start of the season nobody gave them a hope but once Cork beat Kerry, they knew they had a chance.
"If you're being realistic, it's Germany every day of the week but we're hoping that Tuesday isn't your average day of the week."
And for McCabe, her role as captain is to add to the motivation of the team, and the Arsenal forward believes that the game against one of the best sides in the world will be motivation enough.
"I think that's motivation in itself for each and every one of the girls.
"For me as a captain, I'll obviously be doing everything I can and leading by example on the pitch, getting the girls together, making sure we know our game-plan.
"As I said, the game is motivational in itself and I'm very confident that the girls will be ready for it."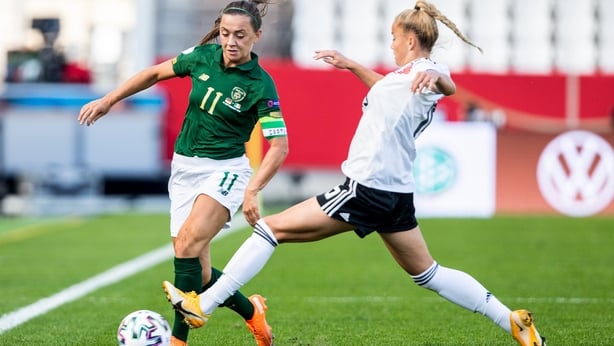 Irrespective of the result against the Germans, Irish football is in a far healthier place at the end of the campaign and looking towards the 2023 World Cup, compared to where it was ahead of Pauw's arrival as head coach.
"I think it's been massive," said McCabe.
"Since I first came into the senior team, five or six years ago, the steps that have been made in women's football have been massive.
"Do I think it can improve even further? Yes, I think it's so important for our girls at grassroots level to be participating, and because of the 20x20 campaign, the FAI are putting a lot of work into that.
"I have a young sister; she has just turned 12-13 and she is at that age where she can look to achieve to be a professional footballer.
"For me when I was 12-13, I didn't see that as possible, and that's because of all the little details of us playing on television, girls can sit at home and watch us and hopefully be like us one day."
McCabe believes that further investment in the Women's National League will bring Ireland onto an even higher level, which will allow players to remain at home without having to go abroad in search of a career in the game.
And the 25-year-old feels that a strong core of players have emerged within the Ireland set-up, which will only improve with more playing professional football leading into future campaigns.
"I'd love to see a massive investment in our women's national league. We have a really talented league with talented players who can have great careers ahead of them.
"And for us always having to go to WSL, America or Australia, wherever it may be, let's keep them in Ireland and let's build off that. I'd love us to progress the league even further.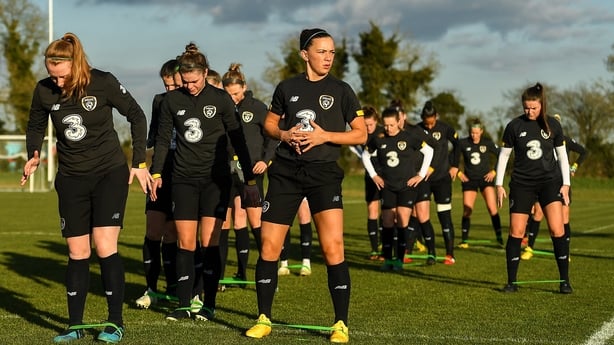 "We have a lot more players playing professionally and that brings it up a level in itself. We have learned a lot over the last campaign, and even the previous campaign.
"We are starting to get a real good core group now and have built a lot, even though we have had a limited time with Vera, obviously due to the pandemic.
"We've made great strides and I'm really excited to see what the future holds for this team and I'm just so proud and happy to be leading that."
Likewise, Barrett feels that the game has really taken off over the past year and there is a real sense of professionalism within the squad now, while she does admit that the team will miss the fervent support on Tuesday night.
"It has taken off in the last 12 months," said Barrett. "I think it's the first time I've been in an international camp where it is completely professional in every aspect.
"Hopefully it has brought a new awareness to the game in the country and a result on Tuesday will help even more.
"And we certainly do miss the crowd but everyone is in the same boat. We dealt with it well from the beginning. There is a more positive environment in our camp despite that and the results demonstrate that.
"Maybe not last month but throughout the campaign the performances have been generally much more positive."
Ireland will be wearing their new jerseys for Tuesday's game against the Germans and the replica version now comes in bespoke women's sizes, which have come as a result of the team communicating their needs with the FAI.
"We raised it a few years back, and the FAI listened and as you can see, we have all women's fit Umbro kit, which is lovely.
"No more men's kit for us, which is the way it should be."
Listen to the RTÉ Soccer podcast on Apple Podcasts, SoundCloud, Spotify or wherever you get your podcasts.