After the disappointment comes the realism for Ireland midfielder Denise O'Sullivan, who is looking to drive her side to an unlikely, but not impossible, victory over Germany next week.
Vera Pauw's side need to beat the world number two-ranked side at Tallaght Stadium to secure a play-off place for the rescheduled Euro 2021 championships, which will now take place in England in the summer of 2022.
By this stage, and following such a positive start to the campaign, Ireland should have sealed second place in the group, and were well on their way to gaining automatic qualification for their first ever European championships.
But it all came tumbling down in Kyiv last month when Ireland went to the Ukraine capital needing only a draw, however, despite dominating throughout, they came home with their tails between their legs and their qualification hopes in tatters.
A freak own goal against their Group I rivals resulted in the Irish losing 1-0 against a side who will most likely leapfrog them in the final round of games to snatch second place and advance to the play-off stages.
While Ireland are slogging it out with the mighty Germans, a side who have scored 37 goals, are yet to concede and have six wins from six, Ukraine have the relatively easy task of taking on Montenegro – a side who have lost all seven games thus far – knowing that a win is likely to see them through.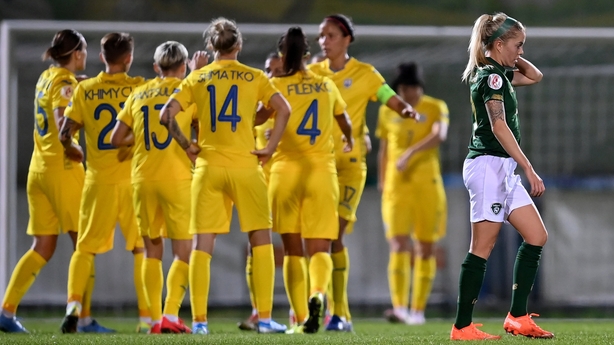 Looking back before moving on to the German game next Tuesday, Cork native O'Sullivan admitted that it has taken some time to get over the disappointment of the loss in Ukraine.
"It was absolutely devastating," said O'Sullivan. "I didn't get over it honestly for a few weeks. I went back to Brighton and was just so down.
"It was the most upsetting part of my career, losing that game, to be totally honest. Look, those things make you stronger. You have to take the positives out of it. We weren't bad on the night. Things just didn't go our way.
"It's football. Those nights happen a lot in football."
Ireland have an extended camp to prepare for this game as the squad have over a week to build confidence, rekindle the team spirit and devise an effective gameplan ahead of the visit of Germany.
"We need to pick ourselves up again," said O'Sullivan. "We've come back into this camp and we're very positive. We're still second in the table and that's a positive. We're here for a huge game and we're just excited to get out there and play.
"After a few weeks you just have to [forget Ukraine] because you have another big game coming up. You can't think about the past any more. I'm past it now and I've moved forward, I think we all have.
"We have to be realistic. Germany are one of the best teams in the world. We've seen last time against them at home how good they were and how tough the game was. We'll have a game-plan, work hard and go out and do our best and hopefully get three points."
O'Sullivan has travelled the world playing football and has been involved in some very important games, most notably in America, where she has helped North Carolina Courage to secure back-to-back NWSL Championship wins.
The versatile midfielder is probably Ireland's most influential player and while she is renowned for pushing her side forward, there is an option for Pauw to ask O'Sullivan to sit deeper and anchor the side in what should be a gruelling encounter with the Germans.
And while the task is arduous, O'Sullivan is clinging on to the hope that football is indeed a funny old game and stranger things have happened when it comes to eleven taking on eleven on the pitch, as her side found out to their detriment in Kyiv last month.
"It's 11 versus 11 and being realistic, Germany are out of this world. But as I said anything can happen."
We need your consent to load this Instagram contentWe use Instagram to manage extra content that can set cookies on your device and collect data about your activity. Please review their details and accept them to load the content.Manage Preferences
O'Sullivan is currently playing her club football at Brighton, alongside fellow internationals Megan Connolly and Rianna Jarrett.
And while the deal with the English Super League side is only a temporary one, ahead of her return Stateside for the new 2021 season, O'Sullivan is enjoying her time on the south coast with her good friends.
And whatever the result in Tallaght next week, O'Sullivan is looking forward to, hopefully, post-pandemic football in the New Year.
"It made life easier having the two girls there. Megan has been my friend since I was 15 when we played with each other and against each other. I have got to know Rianna very well since she came into the Irish set-up.
"Living with them is great. Rianna cooks me dinner every night so it's going really well!
"I'm very excited to be going back [to America], they're a world-class team. The environment is world-class and you're only become a better player being in that arena.
"It will be a long season with the pandemic, we will have a tournament and the regular season so there is a lot to look forward to."