Ireland have nothing to lose and everything to gain ahead of Tuesday's clash with Germany at Tallaght Stadium, according to defender Keeva Keenan.
Vera Pauw's side go into the final game of their Group I qualifying campaign one point clear of third-placed Ukraine, with second place guaranteeing a play-off for the European Championships, which will take place in England in the summer of 2022.
Yet on closer inspection, all logic will suggest that it will be Ukraine and not Ireland who grab that all-important runners-up spot by the time the respective final whistles are blown next Tuesday, 1 December.
For Ireland face the group leaders, who have been runaway winners in this campaign with maximum points from six games played, scoring 37 goals while conceding none.
The Germans ran out 3-0 winners when the two sides met in Essen in September, and the final group game takes place in Tallaght next week as Pauw's side know that nothing other than a victory will suffice.
Ukraine's final game of the campaign comes in the guise of a home tie against bottom side, Montenegro, who have yet to yield a point from their seven matches played.
Ireland, of course, did themselves no favours last month when they dominated the game in Kyiv, but somehow conspired to lose the match 1-0, knowing that an away point in Ukraine would have guaranteed second place.
Ireland now need nothing short of a miracle result to close out the campaign, and defender Keeva Keenan admits that it will be a case of throwing everything at the number two ranked side in the world and seeing what happens.
"We've nothing to lose at his stage," said Keenan. "We need the win, we need the result, so it will be probably be throwing the kitchen sink at it and seeing what we get from it.
"We have to be realistic as well. Germany are one of the best teams in the world, so we know we'll have to pull off something spectacular next Tuesday to try and qualify.
"We know how tough that will be, we could have made it a lot easier for ourselves if we beat Ukraine that night, that's why it felt like it was game over for us."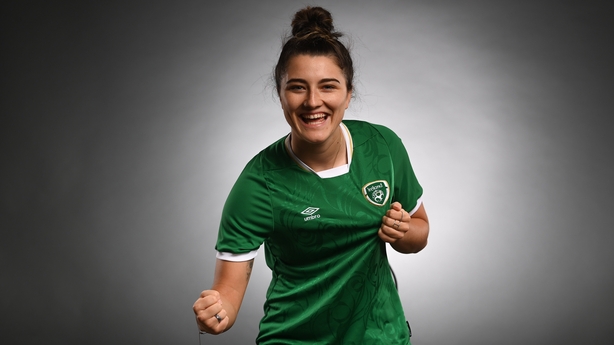 The Celtic defender was in Ukraine for that devastating defeat, however, she had to settle for a place on the bench for the Kyiv clash, and admits it was harder looking on than playing, as you are unable to affect the game from the sidelines.
"It's obviously always tougher watching on because there is not much you can do," said Keenan.
"If you're on the park, you can influence the game in some way, shape or form. When you're sitting watching, you have to keep the girls going and motivate them.
"I think it will be something that will haunt us for quite a while. Obviously, it was a big opportunity for us to go and qualify, so I think it will be a tough one for us to try and get over now."
Dubliner Keenan, who played with Raheny United and Shelbourne before moving to Scotland to join perennial champions Glasgow City in 2016, signed for Celtic in 2018.
And while she has spent a lot of time on the sidelines over the past year through injury, she believes that she is back to full fitness and said that her Ireland involvement has really helped with her confidence as who works her way towards getting some more game time for her country.
"I spent quite a while out, with lockdown that didn't help with recovery and stuff, that got delayed," said the 23-year-old.
"It was really hard to get your form back, get your match fitness, it's been a big struggle.
"But Vera kept me in camp and that was a big confidence boost more than anything else that I was still in and about the squad. Now I'm back playing with Celtic and stuff too. I eventually got there."
And now looking ahead to next week's game, Keenan is hoping that the side can maintain their composure for the mammoth task against the Germans and look to put in an improved performance.
"We'll take [the defeat in Ukraine] into consideration and see what we can do better in the Germany game at home, keep our feet on the ground and not get overwhelmed by what could potentially happen."