"The pessimist complains about the wind. The optimist expects it to change. The leader adjusts the sails…" – John C. Maxwell
If ever there was a quote that mirrors the present state of Irish football, this might well be it.
After eight games in charge of the Republic of Ireland, Stephen Kenny has amassed a record of no wins, three draws, five defeats and no goals in seven.
The pessimist will say Kenny is not the answer, the optimist will say the goals and results will come.
However, before you can assess success you have to determine what it looks like.
What does success look like for this Ireland team? What was it expected to look like when Stephen Kenny took over?
If qualification for Euro 2020 was the expectation, then Kenny has failed.
If winning games and scoring lots of goals was the expectation, then Kenny has failed.
If coming in with a new philosophy, changing the culture and the way Ireland are going to play and be defined in terms of playing style, then there has been an element of success.
If bringing younger players through and getting them some senior international experience to prepare them for the imminent World Cup Qualifying campaign was the expectation, then there has been success.
If changing the philosophy and winning games was the expectation, then the success has not been there.
You can only measure success, if you know what success is meant to look like.
Richie Sadlier on FAI video investigation #RTESoccer #RTESport pic.twitter.com/TI1l2KlvBb

— RTÉ Sport (@RTEsport) November 20, 2020
If qualifying for the 2022 World Cup, playing an attractive brand of football, is what success looks like for Stephen Kenny's Ireland, (bearing in mind that originally the Euro 2020 qualifiers were not expected to be part of his brief), then whether or not he has, or will be, successful cannot be determined at this time.
He can only be determined as a success or a failure at the end of the qualifying campaign so he is entitled to the time to do the job now.
What he can be measured on are progressions, but determining his ultimate success or otherwise will take time.
Eight games in and there is a lot of work to do. But there also needs to be context. It's not as if Ireland were firing in goals emphatically under Stephen Kenny's predecessors. In fact it's the opposite.
Scoring goals has been a real problem for Ireland, under Martin O'Neill and Mick McCarthy, so the goal-scoring drought is not symptomatic of Kenny's philosophy, it's symptomatic of the problems he inherited.
It's something he needs to work on and right now, Ireland do not have an out-and-out in-form goal-scoring centre-forward in the squad, even in a full-strength squad.
What we do have are players with the potential to become that. But they need time. They need games. They need experience, confidence, belief and the reality is, for an international player, the majority of that comes from your club situation, which is not in the control of the international manager.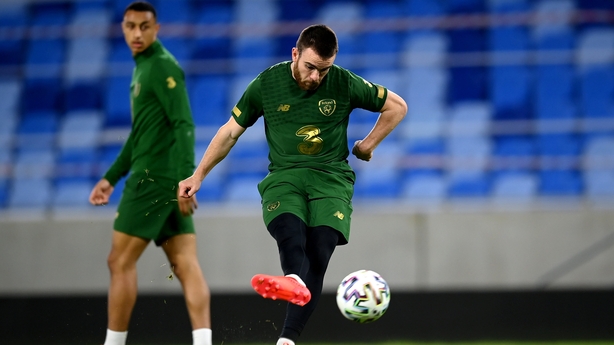 And even when your players are in flying form for their clubs, there is no guarantee that they will even be available when the international fixtures come around so you must have the capacity to adapt game plans at very short notice.
Because the highest level of the game is results driven (and it should always be so) the team should always be under pressure to win games. That is the difference between playing, coaching or managing at the top level and at lower levels. The rewards are higher because the stakes are higher.
The FAI is currently in a state of change (at least we hope it is). The international team is also in a period of change, and let's not forget, this change was demanded because the previous manager lost his job.
But change takes time and it is uncomfortable. It's less uncomfortable for the people who come in with the new vision and can see what things can and will look like.
But for people who operated under previous regimes, operating in an environment that they knew, was familiar, they felt comfortable in, the way things were always done – for those people the change is most difficult.
Especially if they cannot, or will not see the bigger picture. Or, if they are not prepared to stretch and grow themselves as individuals.
The optimist sees the light at the end of the tunnel as a bright opportunity and something to progress towards. The pessimist will see it as a light on the front of a train that is coming straight for them and will want to go anywhere but forward.
Stephen Kenny has had the time now to assess what's available as he prepares to navigate this tunnel. He knows who's on board and who isn't. Not everyone will want to travel.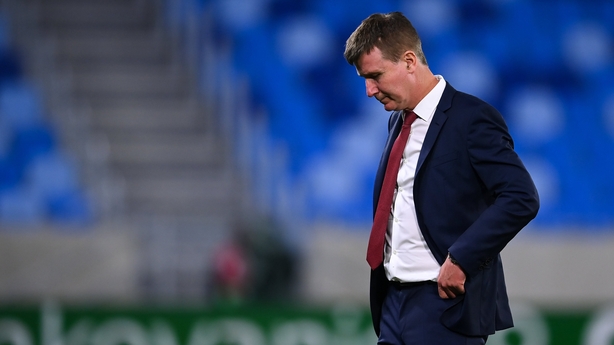 He should know what each person on board is capable of, and what they are not, and must delegate roles and responsibilities according to what they can achieve, whilst setting room for sustainable, achievable growth.
This remains a results business.
His philosophy will not embed straight away and he will have to adjust his own expectations of people at times, to ensure they are tasked with things they can do, in order to build the belief and confidence needed to facilitate them to be open to stretch to what he wants them to do.
It takes time, but you need wins along the way to buy that time.
The progressions have to be tangible to keep the vision of that light at the end of the tunnel in sight, especially in the darkest depths of that tunnel, when you wonder if it is actually the other side, or if it is indeed a train.
The focus and the belief need to be steadfast, but so too must the capacity to adapt.
The players will switch off from international football now and will focus entirely on their roles for their clubs. Kenny and his staff will have time to reflect, evaluate and will themselves grow.
The draw will be made for the World Cup qualifying group on December 7th and the focus will return to what it is all about, winning games and getting positive results.
The key for Ireland now is to look forward and to move forward. Reflection on these last eight games will tell us that we need to stop looking back if we want a future that identifies Ireland's style and culture in a different light.
And for Kenny, if he wants to change the future, he should leave the past where it belongs, as opposed to using it to inspire the future.