"After 14 seasons, it's time to hang up the boots".
Thus, Vinny Faherty started his retirement statement which he tweeted out last week following the end of Galway United's First Division campaign.
All good things come to an end 👋⚽️ pic.twitter.com/dMhhZWdpW2

— Vinny Faherty (@vinnyfaherty) November 9, 2020
The Galway native represented his home county club across four spells, alongside periods at St Patrick's Athletic, Dundalk and Sligo Rovers among others, while his career also took him further afield to Australia and Cyprus.
But after his fourth and final spell at Galway, it's time for a new chapter at the age of 33, as he told the RTÉ Soccer Podcast.
But what if Galway came calling for him to lace up his boots again?
Faherty's response was a "definite no", with retirement cast in stone and no plans on turning back towards a playing career in contrast to other players who have been tempted back.
"I can see how lads get drawn back in. It's such a big part of your life but it's something I mulled over for quite a while," he said.
"You feel like you can't contribute the way you used to be able or the way you feel like. It's just frustrating, where you come to training and you try and compete with a 21 or 22-year-old and your body can't do what they can do, especially when you're not in a full-time environment.
"If you're working and that, you can't really put in the extra hours to try and get yourself right. So it kind of came to that this year.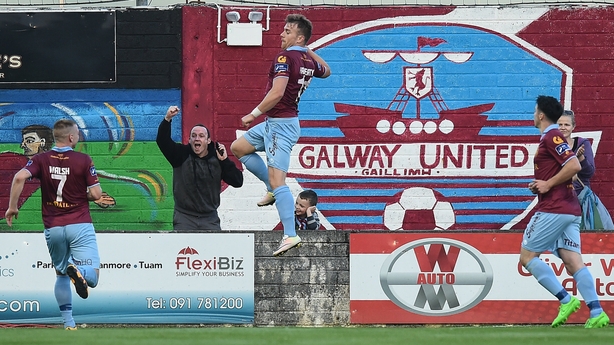 "I loved it in parts of it, but I didn't feel like I could give the team as much as I probably should have been able to. So I wouldn't like to come back and not do myself justice and go out with a whimper, so that was also a part of it."
A native of Moycullen, just outside Galway City, Faherty always felt a great affinity to Galway United stretching back to childhood.
"We're from a GAA stronghold and would have always played GAA growing up, but there was no local soccer club out here - we're 15 kilometres from the city - so I would have played a lot of soccer with my friends, but always played Gaelic in a team environment growing up but would have gone to Galway United games with my father," he explained.
"I remember going in even before there was any stand even in Terryland. But it was a dream come through to sign for them in 2007 and get to play in the Premier Division."
And as he departs the club, he can feel Galway United's untapped potential.
"I definitely feel like it's never gone to where it could have," said Faherty.
"I think as a club, there's too much of a reliance on if we're successful on the pitch, the crowds will come.
"I personally feel like you need to build it off it and you need to get the community factor and really build the relationship with clubs and people in the community because results are just too fleeting.
"I think the best example is Connacht Rugby. I remember when I started playing League of Ireland in 2007, Galway United's average attendance was higher than theirs. But that's changed because they made a real investment to get out into the community and building those structures.
"It obviously takes a lot of money, so that's a holding back factor. But it is an exciting time. I think John [Caulfield] is going to do great things there, and he's a great appointment, and I can see them making a great challenge for the First Division title and if you go up, anything's possible."
Listen to the RTÉ Soccer podcast on Apple Podcasts, SoundCloud, Spotify or wherever you get your podcasts.
We need your consent to load this SoundCloud contentWe use SoundCloud to manage extra content that can set cookies on your device and collect data about your activity. Please review their details and accept them to load the content.Manage Preferences