Despite defeat in Wales, and Ireland's inability to win a game in seven attempts, midfielder Robbie Brady believes that new manager Stephen Kenny is taking Ireland in the right direction.
The Burnley midfielder returned to the side for the clash in Cardiff and impressed in stages as Ireland created several chances throughout the game, and Brady believes that the team will take a lot of positives from the performance to take into the game with Bulgaria on Wednesday.
And Brady also feels that the team will be able to handle the pressure that has been building throughout the winless run, which now includes a stretch of six games without a goal.
"It's been really positive since he [Kenny] has come in and he's put his ideas across to us, and the lads have bought into it," said Brady, when asked whether he believed that the manager was taking the team in the right direction.
"It's been good. We've been creating chances, obviously the goals haven't come yet but if we score a few it's a different scenario.
"There are definitely positives to take from it and once everyone is pushing in the right direction, I'm sure there will be good times ahead.
"You know how it is, once you have a few bad results, people start talking and pressure builds. But it's just one of those things we'll have to deal with.
"We've all have enough games under our belt to deal with it. So please God we get a win on Wednesday and we can push on from there."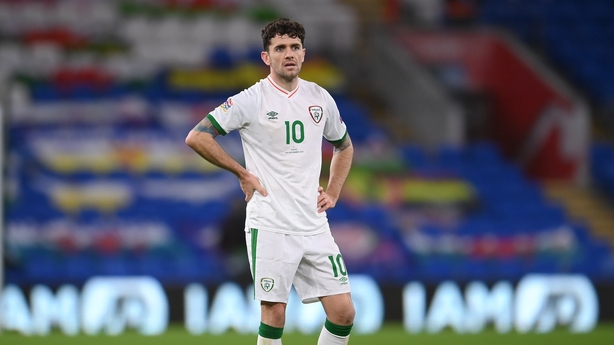 Brady said that the side were full of confidence following the first 45 minutes in Cardiff and said that the goal that Wales scored was difficult to take having enjoyed the lion's share of chances up to that point.
And the former St Kevin's Boys midfielder believes that Ireland just need a bit of luck to get back in the goals, starting on Wednesday night at the Aviva.
"I felt like we were in a good position at half-time. We had seen a lot of the ball and I don't think they had many chances in the first-half, so there were positives to take from that," said Brady.
"In the end when they score, and we don't manage to score, it's a tough one to take.You just take whatever positives you can out of the game and try and take them into the next game.
"We're not getting the luck of goals at the moment but I'm sure they will come. We just need to get ourselves together, recover quick and go again. It's been positive in certain aspects so hopefully we can get a few goals."
Brady, of course, was a key member of Ireland's squad at Euro 2016, scoring a dramatic late winner against Italy to qualify for the knock-out stages, while his all-round play was praised throughout.
Injuries have halted the midfielder's progress somewhat in the interim, and the Dubliner admits that it has been a difficult road back to full fitness, however, he believes that his body is back to where he wants it to be and just needs games to sharpen his match fitness.
"It's been a difficult road but I feel like I'm in a good place. My body is in a great place now at the minute where I'm ticking off games, I'm feeling fit, training every time and I feel great. So I'm striving to get back to where I want to be.
"Hopefully, I'll get a run of games, I'm happy to play anywhere. I'm just taking it game by game. I haven't had a lot of football over the last couple of years which is not nice at all."
And with the World Cup qualifiers on the horizon, Brady is now happy to accept the responsibility as one of the senior members in the squad, and hopes to help bring the young players through.
"I feel like I'm here a long time now. I'm one of the longest servers in this squad and I feel I have a big role to play.
"If I can help some of the younger lads and get them playing where we're going forward and winning games."