By his own admission, Stephen Kenny is working his dream job as Ireland manager, however, the new man in charge acknowleged that the last two months have been tough.
Kenny would neither confirm nor deny whether that dream job was turning into a nightmare of sorts as a result of the constant commotion surrounding the Ireland squad during the October international window, which has carried on into the current one.
The Ireland manager took charge of the side for the first time in September, resulting in a hard-fought draw in Bulgaria followed by a narrow defeat at home to Finland.
But despite the results, there was a real sense of positivitly coming from within the squad, who were working under the former Dundalk manager for the first time, while his style of play and approach throughout was generally applauded in the media and from supporters throughout the country.
By the time the Euro 2020 play-off kicked off in Slovakia, the squad were in disarray, with players missing the vital game as a result of a positive Covid-19 test, and worse was to come as a further batch missed the follow-up game at home to Wales due to the close contact rule and another positive test.
The away game in Finland was further Covid-effected, which meant that a depleted side travelled to and lost in Helsinki in the third game of the window.
The three games in October yielded little in terms of results as the side went out of the Euro play-offs on penalties, produced a scoreless draw against Wales and lost by the only goal of the game in Finland.
And despite the fact that the team failed to score throughout those five-odd hours of football, the manager could still point to the positives in terms of chances created and afforded – the ratio quite favourable to the Irish who were just lacking the strike-rate stats.
On to November and with Enda Stevens missing ahead of the triple-header, starting with a friendly at Wembley, more key players dropped ahead of kick-off with Seamus Coleman and Aaron Connolly getting nobbled in training, while Callum Robinson was ruled out as Covid struck once more.
Stevens' club team-mate John Egan only lasted 14 minutes of the first half in London and 17 minutes later, Ireland were trailing 2-0 and just treading water as England threatened to open the flood gates.
Ireland escaped with a 3-0 mauling by Gareth Southgate's side as the welcomed chance to test this new national side against one of the big boys of European football spectacularly backfired.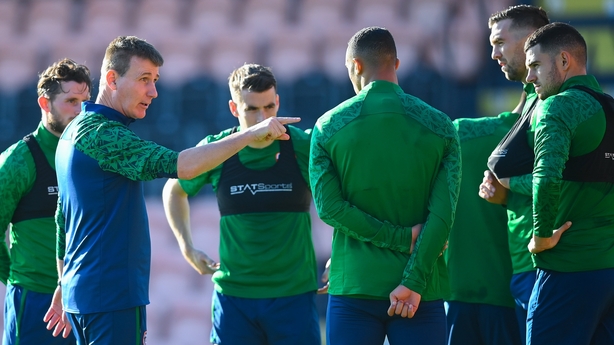 "It has been a tough period, I won't deny that," said Kenny, speaking at the pre-match press conference.
"Last month and this month in relation to all that has gone on, but I'm not complaining about that, you have got to deal with it and that is part of where we are now.
"We have got to dust ourselves down quickly and make sure we are really positive today in training and make sure we are ready for tomorrow. That's important.
"Every single player going out wants to earn every cap; every cap when they play is important to them, so the chance to represent their country is a big ambition for them all. We know it's a tough game in Wales tomorrow, we know they are on a great run but we want to go and try to win the game."
And when the manager was asked whether he was able to enjoy the job amidst the madness of the coronavirus and increasing injuries, Kenny said that his prime focus was to turn the team into a successful unit.
The chance to get that first win of his tenure comes in Cardiff on Sunday, followed by an easier game, on paper, at home to Bulgaria on Wednesday, which will bring an end to this year's calendar going into a long winter break from international football.
"I think whether I enjoy the job or not is not the priority at the moment," said Kenny. "Trying to make the team successful is more of a priority.
"I'm disappointed that we haven't scored in the last few games and we did a collage of the opportunities that we had over the previous four games, leaving the England game out, and we watched it together collectively.
"I said we missed a very, very high number of chances, but we were creating chances.
"The England game was a tougher game for us, Alan Browne's chance aside and some half-chances, it was a difficult game to create chances.
"This is a new game against Wales, and we want to try to perform well and we want to try to get that elusive win that we need."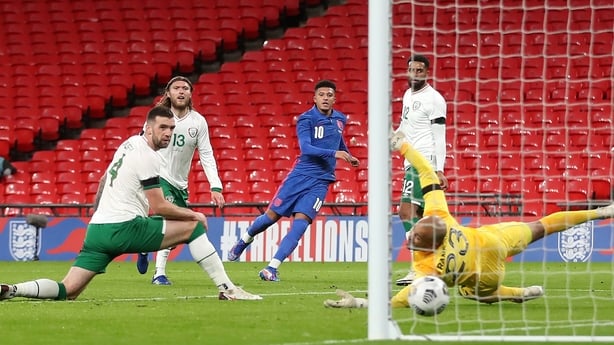 When asked was confidence an issue for his side, who have only scored one goal in six matches under the new manager, Kenny suggested that the player omissions have led to an imbalance in the squad, however, he felt that the mentality has been good throughout.
And looking ahead to the Cardiff clash, Kenny said that his side were ready for a tough test against Wales, although, he believes that Ireland were the better team when the two sides met in Dublin last month, albeit marginally.
"We've been a little bit unbalanced, but I think the mentality of the players has been good," said Kenny.
"Every game is different and Wales is a different game. Of course, it's a tough game going to Cardiff, but we'll make sure that we're absolutely ready.
"We played very well against Wales, well we played quite well against Wales at the Aviva Stadium.
"There wasn't loads of chances in the game, but we definitely had the better chances, it was an evenly contested game and we were the better side, just marginally overall.
"But obviously we were at home and we have to go away now and there are a lot of changes in the team so we will have to go and be positive in our approach tomorrow and try to win the game."