Shane Duffy has vowed to keep battling to regain his form after the Republic of Ireland's 3-0 defeat to England at Wembley last night.
The defender was beaten to the ball by Harry Maguire for the hosts' opening goal, and struggled to deal with the aerial threat posed by the Manchester United centre-back, particularly in the first half.
The Derry man has received some criticism for his form of late having been such an important figure for the national side over the last number of seasons.
And Duffy, who remains the only player to score for Ireland during the Stephen Kenny era, admits that he's not performing at a standard that he's happy with.
"It's a difficult time, but I'm not the first footballer to go through it and I won't be the last," he told RTÉ Sport.
"I'm mentally strong and I can deal with this kind of stuff. It's just a tough time where performances sometimes don't go where you want.
"I'm positive. I've got managers who believe in me, and I believe in myself. I've got good family and friends around me who push me, and good pros who have been there and done it.
"That's what I've got to do - keep cracking on. I know it just doesn't change overnight. So I'll keep trying, keep learning.
"It'll take a lot more than what they're doing at the minute to keep me down."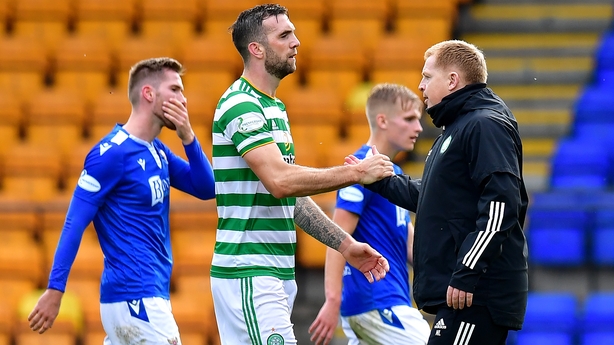 Duffy has had a hectic schedule of late.
Between club and country, he's played 13 games since the start of October, including extra-time in Ireland's play-off penalty shootout defeat to Slovakia.
In only one of those games has he not played the full 90. That was in Celtic's 4-1 victory over Motherwell last week, when he came on for the last quarter of an hour.
But Duffy says it's a good position to be in.
"Last year, I was probably complaining that I wasn't playing, so no complaints from me. That's obviously what I want to do, to play.
"It's not ideal that it's probably every two or three days, but I can't complain, honestly."
The game at Wembley was always going to be a challenge, with England coming off the back of a run that took them to the semi-finals of the last World Cup.
The Three Lions are one of the favourites for next summer's European Championships and, as of now, are set to host the final of the competition at Wembley.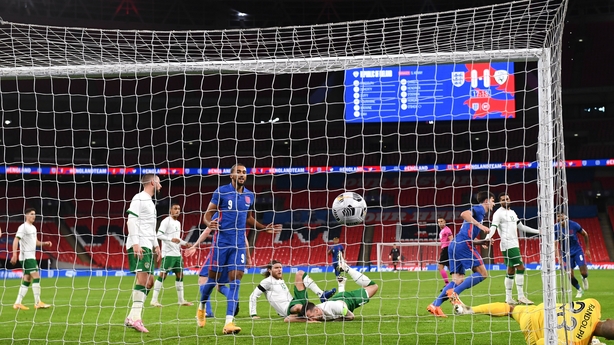 Ireland's build-up to the game hadn't been ideal, with Seamus Coleman and James McCarthy the latest players to pull out of the squad before the game, after Aaron Connolly and Callum Robinson were forced to withdraw earlier in the week
Duffy pointed to the fact that his centre-back partner John Egan had to go off injured in the first half, after a collision with team-mate Conor Hourihane, as the latest example of the squad not getting the rub of the green at the moment.
"It's probably been the story of the week again, where we're getting injuries, we're getting all sorts thrown at us," he lamented.
"But we're trying our best to deal with it. I think the lads came on and did well. We've got to adapt, these are the times we're in, and it's no different with the team.
"We're trying our best to go on and give it our all. It was a disappointment that John had to go out, but we just had to deal with it and the lads did well when they came on.
"A couple of positives to take out of the game. We knew it was going to be a tough night, but we started well enough to be in it.
"Then they got the goals, and it killed us a bit. Some positives, but probably not good enough on the night."