RTÉ football correspondent Tony O'Donoghue sat down for a one-on-one chat with Ireland captain Seamus Coleman ahead of tonight's clash with England at Wembley. Read the entire interview below and you can watch it on tonight's television coverage on RTÉ 2 after 7:30pm.
---
Tony O'Donoghue: Stephen Kenny said in an earlier press conference that only Darren Randolph was alive when Ray Houghton put the ball in the England net. You had another two months before you came into the world.
Seamus Coleman: Yeah, the manager did mention that to us alright, like a couple of days back which is incredible really but wouldn't it be great to be part of a team that beats England?
I think we'll be doing all that we can. Obviously, we've had a few pull-outs, which has been unfortunate but hopefully we can put in a performance to keep going with that kind of positivity. I know the results haven't been good but I feel like there is a positivity about the team and we need to keep that going.
TOD: You were too young to remember Kevin Sheedy's goal in Italia 90, but when you think of the other games, England v Ireland has always been a bit special. Because of the loss of Jack Charlton recently, poor Nobby Stiles only passed recently, I think Wembley is going to remember some of the great English players and the great Irish-English moments
SC: Yeah definitely. And rightly so. The two people you mentioned have been massive for football. Nobby Stiles in England, massive legend, hero to many and, obviously Jack Charlton himself you know, an English man who came over and gave all young Irish supporters the time of their lives really and memories forever.
And I think any of the players that he's managed that have spoken about him since his passing and even spoke about him when he was alive; it goes to show you the character of the man and he's someone we will always remember, someone Irish football, I think, will always remember. And as you said, hopefully the two men get remembered fondly and we can put on a great game for them and and have a right old battle.
TOD: The Ireland England games and Wembley itself have always been special to people of my era and maybe yours as well but some of the younger players in the squad over the last number of days were kind of saying it's not that big a deal and maybe since Wembley has had more games, play-off finals... American Football, Premier League games, it's not quite as special as it once was.
SC: Yeah, maybe so. Maybe that's gone but you know for me I'm that bit older, playing England at Wembley is a massive occasion.
I suppose I'm sort of trying to hit home to all these lads here every month or two, when we meet up is the importance of being proud to wear the green shirt and giving it your all in every game so maybe they just are focused on on on themselves and sometimes that might not be a bad thing.
Because you can get overawed by the occasion and maybe the young lads have the right idea rather than the old heads like me, you know, getting too focused about these kind of games, so I'm sure come [kick-off] the whole team and everything will really enjoy playing at Wembley and playing England at Wembley.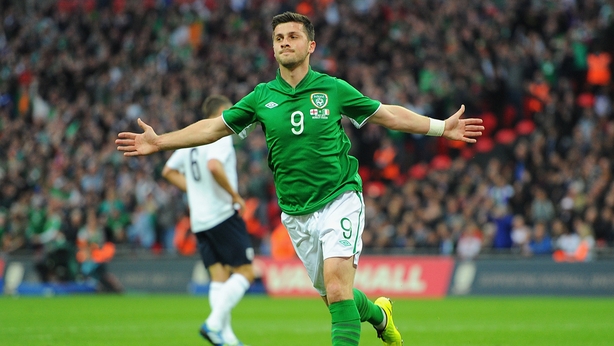 TOD: I think you enjoyed it in 2013. That was a particularly good game and I think actually you were man of the match that day?
SC: Yeah it was, I remember it well. It was a great game. I think it might have been Ashley Cole's hundredth cap as well if I'm correct and it was just a great game. They had some great players on show, I think Lampard played, Carrick played, so they had some very good players and I thought we played very well that night.
We took the lead and, and obviously I crossed it for Shane with an unbelievable header.
They scored quite quickly after that but it was a great game and a great result for us and wouldn't it be great to go one better tonight? But listen it's gonna be a tough game because they've got top class quality throughout the squad, not just the starting 11, so it's a game we're looking forward to, and hopefully we can give it a go.
TOD: How weird has it been playing big games in empty stadiums?
SC: It's been strange Tony. I think we played Liverpool after the first lockdown - the first game back after lockdown when we came back and that definitely did feel a bit strange having no fans there. But I think as footballers you do adapt quite quickly and slowly but surely, you could feel a competitive edge really coming back in the games.
I don't know, from a fans point of view, if you can see that or feel that but as players, I definitely felt the tempo improve as people got used to no fans, but listen, players, fans, managers, we all want them back and that's what makes football really, so fingers crossed in the near future that can start happening and it'll be an unbelievable feeling to get them back in stadiums again.
Ireland captain Seamus Coleman expects a fitting tribute for Jack Charlton ahead of the match at Wembley. Watch interview before game on @RTE2 after 7:30pm. pic.twitter.com/9aItFa6K9l

— RTÉ Soccer (@RTEsoccer) November 12, 2020
TOD: I know how much captaincy means to you and how important it is. You are coming towards the end of your career, that's an inevitable thing I suppose. Would this next World Cup campaign, you'd be looking at maybe, something to bow out on?
SC: Like I've touched on in other interviews the longevity that I have is, is not from looking too far ahead. When you take your eye off the ball in this game Tony there's someone coming to just sweep you away and take your place. I go in training every day like I'm on trial at Everton Football Club, every single day like I'm on trial. I come away here with Ireland like it's my first cap.
So am I looking that far ahead? Absolutely not. I'm looking to [the next] training session and trying to be the best I can be tonight. And then I'll go from there and the rest is always going to be in someone else's hands, and I'll keep going until it's not possible or a manager wants to look down a different route.
But nah, you don't keep the longevity by... by looking too far ahead in this game for me.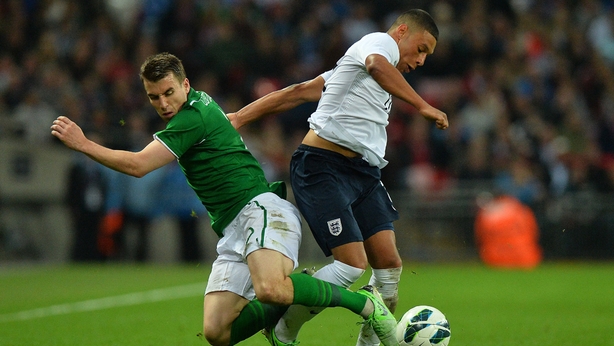 TOD: I think your first cap was in 2011, is it 56 now? Do you think you've earned enough caps over that period?
SC: I'm not one of these players who's trying to, you know, build up caps for the sake of building them up, you know? Every cap means so much to me but, unfortunately, I came into a well settled Trapattoni team and I'm very thankful that he called me up, a great man, a gentleman and very thankful he called me up and eventually I broke in under him.
I was probably in the squad for a while before I got too many caps and then, you know, I broke my leg in March 2017 and then probably missed the year of that and, with Covid and everything has been going I've probably not played for a year now so the caps probably don't match up to the years I've been involved but for me it's about success, it's not caps because I want to play at European Championships, which I did, and I want to play at a World Cup, so we'll see where that goes.
As I said, I'll be working to that on a daily basis but not so much about counting the caps it's about being successful with tournaments and stuff.
TOD: You mentioned Trap there, of course you've played under Martin O'Neill, under Stephen obviously and Mick McCarthy, and then at club level some incredible managers, the likes of Ronald Koeman, Roberto Martinez and Carlo Ancellotti who recently said he saw you in the same kind of bracket, as Maldini. I mean, that's some honour isn't it?
SC: Yeah, I think, as a captain maybe he said that not as a player Tony! [ laughs ] I'll not get too carried away with myself yet. But as a captain, listen he mentioned it, he didn't say I'm better than any of them he says I'm up there with my commitment to the club. So for me, I think it is nice of the manager of that status [who] recognises what you do.
I think sometimes fans and people that support clubs maybe see you for 90 minutes and see what what you're trying to do that way, but it's probably nice for me that a manager recognises the stuff you have to do on a daily basis you know through the good times, the bad times, the tough times to try and keep morale up around the club so I appreciate them comments from a great man and a great manager.
TOD: We know you're a great captain yourself, would management be something that appeals to you now particularly that you could learn from all those people you've played under?
SC: I think so. Listen I've given my whole life to football and I think it'd be a shame to retire and just kind of leave it behind. I've done my badges and continuing to do my badges as well when the time is right. But yeah it's something... I love football, I watch football, I play football and as I say to everyone my life is family first, football second and that's it, that's all I've got. So there's nothing else, no other hobbies. That's it. Family and football so I'm delighted with that.
TOD: Can you hear the dog downstairs going mad by the way?
SC: I can, yeah. I can Tony... just a little bit.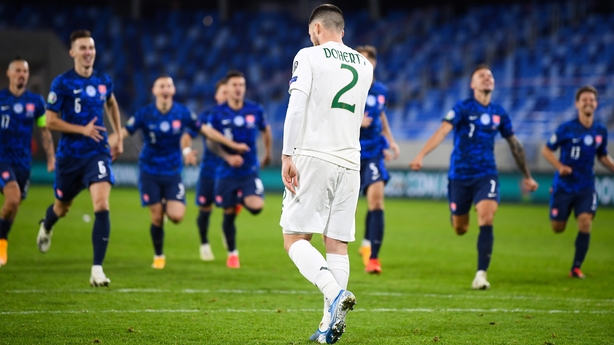 TOD: The problem of working from home! I'll finish with this one Seamus.
You had to watch on recently looking at the camp, including the Slovakia match and that, and how frustrating it must have been for you looking on at the players. How has it been in getting the lads back up again for obviously the England game and the other two Nations League games and the disappointment I suppose - in a time of Covid - in not making it to the Euros?
SC: First and foremost, you've got that disappointment and we all have that disappointment. I had it from my sitting room at home and I was massively disappointed to see the lads go out on penalties. The lads had it, but I think they showed great character throughout, with all the pull outs, with the close contacts, with everything that went on, they went out there and they gave it their all, and some lads played the three games.
That's one thing about the team that I take great pride out of... it's like, they come away again and obviously we're disappointed but they're ready to work again, they're ready to do what what's needed for the team and I just love the fact that the lads love coming away to play for their country. And I was just massively disappointed for the manager and the players that, you know, that night we probably, well when I say probably we didn't get what we deserved.
I think we had chances to win it. On another day they go in and then that's it you're through but it's unfortunate it wasn't to be and that's football, and you've got to dust yourself down and go again and I think the lads have done that excellently.
TOD: And the Covid thing finally, just the fact that it robbed us of players for the play-off, important players like Connolly and Idah and now that we're losing Robinson and Connolly to injury... is it just another thing that footballers have to deal with in this crazy time?
SC: Yeah, it is. It's very difficult. I think the Slovakia game especially losing the close contacts and then the test to be a negative I think it was.
So it's very, very frustrating and I think its something that as players, like you touched on, Tony, in these strange time once you get your test, you could feel fine and someone could let you know that you've got a positive and that you need to go home, so it's very frustrating.
But first and foremost I think we've got to care for everyone else and you want to make sure everyone's fit and healthy and that's the most important thing and then the rest, the football comes after that.
TOD: Seamus thanks so much for your time and the best of luck to you and all the lads.
SC: Thanks Tony, all the best.
Listen to the RTÉ Soccer podcast on Apple Podcasts, SoundCloud, Spotify or wherever you get your podcasts.
Watch the Republic of Ireland's Wembley friendly against England this Thursday with coverage beginning on RTÉ2 and RTÉ Player at 7.30pm.