A game against the old enemy England is a great occasion for the Ireland players to be part of, according to Stephen Kenny, although in reality, the manager has one eye on next year's World Cup qualifiers.
Wembley stadium will host the two sides behind closed doors on Thursday night, and while the match gives the new man in charge of the national team a chance to assess the progress of his side since his first match in September, it also may affect the seeding ahead of the World Cup qualifying draw.
The game with England is a rare friendly international in this Nations League era, and Kenny opted to take on the world's number four ranked side rather than organising a moral-boosting first victory against a poor side in Dublin.
Kenny is looking at the bigger picture and is happy to risk a step back in rankings should his side lose in London on the basis that it will ultimately stand to his team as they continue to build towards the 2021 campaign.
"The bigger picture has always been the World Cup qualifiers," said Kenny, speaking at the pre-match press conference.
"These are important games, every game is important. It's been well-documented with World Cup seeding status, and our status in League B of the Nations League."
And while Kenny has lost more players as a result of injury and the coronavirus, which has reared its ugly head for the second time in successive international windows, again the manager is remaining upbeat as he believes that others in the squad can benefit and gain from the opportunity.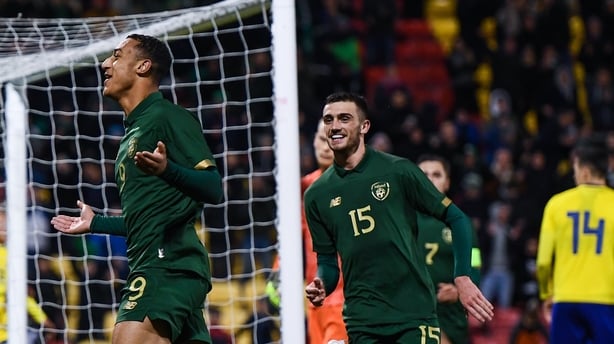 And Kenny is clearly looking beyond his current working squad by namechecking young aspiring players like Troy Parrott and Michael Obafemi with places still very much up for grabs as he attempts to stamp his signature on the Ireland unit.
"The two players ruled out today would feature prominently in our picture for the World Cup, without a doubt," said Kenny, speaking about Callum Robinson, who misses out following a positive Covid test, and Aaron Connolly, who picked up a minor hamstring strain. Both miss out on all three games of the window.
"People like Troy Parrott and Michael Obafemi if they get regular games, they are certainly players who could come into the picture," continued Kenny.
"We have a core group of players with international experience here so it will be interesting to see how we go over the three games.
"One of the things about having the players ruled out in the manner that they were, it opens an opportunity for other players. It's interesting to see what that brings."
Despite the size of the Ireland squad for this game, there is no recognised left-back available for the Wembley encounter as Enda Stevens is out injured.
Cyrus Christie was called into the squad, however, the defender is more accustomed to playing on the right side, while recent squad member, Derrick Williams, who can play at centre-half or left back is injured.
Matt Doherty, of course, has played in that position for his previous club, Wolves, and by moving the now Spurs defender to the opposite side of the pitch, it will allow the manager to play Seamus Coleman in his preferred right back position.
The manager has previously indicated that he may play three at the back, and while he said that he has yet to pick his side, in Stevens' absence, he will more than likely leave that for another day.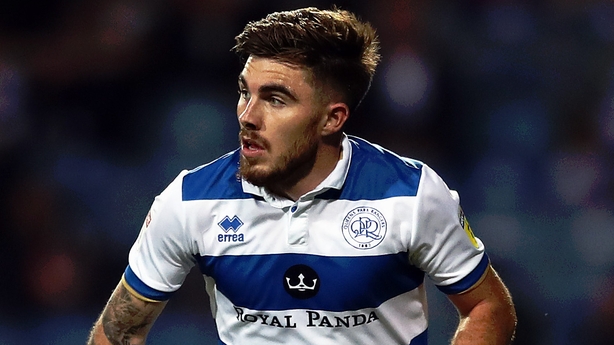 "I haven't picked the team yet, to be honest, but of course Seamus is a really important part of our team, for sure," said Kenny.
"We have some options. Left back has been an issue. Derrick Williams has been injured. Other left backs like Johnny Hayes at Aberdeen and Greg Cunningham at Cardiff have been injured lately.
"Ryan Manning had a very good season last season with QPR. Because he was moving, he was frozen out, and he has only played 70 minutes really since the start of this season with Swansea.
"But he is a very good player and has a lot of training under his belt, so he will join up with Jack Byrne ahead of the trip to Wales, and the game against Bulgaria."
Looking ahead to the game, Kenny believes that the players are really looking forward to play against the old foes at the iconic Wembley stadium.
And while Kenny acknowledges that the current England side will prove a very difficult proposition, there will be a chance to create a bit of history for his side as Ireland have only ever beaten England twice, and not since Euro 88 and that Ray Houghton goal.
"Really the players love playing for Ireland, they are very proud. Every cap is important and when they are ruled out through injury they are genuinely devastated.
"We are [looking forward to it]. The players get an opportunity to play in Wembley against England.
"Ireland have never won in Wembley. We won twice against England, once in Stuttgart and once in Goodison 70-odd years ago so it has been a long time.
"England are in good form and we have played well at times, against Slovakia in particularly, but we haven't been scoring goals of course.
"So we are looking forward to going there and we want to perform well."