Republic of Ireland manager Stephen Kenny does not believe that he is carrying a Covid curse following another virus-related disruption to his side ahead of Thursday night's clash with England.
However, the new man in charge said that he does feel sorry for key forward Callum Robinson, who has now missed five starts in the green jersey as a result of the coronavirus issues surrounding the Ireland squad.
Robinson missed out on October encounters with Wales and Finland after he was deemed a close contact to a positive test in the squad, while on this occasion, the player has been ruled out following his own personal positive test for the virus.
The West Brom forward tested positive for Covid on Tuesday and has withdrawn from the squad, however, the remainder of Kenny's unit are unaffected as they were not deemed close contacts to Robinson.
"No, absolutely not," said Kenny, when asked was he cursed in relation to the current Covid situation.
"This is the way of the world at the moment. People are talking about a vaccine being imminent and 90% proof, all that sort of headlines there have been recent days, so hopefully this situation is temporary throughout the world.
"In Callum's case, he came in and on the first test he's tested positive. He wasn't feeling unwell, so it's just unfortunate for him, really.
"I'm disappointed for Callum, from being a close contact and now this one, it has cost him five starts for Ireland between the last camp and this camp, and he is an important player for us, a very important player for us.
"He was really looking forward to this run of games. He took being close contact in the last run of games by showing great dignity and he came in hugely determined to do well. I spoke to him a couple of times and he was really driven."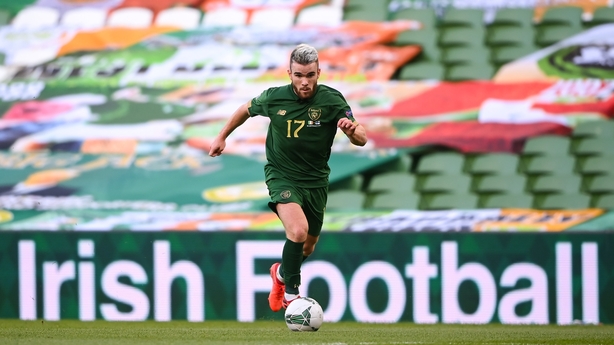 Apart from Robinson's withdrawal, the manager must also plan without Aaron Connolly, who picked up an injury in training ahead of the Wembley game on Thursday evening.
And again, Kenny feels that the player is extremely unluckly to miss all three games in this window as Connolly's hamstring issue is just a ten-day injury.
"The frustrating part of Aaron's injury is he will only be ruled out for 10 days. It's only a 10-day injury," said Kenny, speaking at the pre-match press conference.
"It just happens we have three games in that period. It's a minor, grade one hamstring strain. It was just a deceleration in a training game and it was very unfortunate for Aaron. That's the way it goes."
The manager believes that Connolly has a long and successful Ireland career ahead of him, and he feels that the Brighton striker's absence opens a door for the other forwards in the squad.
"It is very frustrating [but] Aaron will be a terrific player for Ireland," said Kenny. "Adam Idah comes into the picture, Ronan Curtis, and James Collins."
Harry Arter is also an injury concern for the manager, while Kenny revealed that he enquired about the availability of Shane Long, however, the veteran forward is nursing an injury and is not fit to travel.
"Harry Arter has had a little issue with his calf that ruled him out of the game at Nottingham Forest last week, so we'll see how he is an we'll make a decision based on that.
"We checked the availability of Shane. Shane wasn't available. He was in a collision in training with Southampton, and wasn't available at short notice because of the knock he got. He wasn't available for selection."
And while the manager admitted that he was disappointed by the latest withdrawals, he remained upbeat as his side go in search of their first win under his tenure in charge of the national team.
First up is the friendly clash at Wembley before two Nations League matches, in Cardiff to face Wales on Sunday, before a home tie against Bulgaria next Wednesday evening.
"It is the case that we're disappointed, but you've got to deal with whatever comes your way.
"We're thrilled at a great three games for us, playing England at Wembley, playing Wales in Cardiff and playing back in the Aviva Stadium against Bulgaria. Three games in six days is terrific and terrific games to play in for the players, so were looking forward to the games."