VENUE
Thursday 12 November, Wembley Stadium, London, 8pm
TV
RTÉ2 and RTÉ Player from 7.30pm. Darragh Maloney is joined by Richie Sadlier and Kevin Doyle for coverage of the friendly. George Hamilton and Kenny Cunningham will be the commentary team.
ONLINE
Liveblog on RTÉ.ie and RTÉ News app from 7.30pm
WEATHER
A calm, cool day is in store in London. Sunny with the chance of the odd shower, temperatures should be around 11 degrees by kick-off.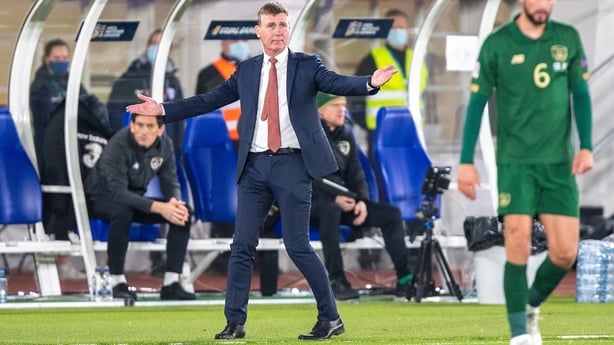 The boss can't start a fire without a spark
There are question marks over the logic of this game when Stephen Kenny is searching for something to kickstart his regime.
Furthermore, a heavy defeat, something which England are known to dish out, could be damaging ahead of two important Nations League games.
Perhaps Ireland can look to recent games to show they definitely have a chance of avoiding defeat. The last meeting with England was a forgettable 0-0 at the Aviva Stadium five years ago, while prior to that Frank Lampard and Shane Long exchanged goals in another draw.
Kenny has been known to mastermind shock results away from home. England too have Nations League commitments so they are looking to experiment most in this game.
Keeping England out will be difficult, but the real issue is who will put the ball in the England net? Unfortunately there will be nobody there to sing it if it does happen as the game is behind closed doors.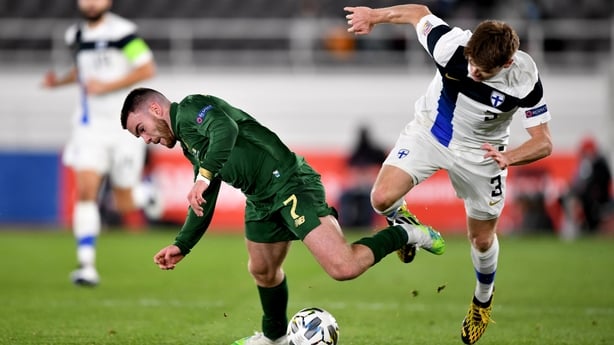 Where will the goals come from?
If journalism is eventually taken over by robots, one feature programmed into the machine will be to ask the Ireland manager who will score the goals for the team to win the game? It's an obvious go-to as the main problem in the team.
David McGoldrick's surprise retirement felt like a significant blow at the time, especially when looking at his goal and performance against Chelsea days later.
But once again one has to return to the point of the Kenny era.
His target is obviously to bring Ireland to major tournaments, but it must include developing new players, a different style and changing the mentality of players and a nation struggling to accept a more ambitious way to try to win.
The early indications are that the players will not struggle long. To look at the positives of Kenny's time so far, he has blooded young talent, varied formations, given nearly all of his midfield players the chance to prove themselves in different positions, regardless of whatever universal opinion is out there, all the while producing performances that at least gave Ireland the chance of winning.
The negatives are the lack of goals and wins, which are pretty hard to get away from. This game is unlikely to change too much.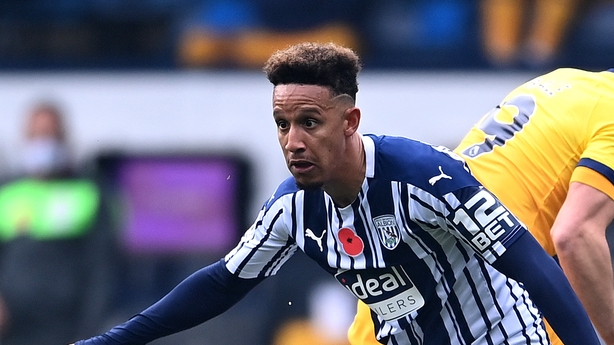 No luck of the Irish
Adam Idah is likely to feature in this one with Callum Robinson (above) and the luckless Aaron Connolly now ruled out.
Sean Maguire continues to get the emergency call-up from Kenny, but it's fair to say he is not taking advantage of them on his return so far. Michael Obafemi may look on with bemusement and it is understandable, with the senior manager keen for the Southampton man to play more club games first.
Kenny will have to settle on a regular attacking combination soon. There is a chance for several players to nail down a place if they can make a breakthrough by finding the net. That sums up the predicament Ireland find themselves in with goals.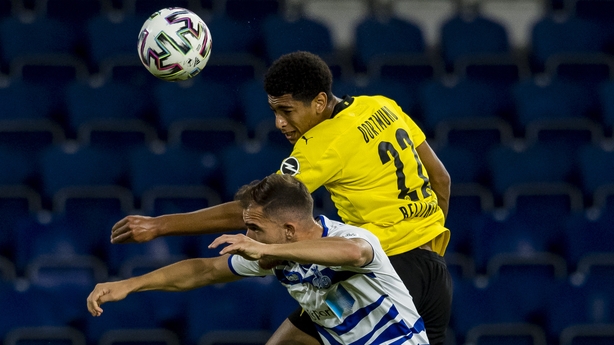 What about England?
Well we know about them, sort of. England continue to look to youth with 17-year-old Jude Bellingham (above) the latest addition to their group. More so, slightly older players are really showing their worth. Dominic Calvert-Lewin is tearing it up in the Premier League, so if it isn't Harry Kane down the middle, it doesn't get much easier for the Ireland defenders.
There's a clamour for Jack Grealish to have more of a prominent role for the Three Lions. It's not an ideal situation for Ireland that this looks the game for Grealish to start and try to make a statement.
James Ward-Prowse, Ben Chilwell and Reece James are all excelling in the English top flight too and that's not even looking at some of the better known players in the England camp. Harry Maguire is suspended for one Nations League game so he could well be asked to play this match.
Nick Pope will start in goals in what will be just his fourth cap. Gareth Southgate insists Jordan Pickford remains his number one.
The standout difference between the squads is England have a group playing regularly in the Premier League, with competition fierce in several positions and preparing for the prime of their careers
Ireland have little to shout about in that regard and are so far away from it. It's a reminder of the task at hand over the months and years to come and why the FAI can't panic at whatever the pace of progression is under their manager.
Seeding
As things stand for World Cup qualifying seeding, Ireland are at the bottom of Pot 2 – a single point above Slovakia, who top Pot 3.
Slovakia face Northern Ireland on Thursday in the Euro 2020 play-off as we know too well.
A defeat here could scupper hopes of Ireland getting a more preferential group for World Cup qualifying.
Verdict
It's going to be a long night where pace on the break is going to be important. The loss of Connolly and Robinson will be felt hard.
This game will help Ireland regardless of the outcome. Kenny has spoken about how fortunate he is to have so many matches early in his tenure and they are needed.
Each outing will provide more information, experience for the likes of Idah and Jayson Molumby and allow the team to gel.
Kenny is still learning about his players and what they are capable of.
Overcoming England is not in their reach at the moment but there are more important days ahead.
Prediction: England 3-0 Ireland

Watch the Republic of Ireland's Wembley friendly against England this Thursday with coverage beginning on RTÉ2 and RTÉ Player at 7.30pm.